RealtyNXT In An Exclusive Conversation With Shashank PS
In November 2019, Furniture rental company CasaOne had raised $16 million, led by Accel along with Quiet Capital, HNI Corporate and WeWork.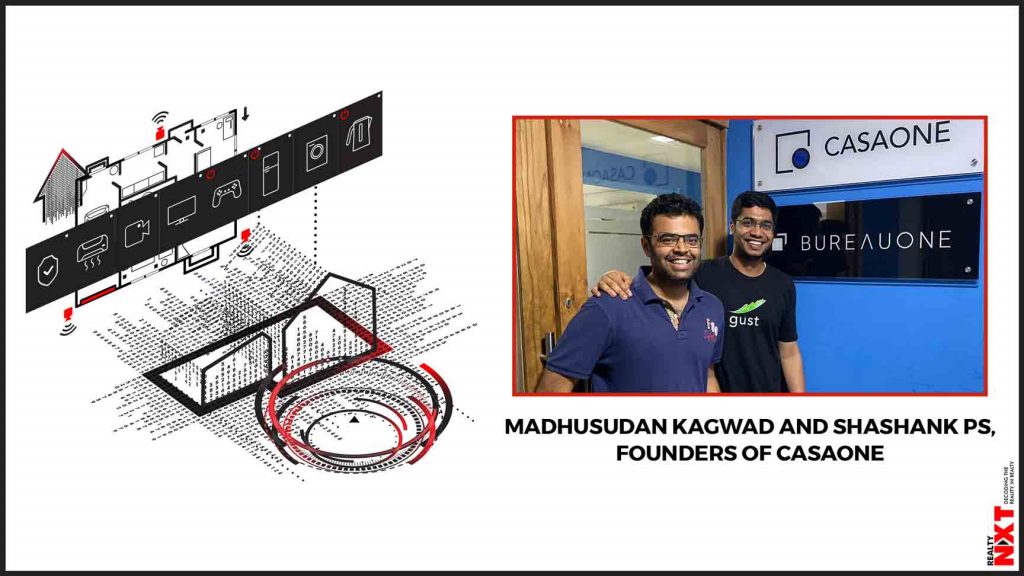 Existing investors JLL Spark, Freestyle Capital, NextWorld, and Array Ventures also participated in the round. This takes the total funds raised by the San Francisco and Bengaluru-based company to $27.5 million.
CasaOne is primarily B2B focussed, aims to bring in efficiency in the furniture market by using technology, logistics, and credit to cater to a very fragmented and offline business, where the purchasing begins with an estimation of furniture needs and goes on to sourcing from multiple vendors who work on different delivery and assembly timelines. Read on for excerpts from the conversation.
1. Please tell us a little bit about the furniture rental business. How big is the US market?
CasaOne and BureauOne are the two brands that we offer to our customers. CasaOne focuses on residential use-cases such as property management, corporate housing, multi-family, hospitality, and consumers renting for their homes. BureauOne focuses on commercial and office spaces.
A typical company spends a lot of time interfacing with multiple furniture vendors, interior designers/space planners, storage options, movers, and installers to furnish their office spaces. This is often cumbersome and inefficient from both a time and cost standpoint. What we offer is a one-stop shop solution to our customers that allows them to choose from an array of furniture options to outfit their entire offices or residential units very quickly. The wide selection ensures they can choose furniture that is in-line with their own brand. Integrating the entire experience is critical to reduce the time taken to make a space fully productive. Hence, we believe that we offer a unique value proposition.
Furniture and furnishings are a $180B+/year market in the US and rental / leasing account for less than 5% of that.
2. Challenges in FF&E (furniture, fixtures, and equipment) and logistics.
In the last 8-10 years, commercial real estate has seen a transformation where companies have moved from long leases (7-10 years) to shorter-term leases of 5 years or under with the market adapting to newer models such as flex and co-working options. This has shortened the lease lengths in the broader CRE market and companies/tenants want to retain their optionality to sign shorter leases to accommodate their changing needs (expansion, new offices, etc.). The longer it takes to fully furnish a space, the longer the office or underlying space lies unutilized increasing the cost burden on tenants or reducing yield for landlords. Hence, it is imperative to reduce these lead times for cost and yield conscious players in commercial and residential real estate.
For instance, if it takes 6 months to fully furnish an office space with a 3 year lease, you are essentially paying rent for 1/6th the duration of the lease while it is unusable.
On the other hand, for companies who sign long leases, they can save on the upfront capex on FF&E (furniture, fixtures, and equipment) and depreciate it over its useful life with a longer furniture lease with the flexibility to upgrade their furniture over time without incurring an additional capex.
3. On a more general note, how can technologies that address real-time inventories and modern supply chain impact the traditional furniture and logistics industries?
We believe this is the broader trend and we are at the forefront. As is the case with eCommerce, customers always prefer a broad selection, faster delivery, and better pricing. At CasaOne, we are able to deliver on these aspects with technology.
4. Currently, CasaOne operates in six markets: Chicago, New York, Los Angeles, Seattle, the San Francisco Bay Area, and Washington D.C. Why has CasaOne chosen these markets for its launch?
We launched CasaOne in San Francisco and the Bay Area in August 2017. Since then, we have expanded to Los Angeles, Washington DC, New York, New Jersey. We also recently launched in Chicago and Seattle. We see a lot of mobility into these markets as they present economic opportunity to people and thus, a high demand for what we offer.
5. Who primarily uses CasaOne? Why is CasaOne appealing to these types of users?
CasaOne is used by individuals who move a lot for work and life. CasaOne is also used by a lot of businesses in the property management, corporate housing, hospitality verticals.
BureauOne was born out of the demand for a similar solution for our business customers for their commercial and office spaces.
Our customers love us for the hassle-free, convenient, and cost effective product we offer.
6. CasaOne recently raised $16MM in Series B funding for expansion. Can you elaborate on how CasaOne will use those funds to expand?
CasaOne will use the proceeds to invest further in technology and expand to other markets.
7. Is there anything else you would like to add?
The vision of the company is to convert FF&E into a utility with metered usage – pay for as long as you use it.
ALSO READ: Drona Automations is working towards a noble cause in eradicating manual cleaning of sewer pipes