RealtyNXT In An Exclusive Conversation With Aayush Jha, Clairco
In today's time Pollution is a major issue in India, Government is coming up with few initiatives to control the same.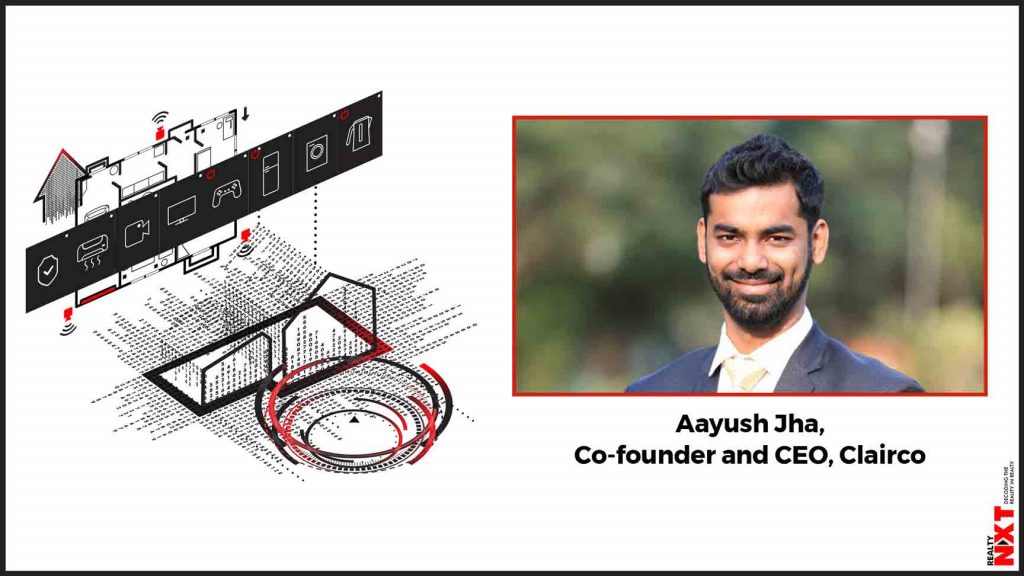 A start-up like Clairco has come up with a solution for all to have a healthy breathable environment. Clairco is a B2B SaaS company that does air quality monitoring and management for indoor spaces on a real-time basis. They are the country's first "Clean Air as a Service" company. Their technology does not generate Ozone, Ozone that is a bi-product of electrostatic precipitation. Ozone is a poisonous gas and is a pollutant. Read on for excerpts from the conversation.
1. What led to the inception of Clairco? How did you come up with this idea?
I have grown up in from a small town in Chattisgarh and air pollution was never a problem for us until we moved to Delhi in 2016. It was around then that my father faced serious health concerns like frequent chest pains, wheezing and sour throat. His situation worsened and he was admitted to a hospital for 3 days.
It was a difficult time for us and we did what anyone else in this condition would do. We bought an air purifier. But the situation did not improve. After some research, I realised that our house would need around 7 air purifiers to fully tackle the problem and that would have been an expensive affair.
While doing my research, I got increasingly intrigued by the tech of air purifiers and realised soon that an air purifier is nothing but a filter strapped to a regular fan. When the air passes through the filter, it arrests the pollutants. I soon began to play with the idea of replicating the same mechanism with a regular AC that was already installed in our home.
I believe that for air purification to be adopted at a large scale, it needs to affordable and measurable. With this idea in mind, we launched Clairco.
2. What are the services Clairco provides in the market?
We are the country's first "Clean Air as a Service" company. We help businesses ensure clean air in an affordable and measurable way. We add air purification capabilities to central air conditioning units in commercial buildings. Clairco's patented technology helps add purification to AHU(Air handling units) in a non-intrusive manner and does not disturb the regular functioning of the HVAC.
We also measure the air quality in real-time by installing Clairco's IoT air quality monitors. The clean air data can be shown to customers through various screens too. This helps businesses to market clean air at their premises. 
Our current customers include Brookfield, WeWork, Brigade Group, Capital Land Ascendas, EMAAR etc.

3. In today's climate conditions, how important is it to measure air quality?
Air quality monitoring is essential in today's climate conditions and is at the very core of Clairco. Unless we measure air quality, air purification is incomplete. It is important to our customers that we measure and show the clean air quality to their customers/occupants. We measure air quality and with the use of this data we " Guarantee clean air". Our machine learning algorithms can predict when the filters need to be replaced. Based on this data our technicians are able to change the filters at the right time to prevent air quality from degrading. With this tech, we have been able to harness the power of air quality data.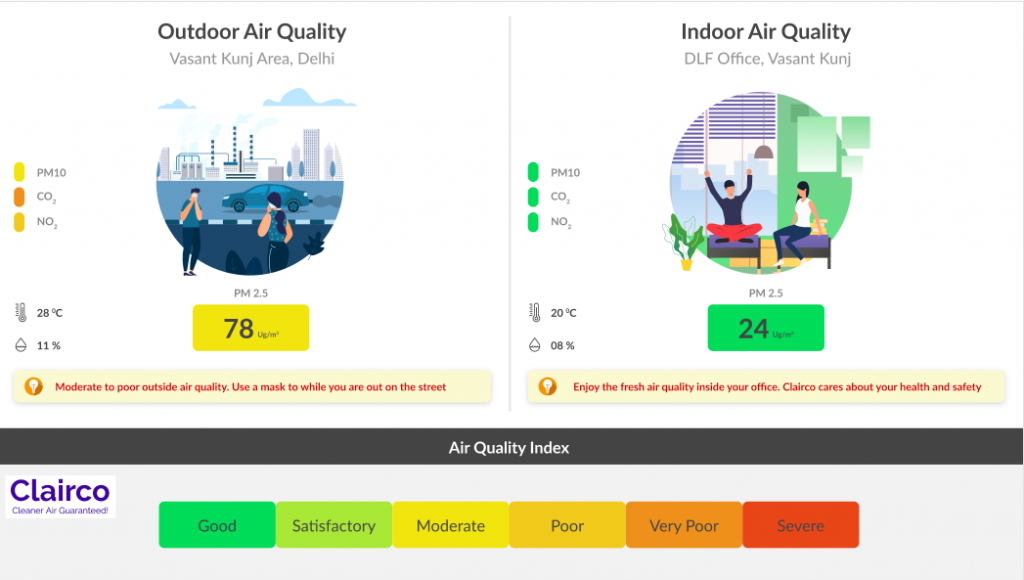 4. What is the biggest challenge Clairco faced while approaching the clients?
Central HVAC's are expensive and it was only natural that realtors were reluctant to allow us to handle them at a huge scale. However, a faction of forward-looking developers gave a young startup like ours a chance to showcase our technology and that helped us get the early traction we needed.
5. What is the USP of your product and what makes Clairco stand out among its competitors?
Our technology enables us to add purification to existing AHUs. Unlike others in the market, our technology does not generate Ozone. Ozone is a bi-product of electrostatic precipitation. Ozone as we know it is a poisonous gas and is a pollutant. Our technology also does not add load to the AHUs because of the usage of low-drag filters. This helps in keeping the electricity consumption and maintenance consistent.

Our business model is a 0 CapEx business. Which means our customers do not have to spend huge sums of money to provide its customer with the basic necessity of clean air.
Most of our competitors, on the other hand, are expensive and have large one-time payment costs. Comparatively, Clairco's Rs. 1.5/sq.ft/month is highly efficient, data-driven and affordable.

The third major differentiator is the "promise of clean air". This gives our customers complete peace of mind as we charge only when we deliver. If in a given month, we are not able to maintain clean air, we DO NOT CHARGE for that month. We have complete skin in the game unlike anyone else in the market.

6. What's your go-to-market strategy? How are you driving your sales?
We are working with various IPCs and property developers to scale. This gives them an edge as most of the tenants want wellness and air quality management is at the heart of it. This makes it a strong differentiator for our partners.

7. Who are your customers at this point? Your offering is B2B or B2C as well?
We are a pure B2B company and do not plan to launch B2C products anytime soon. We believe air purification will have adoption like water purification where businesses adopted them much earlier than wide adoption by consumers. Our consumers are malls, tech parks, MNCs etc.

8. Do you think PropTech really has the potential to disrupt the Indian real estate industry?
PropTech is already disrupting Indian real estate. Clairco provides air purification at 100x cheaper price; similarly, startups in the water management domain have shown multiple X price reduction. Safety tech and building management system startups are already seeing massive traction in India. Proptech has arrived in India and will make it much bigger in the coming decade.
ALSO READ: RealtyNXT In An Exclusive Conversation With Shashank PS