Leasing touches an all-time high of 61.6 million sq.ft; grows by more than 25% Y-O-Y in 2019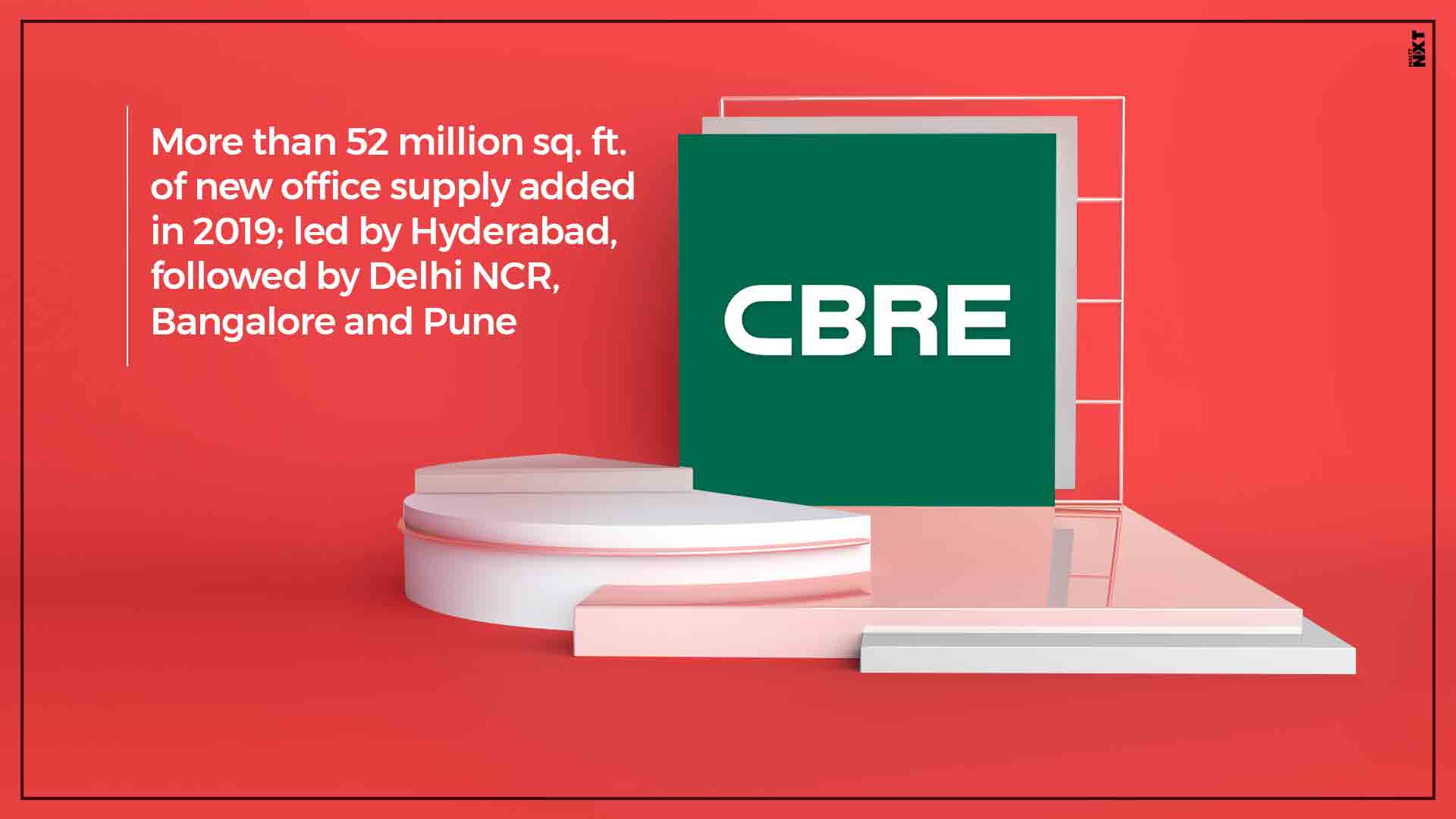 Bangalore, followed by Hyderabad, Delhi NCR and Mumbai, led annual leasing, together accounting for almost 75% of the overall space take-up
The overall quantum of investment for 2019 reached about USD 6.06 billion, out of which more than 40% was in the office sector
Mumbai dominated investments in office in 2019, followed by NCR and Hyderabad
Tech corporates drove office space take-up during 2019, with their share rising from about a third in 2018 to almost 40%.
Occupiers continued to opt for flexible spaces, with the share of the segment rising from 12% in 2018 to about 14% in 2019.
Demand in 2020 is expected to be in line with supply; mainly driven by Bangalore and Hyderabad
SEZs accounted for about one-third of the leasing activity in 2019
CBRE South Asia Pvt. Ltd, India's leading real estate consulting firm, today announced the findings of its latest India Office MarketView – Q4 2019 report. According to the CBRE report, gross leasing activity grew by more than 25% y-o-y to cross 60 million and touch a historic high of almost 61.6 million sq. ft. by the end of 2019. Bangalore, followed by Hyderabad, Delhi NCR and Mumbai, dominated office leasing on an annual basis, together accounting for almost 75% of the overall space take-up.
Mr. Anshuman Magazine, Chairman & CEO – India, South East Asia, Middle East & Africa, CBRE said, "In 2019, policy reforms across various sectors acted as a business sentiment booster, leading to tremendous improvement in India's Ease of Doing Business Ranking. According to the World Bank, India ranks 63rd among 190 countries on the Ease of Doing Business index; the ranking is anticipated to improve further in the coming years, backed by progressive government policies. This helped in retaining the buoyancy of the office sector in 2019, where demand was driven by global multinationals, domestic firms and a healthy supply infusion in cities such as Hyderabad and Bangalore. In the coming years, the real estate sector is expected to offer vast development and investment opportunities even as the Indian economy transitions and its workforce expands. Office stock is expected to grow to a billion sq. ft. by the end of 2030 and flexible space will become mainstream – accounting for 8-10% of the total office stock."

Tech firms led India's office leasing activity; BFSI corporates and flexible space operators were active as well
In 2019, the share of the tech sector in overall space take-up rose from about a third in 2018 to almost 40%; with overall space take-up by such firms rising by more than 45% on an annual basis. This growth was primarily driven by global multinationals, which accounted for more than 70% of the overall space take-up by tech firms this year. The share of research, consulting & analytics firms has increased to 5% in 2019 from 4% in 2018. The collective share of sectors such as engineering & manufacturing, BFSI, e-commerce and research, consulting & analytics, dropped from almost 36%in 2018 to 31% in 2019. Several of these corporates continued to show interest in SEZ spaces despite the upcoming sunset clause deadline; as a result, SEZs accounted for about one-third of the leasing activity in 2019. Meanwhile, occupiers continued to opt for flexible spaces, with the share of the segment rising from 12% in 2018 to about 14% in 2019.
Meanwhile, occupiers are likely to continue to asses agility in their real estate portfolios with the 'core + flexi' strategy finding more takers. Mr Ram Chandnani, Managing Director, Advisory & Transaction Services, India, CBRE South Asia Pvt. Ltd., said, "Several occupiers are likely to adopt newer workplace strategies to realign their portfolios by trying to find the right mix of agility within their core workplaces along with adding external flexible options (especially managed spaces). Tech and workplace transformation will continue to be high on occupiers' priorities, thus putting employees at the epi-center of all real estate strategies. Going forward, occupiers are expected to become more conscious about the well-being of their employees, the communities they operate in, sustainability and the broader environment. We also expect that office assets would continue to be a part of future REIT portfolios in India, thus further boosting investor and developer interests going forward".
Rise in pre-leasing activity
Occupiers continued to future-proof their portfolios and hedge against future rental escalations by pre-leasing space across various cities. In 2019,more than 20 million sq. ft. of pre-leasing activity was recorded mainly in Bangalore, Hyderabad, Pune and Mumbai.
More than 52 million sq. ft. of new office supply added in 2019; led by Hyderabad, followed by Delhi NCR, Bangalore and Pune
In 2019, supply addition rose by about 50% y-o-y to touch 52.4 million sq. ft. Mr. Chandnani further said, "The growth in supply additions in 2019 was a result of buildings receiving much-awaited occupation certificates across cities, as well as pre-commitments made in the prior years which came to fruition through 2019. This led to space take-up scaling a historic high. The supply is likely to normalize in 2020, resulting in absorption growth in the coming year to plateau and be in line with the supply."
Hyderabad followed by Delhi NCR, Bangalore and Pune dominated development completions, accounting for almost80% of the overall 2019 supply. In comparsion, the share of SEZs in supply dipped from 40% in 2018 to 27% during 2019; mainly led by Hyderabad, followed by Bangalore, Pune and Chennai.
City Highlights for Q4 2019:
Delhi-NCR
Quarterly space take-up led by Gurgaon and Noida
Supply addition on Extended Golf Course Road, Main Noida, MG Road and Noida Expressway
Rental values in Main Noida increased by 1-3% on a quarterly basis
Mumbai
Leasing activity remained largely stable on a quarterly basis
Supply addition in Thane, New CBD (BKC) and Mulund in Eastern Suburbs
Rental values remained stable across micro-markets
Bangalore
Bangalore continued to be one of the leading drivers of leasing in the country
Supply addition in ORR, EBD and PBD
Rental values increased in PBD, SBD, ORR and NBD on a quarterly basis
Chennai
Leasing activity remained broadly stable on a quarterly basis
Supply addition observed in Pallavaram-Thoraipakkam in OMR Zone 2
Rental values increased across prominent micro-markets
Hyderabad
Hyderabad continued to be one of the leading drivers of leasing in the country
Supply addition in Extended IT Corridor
Rental values remained stable across micro-markets
Pune
Leasing activity increased on a quarterly basis
Supply addition in SBD Kharadi, PBD Others and SBD West
Quarterly increase in rental values across few micro-markets
Kolkata
Leasing activity increased on a quarterly basis
Negligible supply addition
Rental values remained stable across micro-markets
Kochi
Leasing activity increased on a quarterly basis
Negligible supply addition
Rental values increased in the SBD (SEZ)
Ahmedabad
Leasing activity increased on a quarterly basis
Supply addition witnessed in the CBD and PBD
Rental values remained stable across micro-markets
Outlook
Sustained occupier sentiment going forward
Absorption is expected to be mainly driven by India's position as a preferred outsourcing destination and growing needs for space among corporates from sectors such as tech, BFSI, engineering & manufacturing and research, consulting & analytics. Other sectors such as pharmaceuticals/ healthcare, telecommunications and e-commerce are also likely to report higher occupier demand. Space take-up by tech corporates would be largely dominated by foreign players, especially US- and APAC-based firms.
It is anticipated that occupiers would continue to consolidate / expand operations and prefer locations within cities where infrastructure initiatives are to be completed. Furthermore, proactive government support towards developing an ecosystem that complements commercial growth, eases traffic, keeps pollution in check and promotes investment is likely to further improve occupier sentiment.
Occupiers are expected to remain conscious about the well-being of their employees, the communities they operate in and the broader environment. As a result, they are likely to adopt programs that focus on employee wellness at the workplace. This would involve green features that utilize natural lighting, sufficient ventilation and functions to improve the indoor environment to safeguard their health.
Further, occupiers are expected to implement several sustainability measures to reduce facilities management costs. They are becoming increasingly aware of the long-term cost savings that can be achieved by efficient utilization of resources. We anticipate occupiers to make great strides towards integrating sustainability into their supply chains, particularly in the area of procurement. The current evolution of supply chains from linear models to next-generation ecosystems would result in greater alignment of business goals with environmental and social objectives.
Increased supply addition likely in 2020
Bangalore, Hyderabad and Delhi NCR are expected to dominate supply addition in 2020. Development completions are likely to be concentrated in peripheral / suburban micro-markets. However, Delhi NCR is likely to witness supply addition in core locations as well. It is also anticipated that landlord priorities would shift from just LEED certifications to delivery of International WELL Building Institute's (IWBI) WELL Building StandardTM (WELL) certifications. Increased usage of tech and focused refurbishment of business parks by developers is likely to positively impact the valuations of such developments in the medium- to long-term. Along with increased investment in developments, landlords are also expected to improve available amenities promoting experience of the work-place, such as increased F&B offerings; thereby improving the quality of space offered.
Rental growth expected to be driven by space quality
As new buildings become operational, residual spaces along with higher quality of new spaces are likely to drive rental growth across major cities. It is also expected that older developments would observe rental growth when they are appropriately refurbished and equipped with adequate amenities. Furthermore, it is anticipated that rentals are likely to grow due to continued pre-leases in under-construction developments and limited availability of ready-to-move-in spaces. In cities such as Bangalore, Chennai and Pune, sustained absorption in quality developments is likely to lead to tapered growth during the year. Strong demand for space in quality developments and planned infrastructure upgrades are likely to result in a marginal increase of 1-2% in rentals in core micro-markets.
About CBRE Group, Inc
CBRE Group, Inc. (NYSE:CBRE), a Fortune 500 and S&P 500 company headquartered in Los Angeles, is the world's largest commercial real estate services and investment firm (based on 2018 revenue). The company has more than 90,000 employees (excluding affiliates) and serves real estate investors and occupiers through approximately 480 offices (excluding affiliates) worldwide. CBRE offers a broad range of integrated services, including facilities, transaction and project management; property management; investment management; appraisal and valuation; property leasing; strategic consulting; property sales; mortgage services and development services. CBRE was the first International Property Consultancy to set up an office in India in 1994. Since then, the operations have grown to include more than 8,500 professionals across 10 offices with a presence in over 80 cities in India. As a leading international property consultancy, CBRE provides clients with a wide range of real estate solutions, including Strategic Consulting, Valuations/Appraisals, Capital Markets, Agency Services, Asset Services and Project Management. The guiding principle at CBRE is to provide strategic solutions that make real estate holdings more productive and economically efficient for its clients across all service lines.
ALSO READ: Over $5 Bn Private Equity in Indian Real Estate in 2019, MMR and NCR Top Favourites