NoBroker Acquires Society Connect in an all Cash Deal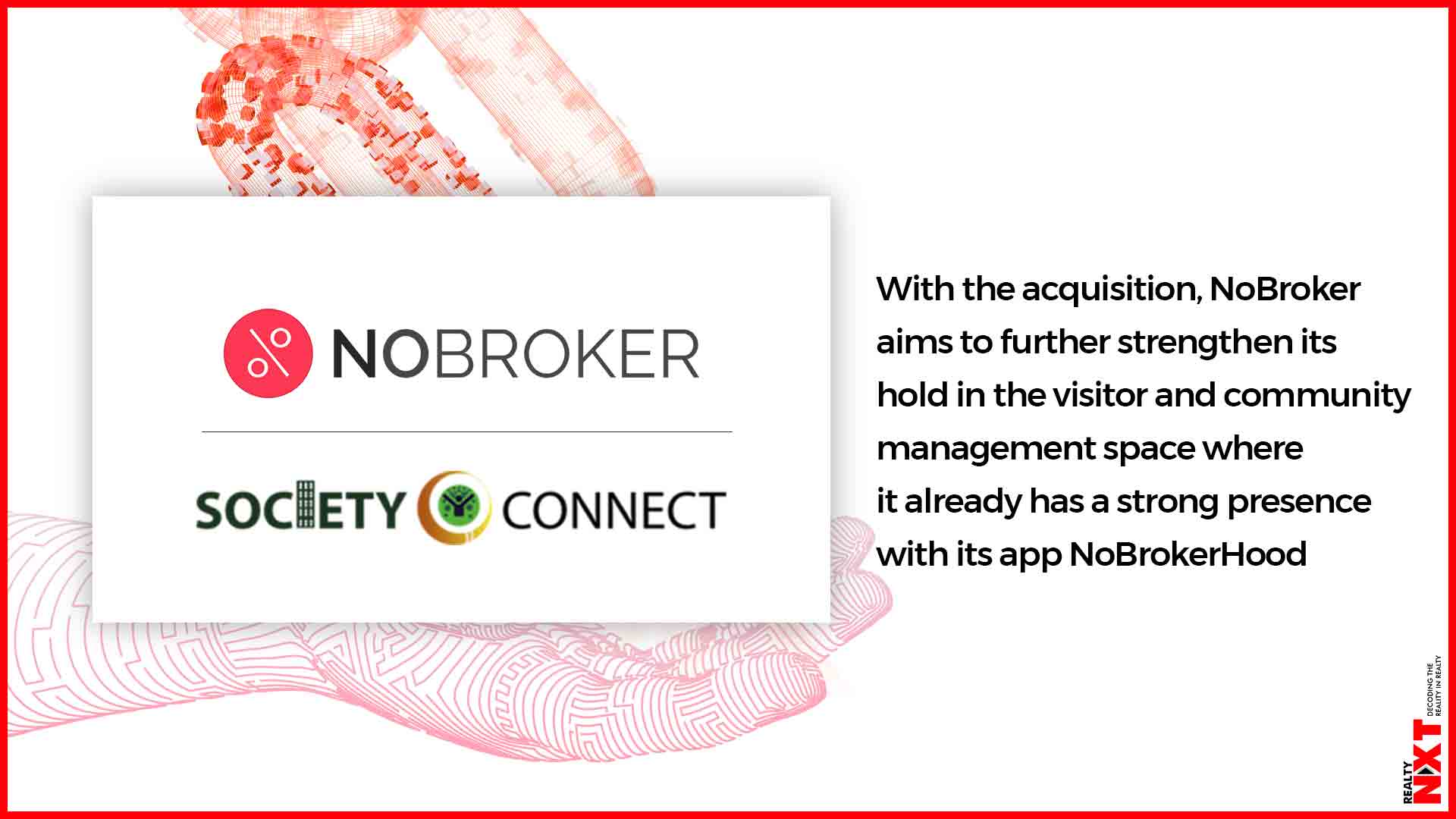 Aims to transform apartment living experience by bringing all activities on a single platform by combining prowess of NoBrokerHood with Society Connect's ERP solutions.
NoBroker, world's largest customer-to-customer real estate portal has acquired Society Connect in an all cash deal. With the acquisition, NoBroker aims to further strengthen its hold in the visitor and community management space where it already has a strong presence with its app NoBrokerHood. The announcement comes 2 months after NoBroker launched its services in Delhi-NCR. Society Connect, a technology mapped platform for society management, is a leader in Delhi-NCR and adjoining regions with over 500 societies that are using its platform to facilitate easy living.
NoBroker intends to hire all of Society Connect's employees to combine efficiencies of their ERP system along with Nobroker's own visitor and community management app, NoBrokerHood. NoBrokerHood was launched in 2019 and is currently deployed by 1000 societies across Bangalore, Mumbai, Pune, Hyderabad, Chennai, and Delhi-NCR.
Speaking on the acquisition, Akhil Gupta, co-founder and Chief Technology Officer of NoBroker.com said, "Our focus has been to provide end to end solution for all aspects of community management and simplify apartment living. Society Connect's accounting and payment solutions are unparalleled and will strengthen NoBrokerHood's suite of services. NoBrokerHood will become a single software for a host of services such as accounting, facility management, security, maintenance requests, communication and visitor management requests that enhance society living experience".
Amit Agarwal, co-founder and CEO of Nobroker.com commented, "We are happy to have a brilliant team and product on board and hope that this move would combine the capabilities of two players that are working towards making apartment living a hassle-free experience. The specialized solutions built by Society Connect would help achieve greater transparency and faster redressal for the residents. This acquisition falls in line with our endeavor to be the one stop shop for all home-related consumer needs."
Society Connect is currently deployed with renown realty players such as DLF, Unitech, Omaxe Group, Ashiana Group, Supertech Group, Nirvana Country, Tatvam Villas, Exotica Group, Ireo Grand Arch, ATS, Bestech, Vatika Greens, Belmonte, and many more. It generates maintenance bills upwards of INR 350 crore per annum.
"We are happy and honored to synergize our services with a leader like NoBroker.com that has won consumer trust with their unique value proposition of zero brokerage", said Shobhna Arora, co-founder of Society Connect commenting upon the association.
Sourav Mukerjee, co-founder of Society connect said, "We look forward to bring our financial competence to NoBrokerHood to digitally transform and streamline activities for a smooth user experience."
In 2019, Nobroker raised $101 million in series C and D rounds. It also launched services in Hyderabad and Delhi-NCR.
About NoBroker.com
NoBroker.com is a tech-enabled brokerage-free real estate platform that makes the real estate transactions seamless and efficient. It is removing information asymmetry in the real estate sector in India with the use of cutting edge technology and innovation. It participates in the entire user journey starting from the house search to packers & movers, home loans, rental agreements, cleaning services, and NoBroker Pay. With more than 7.5 mn registered users, it's the world's largest C2C real estate platform. Founded by Amit Kumar Agarwal from IIT- Kanpur and IIM- Ahmedabad, Saurabh Garg from IIT – Bombay and IIM – Ahmedabad and Akhil Gupta from IIT- Bombay, NoBroker.com has raised total funding of $121 million. NoBroker launched NoBrokerHood, a smart visitor and residential community management system that makes life more convenient and secure for residents of housing societies and townships.
About Society Connect
Society Connect, founded in 2016 by Sourav Mukerjee, Shobhna Arora, and Manish Kumar Gupta, is an integrated platform to manage everyday property operations. It has presence in 7 cities and is already a leader due to its differentiated offering of a strong financial module. They are the only Indian company backed and audited by HDFC bank. It provides an ideal solution for the society through easy to use technology both in terms of maintenance such as complaint management, dues tracking and payment, parking, notices, e-bills, accounting, visitor management and staff attendance etc. With 100,000 plus downloads, it has built a strong base with unmatchable software for facility management, account & billing and security and visitor management.
ALSO READ: PropTech is booming and changing the way we buy, sell, and interact with our properties