RealtyNXT In An Exclusive Conversation With Jeevan Kalanithi, Co-Founder and CEO of OpenSpace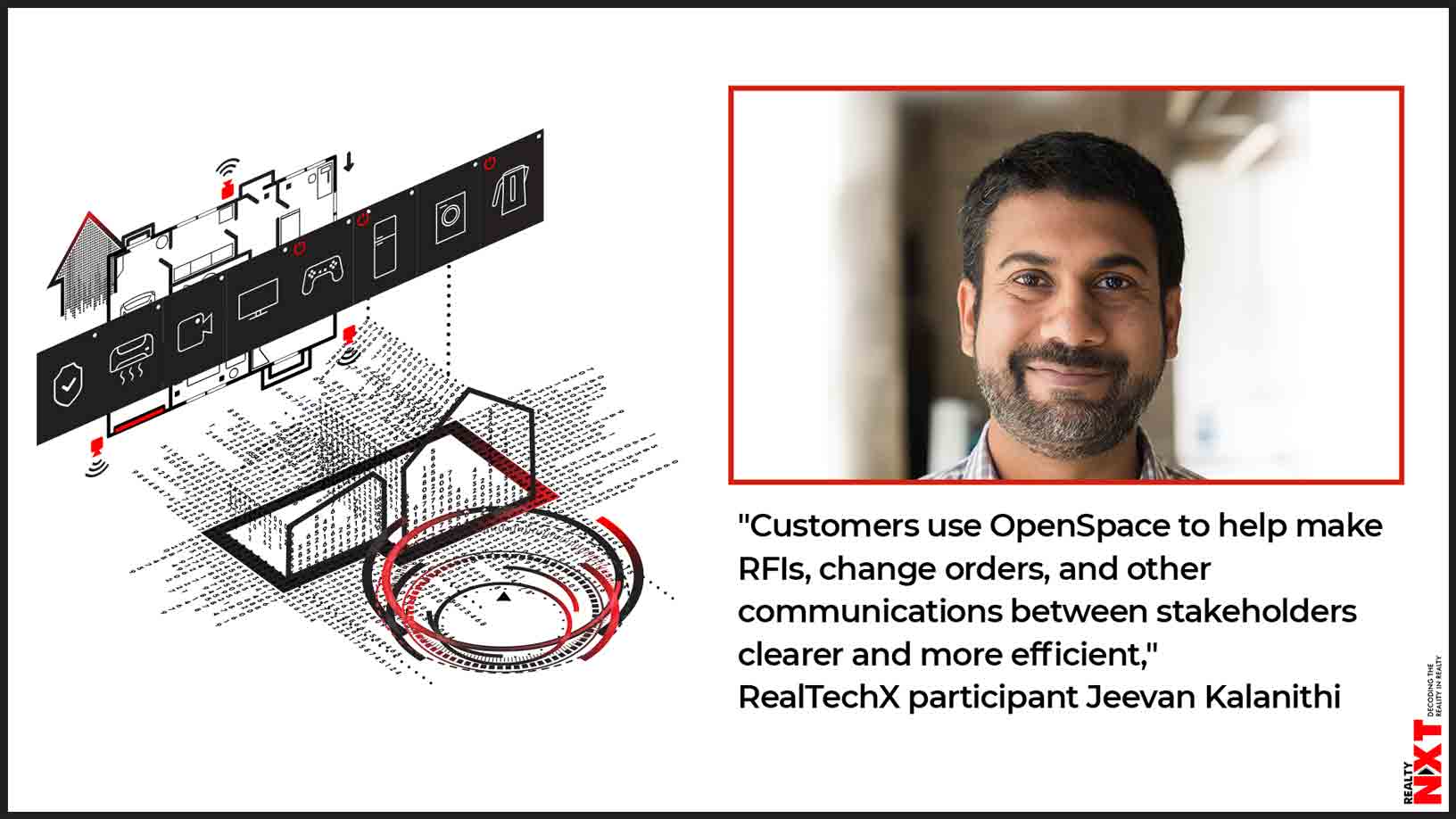 OpenSpace, which launched in 2017, creates navigable representations of job sites through 360-degree imagery captured with cameras attached to the hard hats of builders doing their customary walkthroughs.
Developers can then navigate through 360-degree recreations of their construction sites. OpenSpace is being able to compare site status over time through photos; that visual, historical record is a unique dataset that helps its customers create through their user interface. Read on for excerpts from the conversation.
1. Tell us about how it all started?
Mike, Philip, and I first met at MIT as graduate students, and then went on to pursue different paths for a few years. A company that I co-founded in that time, Sifteo, was acquired by 3D Robotics, which is what first brought me into contact with the construction industry. I started to realize that there was a real need in construction for a better way to document work done and site status—it was a pain point that technology could help solve. At the same time, cameras were becoming smaller, cheaper, and better, and the computer vision field was making great strides. Mike and Philip had pioneered new computer vision applications at MIT, and Mike had started and sold a video analytics company after graduate school. I reconnected with Mike and Philip, and we began thinking about how the confluence of all these factors might lead to a business opportunity.

After a lot of hard work, we created our first prototype. It produced a similar end product to what you see with OpenSpace today, but it was a much more manual process. I remember showing it to a construction project manager for his feedback, and he was impressed with the results. However, when I told him how much time it had taken to create, he said that it wasn't practical for a job site, where workers are already stretched thin. That was our "a-ha!" moment: we realized that the key to success was making a product that could completely automate the photo documentation process. And we knew that the ground truth information that images provide is not only valuable as an end product in itself, but that these novel datasets would allow us to build insights and analytics our customers really want. The rest, as they say, is history.
2. What are the hurdles you face while approaching a client? What kinds of clients do you cater to at this point in time?
We sell to GCs, subcontractors and owners reps – typically to project executives, project managers, project engineers or VDC managers. These people are very busy and are not paid to evaluate and trial new technologies. The construction industry is also experiencing a tech explosion – from mobile apps to cloud project management to IoT. This is great for the industry but is definitely leading to a bit of solution fatigue. All of this together means that project teams don't have much interest in learning new platforms or taking risks on new products that may or may not work. Our biggest challenge is to break through the noise and quickly convey our message of speed, simplicity and productivity.  In construction, complexity kills, in order to adopt a new tool, they need to be confident that it will provide real value without disrupting existing workflows. The construction industry is willing to embrace new technology, but only if it is dead simple to use and quickly makes a real impact.  
3. What has been your biggest challenge to date? What is your USP against your competitors?
These two questions are interrelated. Our fundamental technical challenge was the problem of taking site photos and automatically stitching them together and mapping them to floorplans without any geospatial metadata. The majority of the cost and work on a construction project is done inside where GPS is not available, which means that there's no simple way to know where on a site a given photo was taken. Our technical team was able to invent computer vision techniques that automatically align and locate images. We call this the OpenSpace Vision Engine.

The result of these efforts is OpenSpace's ability to completely automate the process of site photo documentation – even deep in interior rooms and corridors. All a builder has to do is place a 360-degree camera on their hardhat, use the OpenSpace app to mark where they are starting on the building floor plan, and then walk. Our system handles capturing the photos, arranging them against the floorplan, and stitching them together. While other companies offer variations of photo documentation solutions, none of them are as fully automated as ours is. On a busy construction site, that time saved and ease-of-use is a big differentiator for us.

4. Apart from helping in terms of visualization, are you fetching any data or actionable insights that are able to increase efficiency and cut costs for the realtors or developers?
Part of the value of OpenSpace is being able to compare site status over time through photos; that visual, historical record is a unique dataset that we help customers create through our user interface. It's similar to the concept of a digital twin in manufacturing. The ability to share visual access to projects also helps create actionable insights, as customers use OpenSpace to help make RFIs, change orders, and other communications between stakeholders clearer and more efficient. This, in turn, makes it easier and faster to take action on any site issues.

Beyond these benefits, we're also always thinking about how we can provide further value to our customers based on the data they collect with our product. As we continue down our product roadmap, this is definitely an area we're exploring!

5. How does OpenSpace create accountability for its clients?
A construction job site is a complex, ever-changing project that typically has multiple different stakeholders involved. In that type of environment, it's easy for miscommunications to arise about work that has or hasn't been completed—after all, unless you're physically standing at the site, how can you know for sure? This is the problem that we're solving with OpenSpace. By giving everyone on the job access to a shared, unbiased source of truth for site status, we can improve collaboration and reduce misinformation. It helps keep everyone more accountable: general contractors can know exactly what trade work has been performed by subcontractors, owners can see a visual record of changes they've requested that differ from original plans, etc.
6. What do you think about the future of PropTech in Australia?
Australia has a progressive and forward-thinking PropTech community. The community is very tech-savvy, small enough to drive quick adoption and large enough to support long-term growth. It is a fantastic market for innovators to pioneer new solutions and workflows. Success in Australia translates well to the US, Canada and Northern Europe and provides an onramp to Asian opportunities.

7. Can you share 5 sets of numbers in terms of statistics that define your growth?
Sustained 30% QoQ customer growth.
500,000,000 square feet captured in 18 months since launch.
27 million images of active construction projects.
Projects in 25 countries.
8. How has been the journey with RealTechX cohort and being selected for the program?
Due to schedules and travel logistics we have yet to attend an event in person. The selection process and communication has been very professional and complete.  We can't wait to attend the session in Sydney this March!
9. Lastly, how RealTechX program can help you in your company's growth?
We believe that Australia is a great place to pioneer new technologies and prove new construction processes. The Australian proptech and contech community is known for being progressive and tech-forward. Australia is also an ideal regional base for broader Asian opportunities. The opportunity is clear but as a US-based company it is difficult to know where to start and how to make our first steps. RealTechX is the onramp we were looking for.
ALSO READ: "In India, the 'integrators' who deliver real estate on behalf of the property developers are our target customers", RealTechX Participant Rachel Kidwell