"The journey with RealTechX has been an amazing one so far," Daniel O'Donoghue, Co-Founder of CONQA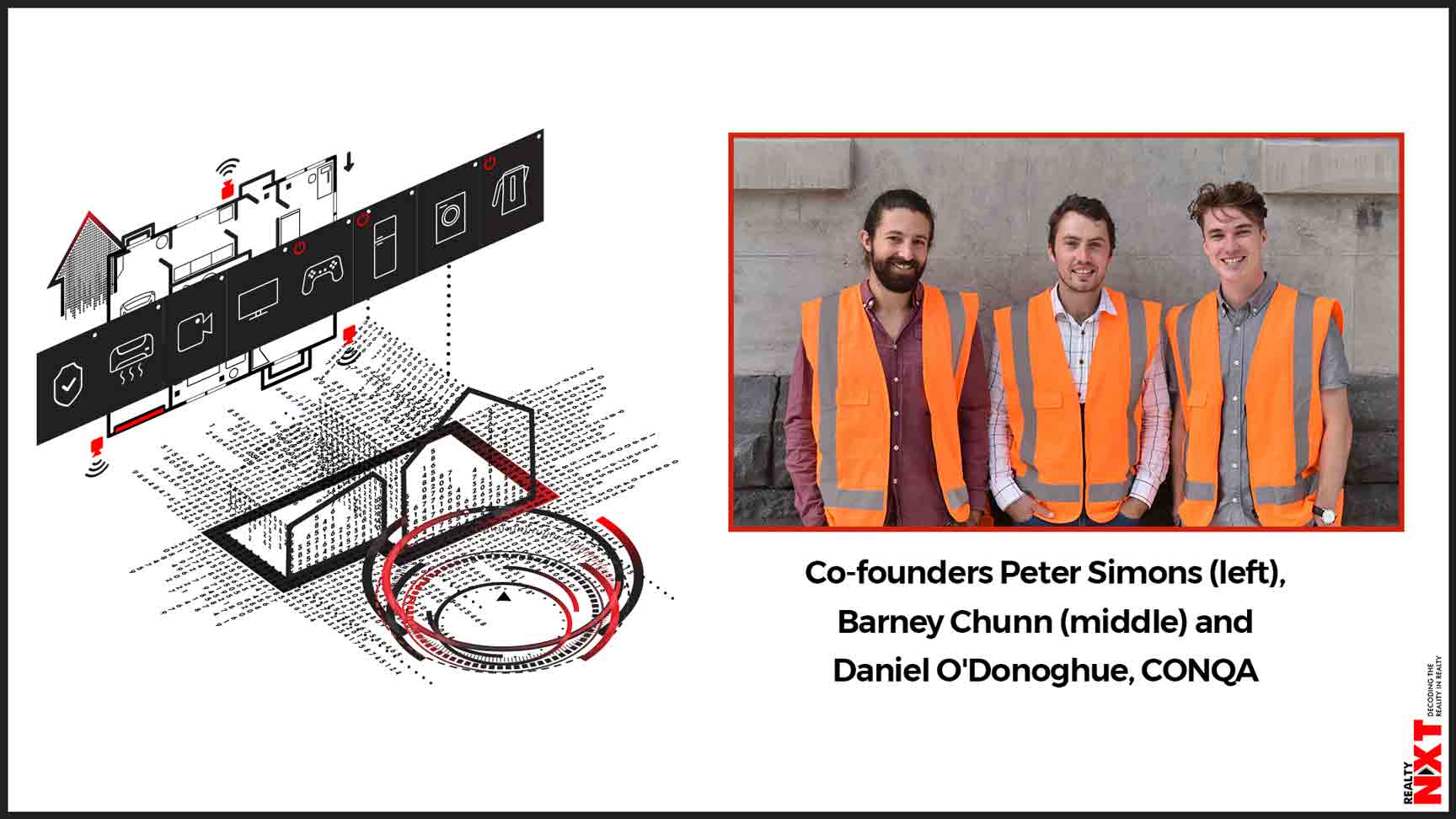 The three friends Daniel O'Donoghue, Peter Simons and Barney Chunn formed their company Conqa in 2015 to develop and sell new software that made the notoriously difficult quality assurance processes in the construction industry a whole lot easier.
The aim of quality assurance is to maintain control and quality in producing products and services and at present, the construction industry's reputation on this is challenged.
Some of their clients include construction company Hawkins, retirement village developer and operator Ryman Healthcare, developers Ganellen and steel products supplier Steel & Tube.
They are now in Australia and are excited to be one of 12 companies, of 180 who applied worldwide, to take part in a five-month innovation and growth programme founded and run by Taronga Ventures which helps companies in the real estate and building sector achieve sustained growth. Read on for excerpts from the conversation.

1. How Conqa was incepted? What was the need gap that you noticed in the market which made you start your journey with Conqa?
Conqa was started by three friends who wanted to build a great business – solving problems with the software. Construction was one of the least digitized industries in the world and had very low productivity growth, making it a great place to start.
The problem we discovered was that site teams found the quality assurance process pain, and therefore did not do it. This led to mistakes throughout construction, culminating in rework and risk for contractors and asset owners.

2. What kind of Quality assurance process does Conqa provide which can help contractors & developers? What kind of data you are able to pull in which can help in the cost-savings for the contractors & developers?
The quality assurance (QA) process relies on-site teams using a series of checklists that are relevant to every site activity (eg pouring concrete). The process exists to help contractors get their work right and to prompt the correct approval & levels of documentation (eg photos). 
Conqa puts a simple QA process in the hands of site teams, driving the right behavior while bringing the data to life. 
According to the chartered quality institute, rework costs about 12% of a project's value. Conqa has helped our customers reduce rework rates (re-doing the same work twice) by over 80%. One pilot project where the developer mandated Conqa is tracking 'months' ahead of program. 

3. How does technology play a pivotal role in Conqa?
Technology is core to Conqa's offering. We have developed simple software that works on mobile phones, meaning any worker on-site can be connected to a meaningful QA process and share their live work. Our technology then aggregates this data to inform project management.   
4.  What current clients Conqa is catering to?
Conqa serves subcontractors, general contractors, and developers. Our over 300 customers include Multiplex, Fulton Hogan, and Auckland International Airport. 
5. And what are the major challenges you face when you deal with the real estate market?
Changing behavior. Historically, the QA process has not been done well, if at all. Therefore trying to make QA a regular behavior, no matter how easy to use our technology is, requires a behavior shift, and this is a challenge for our customers, us, and the wider market. 
Educating the industry is also a challenge. QA is a process typically done by those on-site, but the outcomes directly and significantly impact everyone, especially the final owner. Because developers typically deal with defects, they focus more on resolving those, than treating the problem at its source – the quality of workmanship. Bringing this to the attention of developers requires bringing them on the journey. 
6. How has been the journey with RealTechX cohort and being selected for the program?
The journey with RealTechX has been an amazing one so far. The team at Taronga have taken a very well rounded approach to not only which companies they have selected for the program, but also how they have designed the program. Starting the program off with a focus on founder wellbeing & performance has established a very strong foundation, one which will only benefit us as we dive deeper into the journey. 
7. What do you think about the future of PropTech in Australia?
PropTech is set to both grow significantly in Australia, and have a huge impact on the Australian property market. There is a fantastic eco-system of PropTech businesses coming out of Australia, and the players in the property market are starting to take innovation lead approaches to how they run their projects and assets. Australia's size and market sophistication has it set to be a global leader. 
8. Lastly, how RealTechX program can help you in your company's growth?
RealTechX will help Conqa grow through a number of ways. First, improving the way we direct and run our businesses as founders. Growth businesses are always short on time & resources, RealTechX and the team involved are already helping us to focus our market approach to ensure we make the most from our efforts. The mentorship from industry leaders will be invaluable. 
Second, recognition & exposure. The Taronga team were very thorough in their selection of companies, so the recognition is a great signal to customers & investors. 
Finally, RealTechX will also give us access to some of Asia's largest real estate players. Being in such close proximity to these players is a very exciting opportunity, one we will definitely capitalize on!  
ALSO READ: RealtyNXT In An Exclusive Conversation With Jeevan Kalanithi, Co-Founder and CEO of OpenSpace