India bucks the trend as Asia Pacific proptech funding peaks out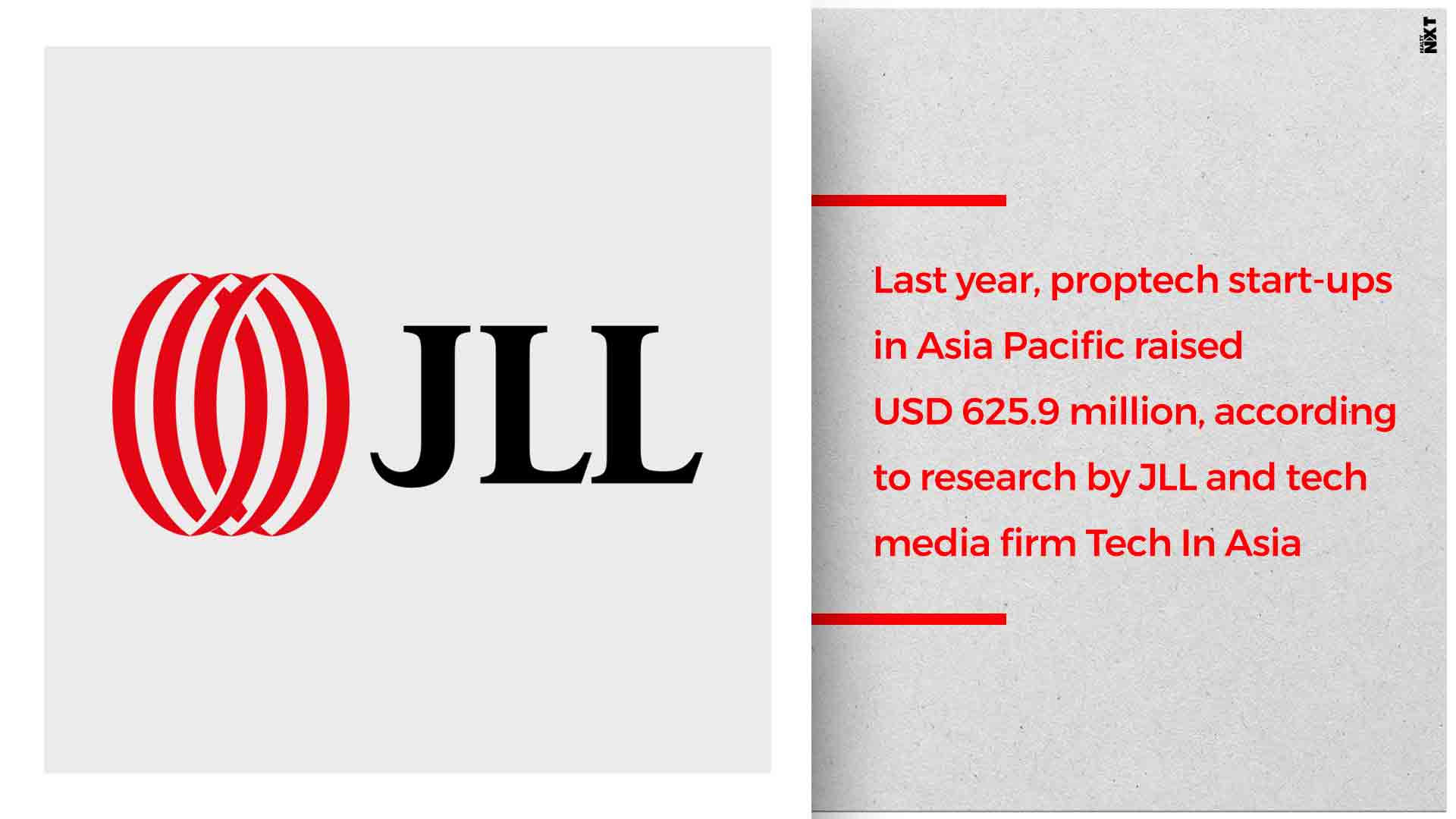 Research commissioned by JLL with data compiled by Tech In Asia reveals funding for property technology start-ups continues to shine in India.
India continues to buck the trend as proptech funding grew nearly 17 times from USD 3.4 million in 2018 to USD 56.8 million in 2019. This is despite the fact that after reaching a high of more than USD 1 billion in disclosed funding in 2018, property technology – or proptech – start-ups in Asia Pacific saw their funding decline by 38.4% in 2019.
"The tech community of India has produced some of the most innovative solutions in different industries. Its proptech scene has great potential as well as deep engineering expertise and this is also why JLL partnered with Invest India to launch India's biggest proptech accelerator – JLL IDEAs last year," says Ramesh Nair, CEO and Country Head, JLL India.
Last year, proptech start-ups in Asia Pacific raised USD 625.9 million, according to research by JLL and tech media firm Tech In Asia. Deal count fell across the board to 38 deals in 2019 compared to 50 in 2018.
"We wanted to get a sense of the Asia Pacific proptech funding scene now compared to two years ago when we first commissioned Tech In Asia to produce. While India has witnessed an increase in investor interest, fresh data from their sources show that there's been a significant decline in funding in Asia Pacific," says Jordan Kostelac, Director of proptech, JLL Asia Pacific.
"These figures are only indicative of VC interest and they're less reflective of what's truly happening in our industry. In our work with clients and fellow corporates, we are seeing that interest in proptech in Asia Pacific continues to grow, with traditional players taking a strategic, integrated approach with start-ups instead of the VC investment route."
"The real estate industry has been relatively late to the tech revolution, which has given major corporates and other real estate firms a greater runway to innovate and invest internally in technology. And in Asia Pacific, where corporate tech adoption is very quick due to the dynamic nature of the markets, many companies are entering partnerships while increasing trials and deployments of new technologies in their portfolio. For instance, JLL has an extensive suite of tech solutions and we set up a global Centre of Expertise for Technology, Data and Information Management two years ago in Bengaluru, India, to develop new solutions harnessing the latest technologies available," Kostelac adds.
Bright spot in pre-series A and India's proptech scene
The infographic by Tech In Asia shows that pre-series A start-ups experienced the biggest increase in funding from USD 12 million to USD 26.1 million, a rise of 117.5% year-on-year. India, too, bucked the overall trend as proptech funding grew nearly 17 times from USD 3.4 million in 2018 to USD 56.8 million in 2019.
Proptech, sustainability and data
Kostelac further projects that real estate firms will be looking to invest to tackle the tough issues of data privacy and how to use technology to achieve greater sustainability in the built environment.
"We're living in an age where data is easily collected and data privacy needs to be taken seriously. Building owners and occupiers have to ensure adequate protection and proper management of their data," says Kostelac.
"Similarly, there is an increasing demand to ensure Environmental, Social and Governance (ESG) metrics are met in buildings and the wider real estate industry. Well-employed proptech solutions, like platforms to track and benchmark energy consumption in buildings, have the power to deliver clear sustainability benefits on these fronts."
About JLL
JLL (NYSE: JLL) is a leading professional services firm that specializes in real estate and investment management. JLL shapes the future of real estate for a better world by using the most advanced technology to create rewarding opportunities, amazing spaces and sustainable real estate solutions for our clients, our people and our communities. JLL is a Fortune 500 company with annual revenue of $18.0 billion, operations in over 80 countries and a global workforce of more than 93,000 as of December 31, 2019. JLL is the brand name, and a registered trademark, of Jones Lang LaSalle Incorporated.
In India, JLL has an extensive presence across 10 major cities (Mumbai, Delhi NCR, Bengaluru, Pune, Chennai, Hyderabad, Kolkata, Ahmedabad, Kochi and Coimbatore) and over 130 tier II & III markets with a cumulative strength of close to 12,000 professionals. Headquartered out of Mumbai, we are India's premier and largest professional services firm specializing in real estate. Our services cover various asset classes such as commercial, residential, industrial, retail, warehouse and logistics, hospitality, healthcare, senior living, data center and education.
ALSO READ: AI-driven room rental marketplace, Badi, has launched its latest campaign