Residential supply increased by 24% in 9M 2019 compared with the same period the previous year: CBRE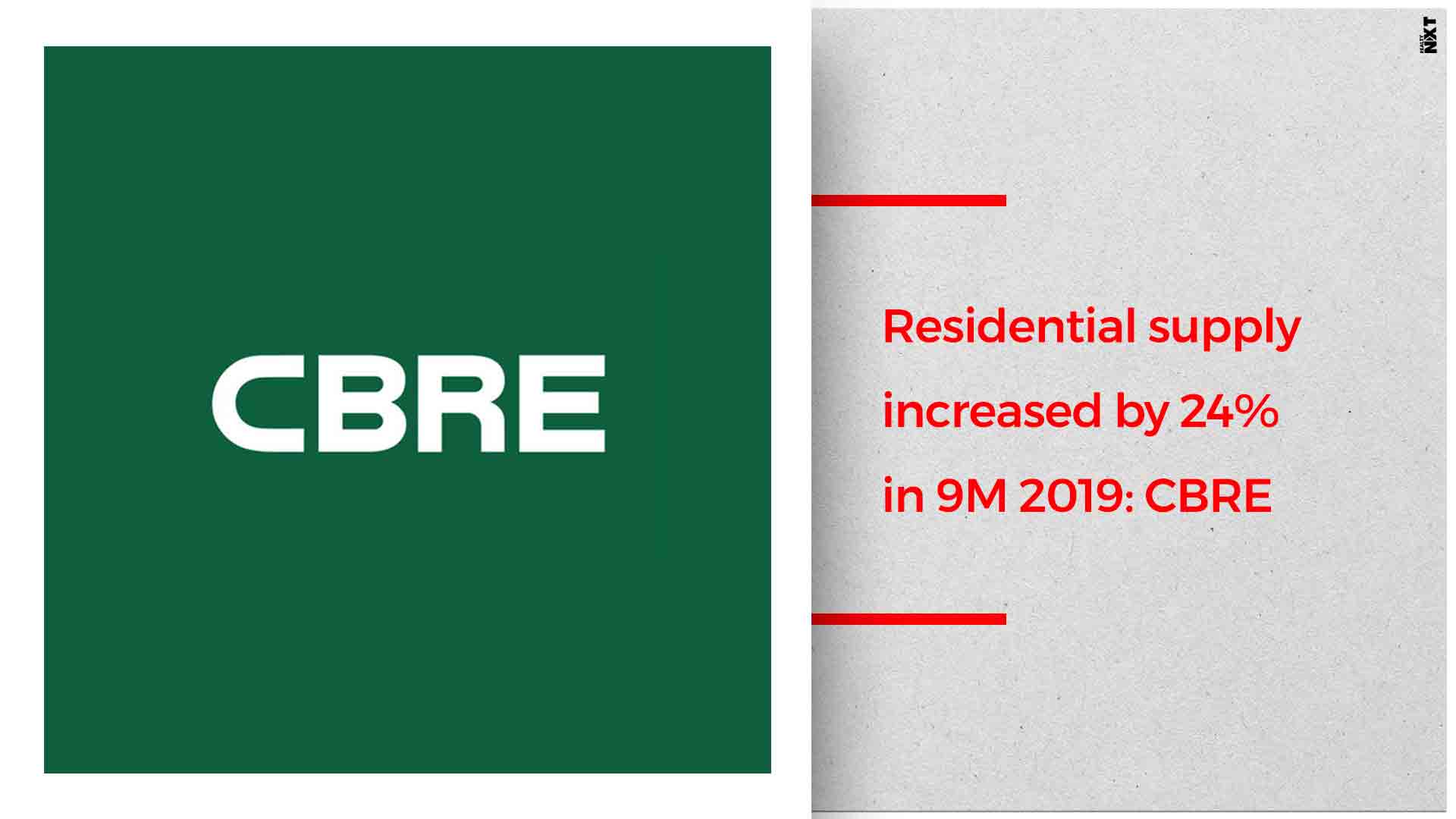 On an annual basis, residential supply increased by 24% in 9M 2019, compared with the same period the previous year.
Sales activity too improved by 26% during the same period. The growth can be attributed to the sustained efforts of the central government to strengthen the sector, with the announcement of National Infrastructure Pipeline and allocation Rs 100 lakh crores for infrastructure development in the next five years with INR 1.7 lakh crore to be spent on developing transport infrastructure.
With the focus on affordable housing and launch of several flagship schemes such as Smart Cities, Swachh Bharat, AMRUT, Jawaharlal Nehru National Urban Renewal Mission (JNNURM), and Housing for All, India strides into the next phase of growth. The demand will be concentrated towards the affordable and mid-segment, with projects being launched in locations with developed social and physical infrastructure.
With millennials shifting to the suburb areas for better job opportunities, combined with infrastructure development, developers are looking at shifting their focus to these areas, which were initially categorized as an agricultural or underdeveloped society. With major infrastructure projects, new launches will continue to rise, and affordable segment will continue to drive the sector. This development will enable the substantial growth of housing in the urban metropolitan as well as undiscovered peripheral city centers.
Upcoming Infrastructure Projects in Delhi NCR and Mumbai
Mumbai Metro Rail Network
The Mumbai Metropolitan Region Development Authority (MMRDA) has earmarked more than 40% (USD 1125 million) of their 2019-20 budget for developing 12 metro lines.
Timeline: 2021 – 2025
Navi Mumbai International Airport (NMIA)
The first phase of the greenfield airport will be able to handle 10 million passengers per annum. Once fully operational, it would be equipped to handle more than 60 million passengers per annum.
Timeline: 2021 – 2025
NCR Metro Rail Network
Metro rail connectivity will be augmented further across Delhi, Noida and Haryana with more than 20 planned and under construction metro rail projects.
Timeline: 2023 – 2030
Jewar International Airport and Aviation Hub
An international airport with a capacity to handle 30-50 million passengers per annum will come up at Jewar in Greater Noida and is expected to ease the load on Delhi's IGI airport. In addition, an aviation hub will also be developed in the vicinity which will primarily cater to business and leisure travelers.
Timeline: 2023 – 2025
Delhi-Mumbai Industrial Corridor (DMIC)
DMIC is envisioned as one of the world's largest infrastructure projects. The government aims to develop it as a "Global Manufacturing and Trading Hub" with numerous linkages such as smart cities, mega power projects, airports, logistics hubs, etc.
Timeline: 2030 – 2040
Bharatmala Pariyojana
This program has been designed to bridge the gap between the existing highway infrastructure across the country and is expected to have a positive impact on India's Logistics Performance Index (LPI). Under this program, 50 national corridors (currently there are 6) have been planned along with national highway (NH) linkages to 550 districts (currently 300 districts).
Timeline 2040 – 2050
ALSO READ: Knight Frank India helps GHAL form JV with ESR to develop a world-class Logistics and Industrial park