MahaRera has extended the completion deadline of all projects by another three months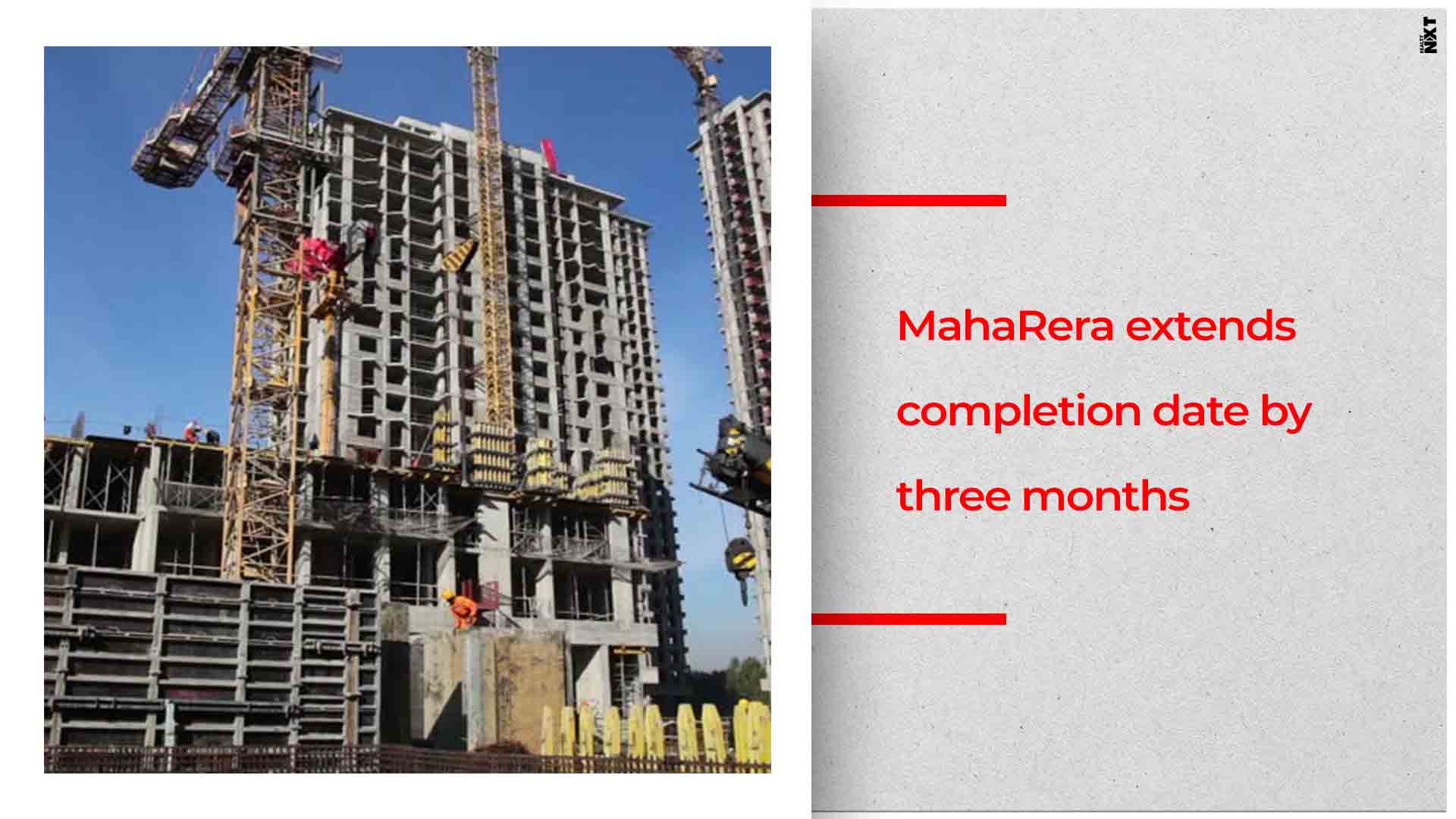 In view of the lockdown, the Maharashtra Real Estate Regulatory Authority (MahaRera) has extended the completion deadline of all projects by another three months.
The order issued on April 2 stated that all MahaRera-registered projects whose completion or revised completion or extended completion expires on March 20, 2020 has been given an extension of three months. MahaRera has already deferred its hearings and asked its staff to work from home.
At times like when there is mental, social and economic unrest globally, this move by the state government brings relief. The lockdown brought all work to a standstill, hence a deadline extension for under construction projects was definitely the need of the hour. However, this is only temporary relief, and MahaRERA must consider at least a year's extension. All labour are migrants and have returned to their native places at this time. For them to return and monsoon to pass, post which work can resume, it will take about 6 months. Hence practically construction work will continue to be affected for at least six months."Mr. Ashok Mohanani, Chairman EKTA World and Vice President NAREDCO Maharashtra
"The impact of the pandemic on the real estate was severe as the sector was already grappling with the liquidity crunch and the growing concern of rising unsold inventories across the country. It further added not only financial but  sentimental stress across the economy and  sector that plagued in the last month of the financial year end. Since the construction of the properties came to a full halt owning to lockdown to combat COVID19, there was a major ramification on ensuring the completion of the project in the given timeline. This announcement will provide a major relief to home developers as it provides the much required extra time for completion and delivery of the project." Mr. Rohit Poddar, Managing Director, Poddar Housing and Development Ltd. and Joint Secretary, NAREDCO Maharashtra
"This is a proactive step by Maharashtra RERA, and is a welcome step. We have as yet completed just the first one third stage of the 21 day lockdown, and will have to wait and watch how things develop in days to come. Even after the lockdown is lifted, it is anyone's guess how long it will take for things to return to normalcy," added Dr. Niranjan Hiranandani. While these announcements take care of the immediate time frames and deadlines, the real estate industry hopes that any further delays as a result of the pandemic will also be taken into account, and similar action will be initiated by Maharashtra RERA." Dr. Niranjan Hiranandani is President (ASSOCHAM) as also President (National) NAREDCO.
"Due to the 21 days lockdown announced on account of the COVID-19 outbreak, both construction and sales activity have come to a complete halt across the entire real estate sector. On several sites, construction labour too has gone back to their hometowns. Even after the lockdown, activity will recommence gradually which will cause project delays of anywhere between 4 to 6 months at the least.Maharashtra RERA's announcement of a 3 months extension in project completion timelines is a welcome move in light of the current situation. While this may not completely compensate the sector with the actual project delays that are likely to be witnessed, its most definitely a decision in the right direction to support real estate developers and sector as a whole in this global crises".Mr. Sharad Mittal, CEO & Head, Motilal Oswal Real Estate Funds
"The deferment of deadline by the MahaRERA is a good decision amongst the current conditions owing to the pandemic. The government has given some respite to the residential real estate sector which will be feeling the impact of this lockdown. While we hope that this crisis will be over soon, steps such as these will help reduce the severity of the lockdown in short term".Mr. Shishir Baijal, Chairman & Managing Director, Knight Frank India
"The proactive approach by the MahaRERA authority is greatly appreciated. Based on the duration of the lockdown and considering the migration of labour (back to their villages), the overall disruption may end up being more than 3 months. Getting project sites running at full steam may take longer."Mr Rohit Gera, Managing Director of Gera Developments Pvt. Ltd 
ALSO READ: Ghaziabad Development Authority decided to not levy interest on EMIs till June 30