Switch Automation helps property owners and facility managers reduce operating costs: Deb Noller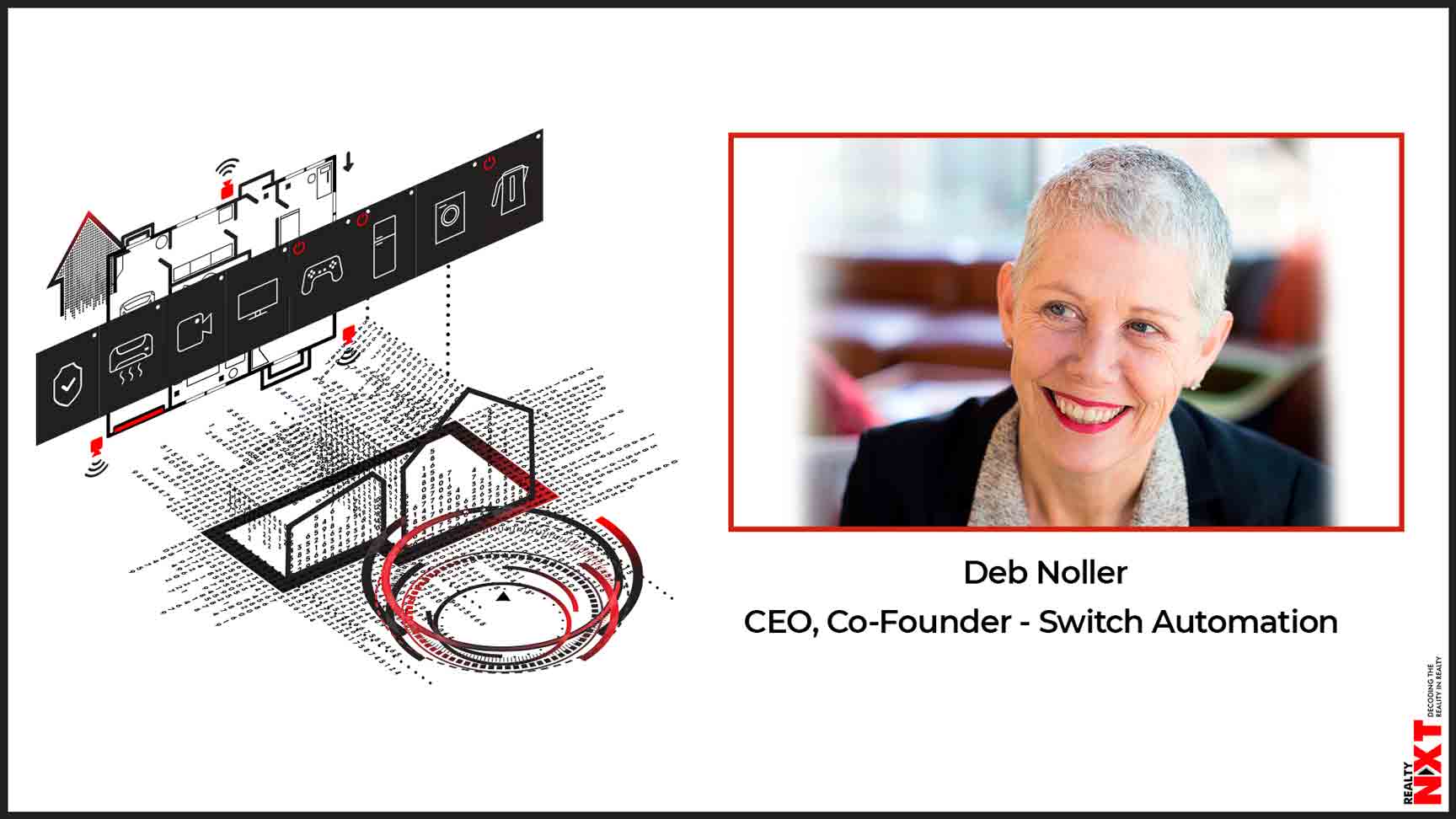 Switch Automation is a global real estate software company that helps property owners and facility managers reduce operating costs, improve energy efficiency and deliver exceptional occupant satisfaction.
This year in April, Switch Automation closed $5M in a Series A2 fundraising round with lead investor Gaw Capital, a private real estate and equity company, as well Allectus Capital, MetaProp and Taronga Ventures. This will fund Switch's growth strategy into the Asian market, help double-down on software development and expand the sales and marketing efforts. Read on for excerpts from the conversation.
1. Please tell us briefly about Switch Automation? And what motivated you to start on this entrepreneur journey?
I was born lucky. I was born in New Zealand, in a time before plastic. I was born into an environment that was pristine and dramatic, and it taught me an enormous love for our natural environment. From 1992, I co-founded series of successful companies, building technology that helped mining companies operating in remote locations get real-time visibility into their freights, helping them save tens of millions of dollars per year. In the process, we learned how technology and data can help large companies become much more profitable.
In 2012, I attended an event where the heads of facilities for Walmart, the GSA, and Microsoft all articulated how there was no platform for collecting building performance data. Real estate is the largest industry on the planet, and the last to be transformed by technology – I believe this is the largest opportunity of our collective lifetime. So I founded Switch Automation that same year.
Switch is a global real estate software company that helps property owners and facility managers reduce operating costs, improve energy efficiency and deliver exceptional occupant satisfaction. Our comprehensive smart building platform integrates with traditional building systems as well as Internet of Things (IoT) technologies to analyse, automate and control assets in real-time. Whether you manage a network of retail branches, offices or residential buildings, the Switch Platform provides remote insight, analytics, and automated control systems to drive facilityoptimisation all through a single user interface.
2. Who are your customers? And what are the offerings being provided by Switch Automation to its customers?
Switch helps organisations across a variety of industries optimise building performance, including financial services, retail, grocery, commercial real estate. Our customers include leading property managers like Oxford Properties and public organisations like the U.S. Department of Defense.
3. What is the main challenge that you are still facing for your growth?
Our prospects are sometimes challenged to make the case for a dedicated smart building budget. Indeed, with so many companies focused on cutting costs, the benefits of investing in technology are often overlooked. In response, we would encourage anyone thinking about integrating smart building tech with their portfolio to start with incremental budget adjustments so that expenditures are more likely to be approved. It's crucial to lay the groundwork gradually, prove ROI and use data to demonstrate the benefits across the enterprise. Also, don't forget to consider the intangible resources like time saved by your team, in addition to energy and maintenance savings when campaigning for a smart building program.
The structural issues faced by our prospective customers can also be a point of resistance. Traditionally, OT and IT departments operate in siloes with little coordination or communication between them. But now that buildings become are deeply connected, OT needs IT's technical expertise to facilitate integration and strategic planning.
Meanwhile, IT teams who historically owned cybersecurity, connectivity and network infrastructure are fielding increasing OT demands for access and control. While operations teams are starting to see the benefits of integrating technology into their data strategy, there still remains the challenge of bringing the right specialists together in a cohesive, actionable way to facilitate an effective digital facilities management strategy.

4. What is the key growth driving factor for the company?
We find a careful focus on our customers is the most reliable way of driving growth. Many of our customers are invested in both the Switch Platform and the Switch team. The Switch team shares a common goal of bringing a greater level of sustainability to the global real estate industry, and we feel this common goal manifests itself in the makeup of the product and how we work to meet our customers' unique needs.
Once our existing customers can prove the benefits of their smart building program, they often choose to scale the Switch Platform across their entire portfolio. Integrating additional buildings is straightforward – the Platform is hardware and data-agnostic, and our tools are optimised for quick deployment and can be easily configured to fit a wide range of scenarios and enterprise goals.

5. How technology is helping Switch Automation in optimizing better performance and in maximizing impact?

When enterprises lack real-time visibility and remote control over building and system performance, they waste vast amounts of time and money on unnecessary truck rolls, false security alarms, sign outages, and failing equipment, to name just a few.
The Switch Platform leverages B2B integrations, easy-to-use analytics, machine learning and user-configurable fault detection to identify, triage and prioritize building performance issues as soon as they occur. Data-based retro-commissioning and continuous commissioning also enables our customers to optimise how their building equipment and systems function together. They also reduce technician truck rolls by resolving issues remotely whenever possible and getting in front of equipment issues before they become mission-critical.
Ultimately, this approach empowers our customers to reduce operating and energy costs while delivering an exceptional tenant experience.
6. Why should the real estate management team choose Switch Automation? How easy would it be for such a team to integrate Switch Automation with its ERP software?
A truly effective smart building platform should integrate building data, systems and equipment to give actionable insights into site and portfolio performance and ultimately help the people behind these assets drive efficiency, sustainability and comfort. Our goal at Switch is to make it as easy and painless as possible to collect as much data as you want into one single pane of glass, for the very first time.
Unlike other proprietary smart building solutions, Switch is 'data agnostic,' meaning the Platform doesn't discriminate against any specific brand of IoT sensor or building system. From BMS systems to electrical meter data, utility usage work order systems or GRESB and LEED data, as long as the system we're connecting to has an open-protocol or the data files are saved using standard file formats, we can connect to it. To extend the diverse range of smart building tech that the Platform integrates with, our software development team is ready to develop new API integrations for our Enterprise IoT customers.
Moreover, integrating the Switch Platform is a very scalable process. Once we establish the specifics of integrating thousands of devices with diverse firmware, software and hardware types, extending the Platform across your portfolio later is easy, whether that means 100, 1,000 or 100,000 additional buildings.
7. How has been the journey with RealTechX cohort and being selected for the program? Also, how RealTechX program can help you in your company's growth?

We appreciate the support from the Toronga Group and think RealTechX's mission to support businesses in the real estate sector, helping them to achieve their growth objectives and gain better access to capital and customers is fantastic. We were delighted to be included in the exclusive group of 12 companies and appreciate the additional visibility this provides.
These introductions to the real estate companies and visionary leaders who truly understand real estate and embrace technology are intensely helpful.
8. What do you think about the future of PropTech in Australia?
All across the property and the real estate industry, people are adopting new technologies and using data to create really interesting new digital business models. Research and experts have all indicated that there's going to be more than 3.5 billion new data devices globally posting information out of commercial buildings over the next two to three years. All of this new high-quality data is going to create new business models and new revenue streams.
Very shortly, facilities management as we know it today will be dead and a whole new digital model will spring up and take its place. Soon digital facilities management will create a world where we pair facilities managers' deep-rooted skills with technology in one central location. The digital FM will still maintain that responsibility, but now will be armed with technology to streamline their efforts and improve the bottom-line.
So the incentives are actually lining up to create these new business models, new technologies, and the adoption of data is causing new businesses and existing businesses to really understand how they're going to innovate for the future.
As I always say, timing is everything. Smart building technology creates new value and efficiency that compounds over time, meaning the big industry winners and losers are being established as we speak.
ALSO READ: In An Exclusive Conversation With Varun Gopinath, Head Of Sales, WeWork India