'We Work with Builders for Sustainability'- Sriram Kuchimanchi, Founder & CEO, Smarter Dharma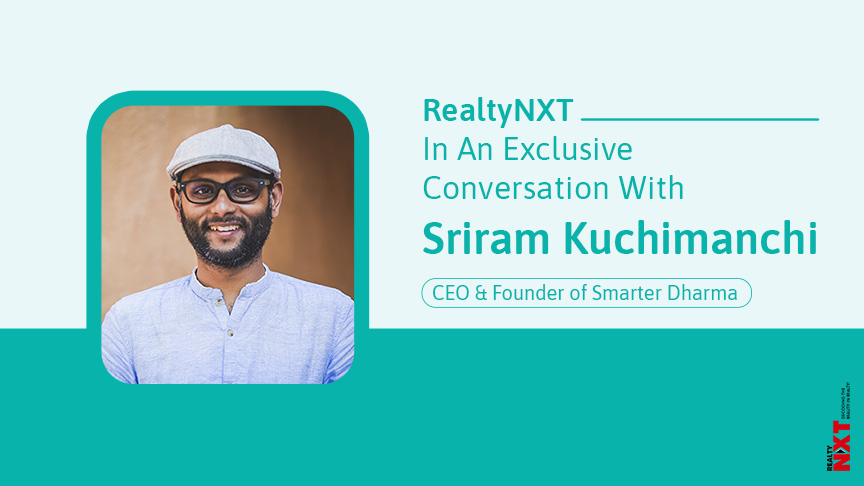 Smarter Dharma began its journey by focusing on sustainability solutions for the construction industry. Now, the Bengaluru-based social enterprise has taken under its wings numerous sectors ranging from hospitality to manufacturing and beyond. Read on for excerpts from the conversation.
1. According to you, which elements come under sustainability in real estate?  
Typically builders look at sustainability as an afterthought or regulatory compliance requirement. However, when we work with builders for sustainability, it is a combination of resource efficiency from the design phase itself (which is energy, water savings and waste reduction) to maintenance cost reduction for the resident while reducing environmental impact due to the building and its operations. 
While all this would be supported by the platform, we also work with the marketing team of real estate developers to help them showcase sustainability for their customers.
 2. What is the traction you have found from Indian real estate developers?
Even though it took a while in the last 2 years, there has been a good increase in the number of developers who realise that being sustainable is not just financially right, but also the right thing to do for the environment. 
While we were struggling pre-2017, things are much better now. There's a lot of maturity in the real estate industry which is exciting.
3. What are the challenges have you faced while interacting with real estate developers in India?
There are a couple of clear challenges we have faced. 
a) Pre-2017, we had to first explain why adoption of sustainability is important. That was an uphill task and only after that would we get to solutions and design changes. However, the recent awareness and maturity amongst developers has helped us and we are excited about what we can do pan India.
b) Developers looked at adoption of sustainability as a siloed problem solving approach. However, when we showcase our holistic approach and the economic and environmental value possible, they are excited and look at working with us. We are seeing repeat customers who are now pulling us on-board for the conceptualisation of the project as they are realising the value of sustainability.
4. How do you drive your data iterations? If all the pin codes and local issues are different, then how are you driving actionable insights for your clients?
Geographical differences in resource availability and regulatory requirements are a challenge, especially with irregular digitisation of data. However, we found different ways to put such data together and ensure the insights we provide are accurate. The challenge has been automation and that is work-in-progress. As we do more projects, the platform gets more accurate with collating such data.
5. Does your platform only cater to real estate developers or city planners as well? How can city planners benefit from your platform?
At this juncture we are targeting real estate developers. However, your thought process is absolutely right. We know that as we build more data in our platform about how infrastructure is designed and managed, this information will help city planners in resource handling. At the same time, we would be able to influence policy and regulation which will help new development such that cities become future-ready and sustainable. This has to be in-line with the Paris Climate Accord and India's commitment to the same. We believe the real estate industry has a role to play and expand into urban planning in all cities in India and across the globe in the future. 
6. How was your experience at Unissu Connect and how do you think it contributes to the future?
While I have spoken in many forums, Unissu Connect was a unique experience. Being on its first round was exciting. Given how the Internet and social media have made the world a smaller place, we believe that this can give us a wider audience and greater chance to make an impact.
ALSO READ: Switch Automation helps property owners and facility managers reduce operating costs: Deb Noller