6 Digital Marketing Must Do's That Developers Ignore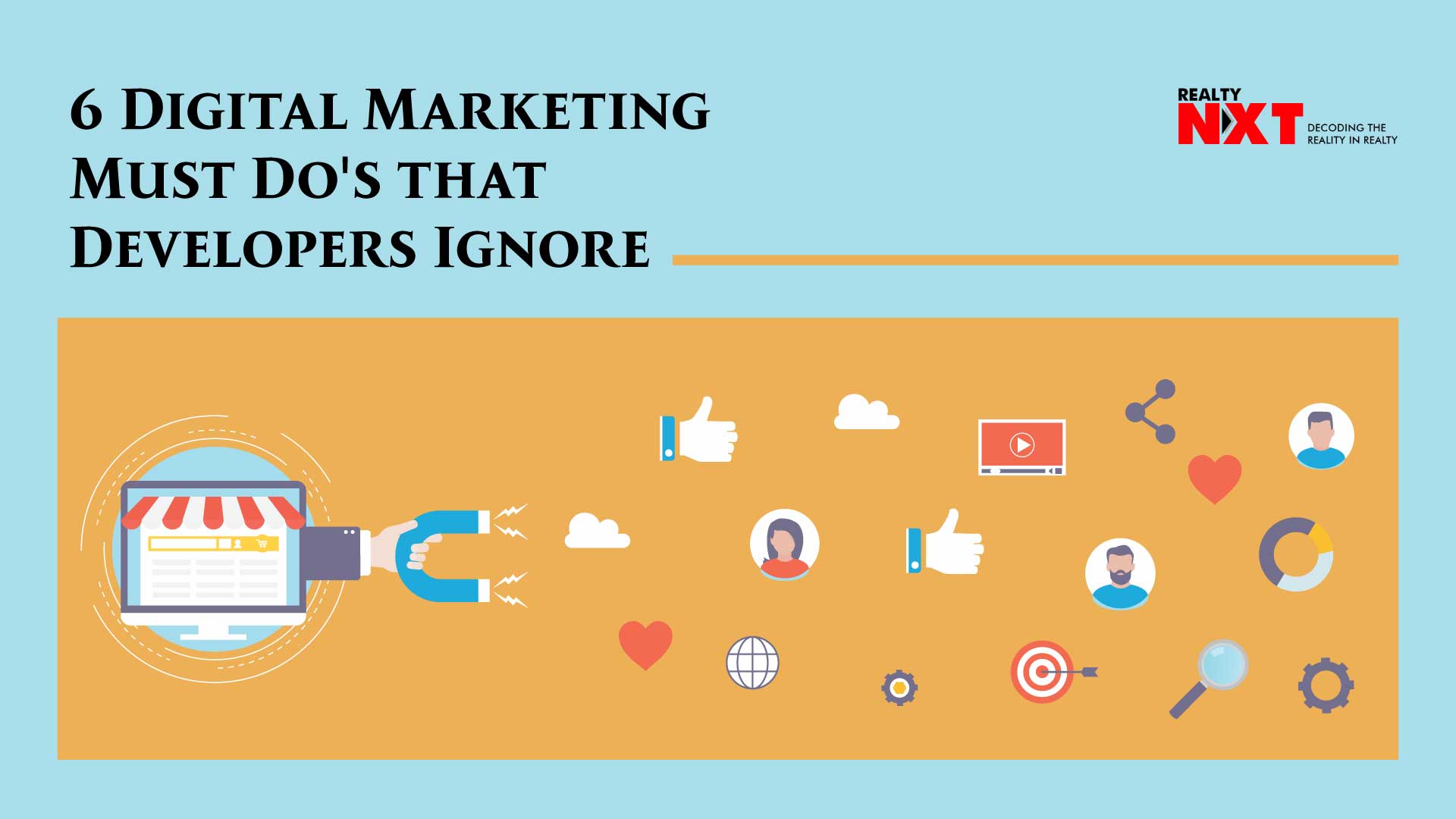 What is the first thing you do when you wake up and the last thing you do before sleeping?
Check your smartphone, watch Netflix, read an eBook, shop online, browse through the Internet or scan through your email? Chances are you have chosen at least 1 of the above mentioned acts and that makes you like everybody else in today's times. You are leading a digital life. Digital technology has enveloped us in such a way that it is unimaginable to live otherwise in this era.
A large chunk of real estate marketing too has now turned digital. While all the developers have embraced it wholeheartedly, they still haven't been able to crack some of digital realty marketing's most vital requirements. A lag or ignore of these key digital marketing solutions results in them losing out on the numbers race.
RealtyNXT presents, the most ignored real estate digital marketing essentials.
1. Google business listings
The right hand side of a web page during a Google search is a sanctum. Reviews, ratings, site address, work timings, relevant q&a, a link to the website, the location map, social media pages and even rival brands appear. So why is this so paramount? The answer is simple. Google has become a shrine for information seekers today. Ask anyone about something and pat will come the reply 'let's Google it!' One can also call real estate Google business listings as the spine of the marketing process. It has been proven beyond doubt that Google Business Listings help in exact location findings of potential customers, thus the developer can then plan the outdoor marketing and advertising strategy accordingly. An example here would be when a digital marketing agency started handling the Google Business Listings of their Thane-based real estate client. It came to light that the majority of enquiries were coming from the area of Navi Mumbai. This insight made the developer focus the strategy on that area and it resulted in a tremendous boost in lead generation and sales. 
Why must developers list their brand and projects here?
It is free of cost
Increases search visibility on Google Maps
Ease of actual location finding
Builds a brand's trust and recall value
One-stop shop for easy access of accurate and crisp information
Helps developer determine the area of maximum inquires
Great to track developer's website traffic and target customers
2. Mobile compatibility of project websites
The advent of smartphones has completely altered the way we browse the Internet. Majority of humans today prefer mobile websites to their desktop counterparts simply because of the ease of use and the fact that we are with our phones 24X7. Several statistics show a decrease in desktop browsing and an increase in mobile browsing over the years. As per data collected by Yelp, more than 55% of all searches are from mobile devices. Now, imagine a potential lead visits the mobile site of your project and it is not at all truncated to the size of a smartphone, this is certainly bad news from a sales perspective. A bad mobile website misses out on important details, has countless scrolls, won't be user-friendly and it will take more than 3 seconds to load thus making him/her lose interest and close the site. Another finding shows that a 1-second delay in page response leads to a whopping 7% reduction in conversions. There goes your big lead!
Why make your website mobile friendly?
Enhances
Lead generation
Brand identity
Online visibility
Sales
Time spent on site
Gives you an edge over your competitors
SEO rankings of the brand improved
Results in positive browsing experience
Video and virtual tours increase attractiveness of project
Simplifies project booking procedure
Easier for leads to reach out to you through calls
What makes a website mobile compatible?
Loads in 2 seconds, maximum 3
Readable font size
Fewer scrolls
Crisp content
Smooth navigation
High download speeds
Call details and enquiry form highlighted
3. Behavioural pattern tracking on SMS campaigns
They say that big things come in small packages and the same can be said about SMSes. It may surprise many people but the advent of free instant messaging apps like WhatsApp has not diminished the importance of the humble SMS. It has been found that 98% of SMSes are opened and read by mobile phone users. How then can a developer showcase his grandiose offering in such few words without the help of any creative pictorial representation? And how can this turn into a positive lead generation? For example let's say a developer sends an SMS to 1,000 people. It will get a report that out of 1,000 people the message was delivered to 980 people only. That's it there is no way the developer will be able to track the behaviour of the message. The desired effectiveness which will result in lead generation is not reached. How does a developer ensure effectiveness? The answer is quite simple. Crisp text with concise information about the project along with a website link and contact details can do wonders. If someone ends up calling on the provided phone number, that gets reflected in the LMS (Lead Management System) and the developer will come to know that the person they had sent the message has reverted by calling. The number of people who reach out can be tracked easily. If people click on the website link provided and some of them fill up the form provided and in the details they give their phone number matches the number the SMS has been sent it is a sure shot way of counting that as a lead generated through SMS. But merely this is not enough and to further benefit the developer is where technology like Zipbox comes in handy. It is micro optimised site which helps developers track every movement of the text receiver. Along with the main link a short link is also sent in the SMS text. If the person clicks on that short link, Zipbox opens. It has tracking codes which provide detailed data in real time to LMS about every activity of the person.
From the amount of time spent on the Zipbox site to videos/360 degree viewed to forms filled to accessing the social media page of the developer it does it all. In addition, people can get a special exclusive offer for the home which won't be visible on the developer's main website. They also avail personalised communication as well which makes the potential customer feel special. Zipbox is also connected to the call centre of the developer and thus contacting a potential lead based on the activity of that person increases the chances of a successful closure.
This monitoring of SMS communications leads to a 160% rise in the end results of each and every SMS blast.
The developer can gain the following:
Fresh leads
Instantly engage customers
Increase in customer engagement
Find out who is interested
The location of the lead
The time spent browsing on site
The number of brochure downloads
The number of ideal customers
4. Agreement value vs all-inclusive pricing mention in lead generation
There are pros and cons to every marketing tool and this one is no exception. When a developer showcases the agreement value of homes on his/her project, there is a tiny asterisk (*) mentioned right next to the price. What this means is that this price excludes various additional payments like registration and stamp duty fees, maintenance charges, etc.
An all-inclusive price will include all of the above mentioned charges. A project marketed only with its agreement value will be more appealing to the customer as its cost appears less. For example an all-inclusive price of a 2 BHK might be Rs 1 crore but its agreement value will only be Rs 80 lakhs.
This is where customer behaviour and knowing their budget is the real trick. Supposing if a customer gets attracted to the agreement value if the project and actually does approach the developer to male an enquiry, upon hearing the final price (Rs 1 crore) he/she will walk away as it then won't fit into the budget.
On the other hand an all-inclusive price tag will attract only those leads which know for sure they can afford to buy the house in this amount and the trust factor of the brand gets a boost automatically as the customer does not feel cheated in any way.
Pros of agreement value
Ads are more appealing
Higher number of leads generated
Developer can direct current lead to another project which fits the budget
Cons of agreement value
Higher chances of lead not closing
Customer might feel disheartened
Brand recall value decreases
Lessens chances of being recommended to friends
Waste of time and effort for customer
Pros of all-inclusive price
Attracts targeted customer
Increases chances of project sale
Saves time of both developer & customer
Customer doesn't feel cheated
Increases brand recall value
Higher chances of getting recommended by leads to other leads
Qualification ratio is higher
Cons of all-inclusive price
Number of leads generated is lesser
Fewer leads
Cost per lead is higher
This shows that it is always in the best interest of both the developer as well as the customer if an all-inclusive price tag in marketed. The developer can take a call on this based on the location as well as the kind of project on offer.
5. Communication limited to English/Hindi
India is a country with 22 official languages and 1500+ mother tongues. Humans are very emotional about their languages and feel a special connection to the one taught by their family. It is an inseparable part of our culture and never fails to impress people if we communicate with them in their mother tongues. Still it has been seen that the majority of developers have their ads in either English or Hindi. Marketing the project in a language cherished by the local people works wonders in lead generation. Marathi ads in Mumbai attract more leads. If however a developer's team finds out that there is a big number of Gujarati speaking people living in an area of Mumbai, it will be in the best interest of the project to put up an ad in that language.
Significance of multilingual communication
Strikes an emotional connect with potential lead
Builds trust factor
Enhances emotional value of project
Customer feels special
Gives an edge over competition
Raises chances of being recommended by lead
6. Not paying enough attention to SEO
SEO (Search Engine Optimisation) is perhaps one of the most crucial yet most ignored digital marketing tools. In a world clearly dominated by Google not appearing on top of the options recommended by it can be disastrous for any developer. This results in the developer having to pay for Google ads in order to stay on top of the page. It is human tendency that we tend to click on the first few options shown to us by Google and completely ignore the rest.
Research shows that SEO generates a 14.6% close rate. That is a large chunk of the business pie of any developer. But SEO rankings take time to show the desired effect. Here, those developers who have been present in the market for a longer time and have been consistently focusing on SEO of their websites, have an upper hand. The wait and patience is totally worth it.
Why is SEO vital?
Customers here actually take time out to search for a specific type of product. Let us say a potential lead is looking for a 1 BHK in Thane. A developer who has made sure that his brand and project's SEO is up to date will clearly emerge as the winner here.
Top good ranking of a developer's site is guaranteed to generate a large number of successful leads. It also plays a vital role in creating brand awareness. Data collected by Search Engine Journal shows that in comparison to other lead generating tools, inbound leads through SEO lower the cost of lead generation by 61%.
The developer is automatically spared the burden of coughing up extra financial investments to appear in Google ads.
Advantages of SEO
It is free of cost
Helps build brand credibility
Establishes trust factor
Attracts high number of leads
Keeps customer informed and updated about developer/project
Adds a fresh appeal to the website
Conversion rates spike up
Boosts brand awareness
Excellent marketing strategy
Attracts more followers to social media pages
Guaranteed increase in inquiries
These above mentioned must dos if followed to the T can enhance a developer's business to new heights. It is high time the real estate community wakes up and realises their significant impact they have on project sales among other things.
ALSO READ: Deyaar Releases Results For The First Quarter Ending 31st March 2020