'India Has Great Scope For Automation', San Banerjee, Co-Founder & CEO, ADDA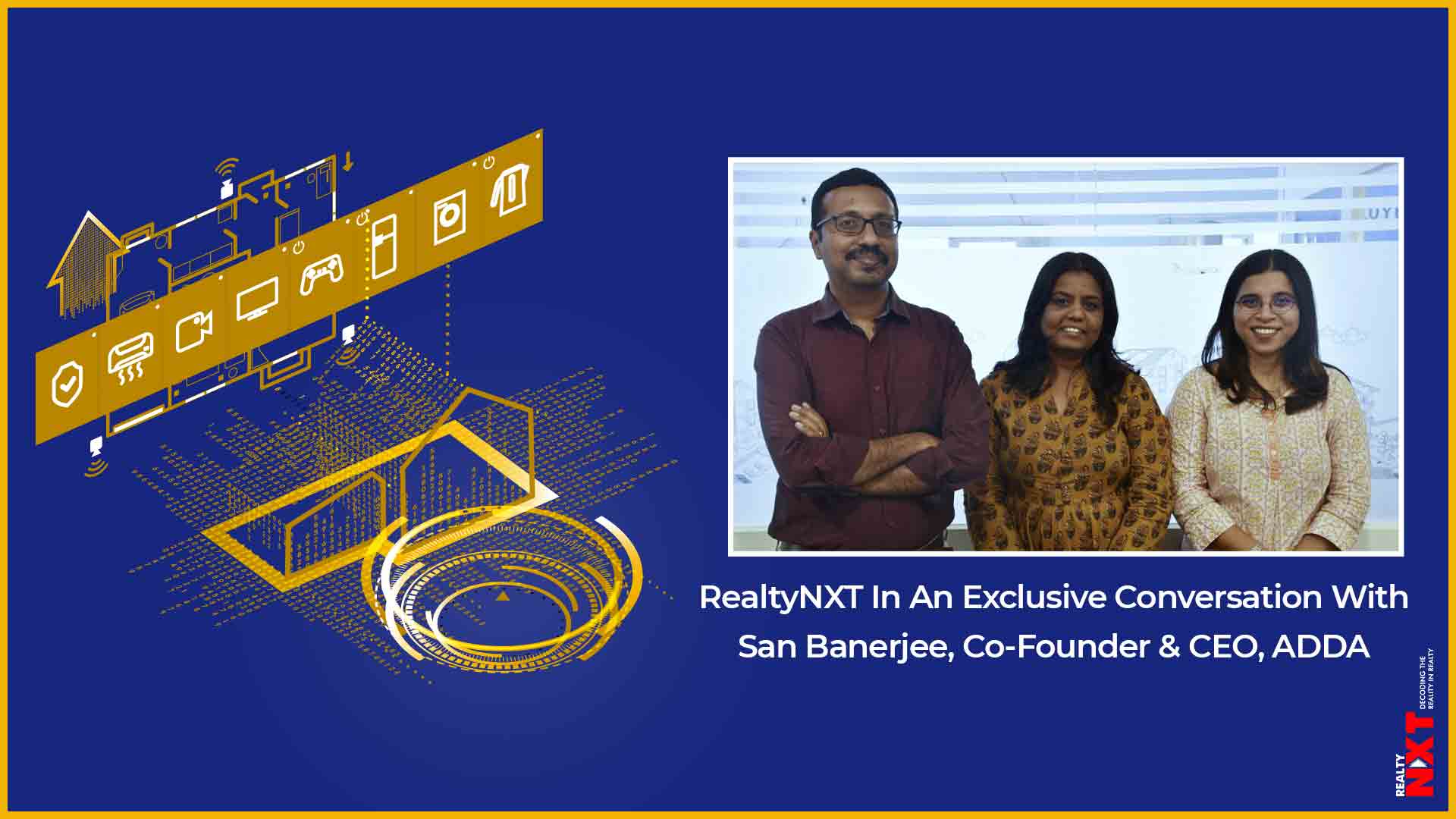 ADDA builds the Software Product for Apartment Residents and their Managing Committees on which they can run their Apartment Community – elegantly weaving together every aspect of Communication, Facility Management, Security, Accounting. Read on for excerpts from the conversation.
1. Can you share 5 sets of numbers in terms of statistics that defined your 2019 growth?
Retention of our Associations using the App went up from 85% to 93%. Our Revenue saw a 20% increase despite aggressive competition, our operations were net profitable, Amount transacted on ADDA app breached the 500 crore mark. 
2. How ADDA is helping the users and ensuring safety in the gated community? And what are the challenges do you see in your growth story?
a) By releasing highly relevant enhancements in the App– Specific to fight corona and keeping gated community safe: 
Collect Parcel at Gate – an OTP based solution for Residents to collect their parcel from gate, instead of delivery boy entering.
Robust search functionality within Neighbours database to find in-house doctors
Easily accessible Emergency Numbers for nearest Hospitals, Pharmacy etc.
b) By connecting local vendors directly to Residents to sell Essentials – This was most useful when supply chains were severely disrupted during Lockdown 1.0 and 2.0
3. What kind of challenges that you really face while on-boarding a society? And how do you ensure that there just stickiness around the product? What kind of activity that you do to ensure the society is continuously engaged on your platform?
Availability of the decision-makers or the administrators is sometimes a challenge while on-boarding a society.
The product has a social factor where neighbours utilise it for internal discussions, polls, planning & sharing pictures of the community events, this creates stickiness. Also individual residents receive useful notifications upon receiving parcels, visitor etc. They can find domestic help on the App as well as useful local services like pujaris, deep home cleaning etc. All these together create multiple touchpoints for Residents relevant to their Apartments.
4. Can you highlight how your business model is different from other gated community providers like Apnacomplex, myGate?
ADDA is the Apartment SuperApp that has a holistic approach towards making the Apartment Resident's life easy. We are devoted to the vertical of Residential Community and the Resident. We give equal importance to financial management of the community, as to their Security and to nurturing the ecosystem of Local Services.
For new Associations that are just taking over from Builder, we provide the ADDA app Free of cost, so they can use what they need most – Official Communication platform to get organised, Ecosystem of Local Vendors who serve the Association as well as Resident, Emergency Management. If/when the Association needs our advanced products like Financial Management, Visitor Management etc. they take up necessary Subscription.
5. How do you aim to go head-on with big funded guys like myGate? They entered quite late in the market but their growth trajectory in terms of funding has been on a higher side. What is the USP that you believe they had which gave investors a higher level of confidence?
Different Businesses have different Visions. Growth trajectories align to that Vision. Our Vision is to be the Apartment SuperApp and to build Connected Communities. We took a conscious choice to not join the race of who has the highest funds, but who has the strongest product. We realised that profitability is the only way we can build a Product like this from India that is Organically built as a Platform, is Internationally proven and boasts of Strong Moats that puzzles highly funded competitors.
6. Please tell us briefly about your products such as ADDA ERP, ADDA Gatekeeper and ADDA Discover.
a) ADDA ERP helps the Association collect its money, and save costs. It is a full fledged ERP product with automated Billing, Payment Gateway and Accounting at its core.
b) ADDA GateKeeper keeps the Community Secure. It is Visitor Management, Domestic Staff Management, Incident Management and Emergency Management woven together.
c) ADDA Discover is the only marketplace of local services that come with verified Neighbours' ratings. Group Buy offers products and services are often at more attractive prices than to retail consumers.
7. What is your current source of revenue and your targets for 2020?
85% of our current source of revenue is from Associations' subscription to ERP and GateKeeper. Given the current situation, we have a conservative projection of increasing our Revenues in 2020 by 20-30%. In normal situations we expect Revenues to increase by 50%.
8. What do you think about the future of PropTech in India? Where do you think ADDA would stand in the future?
India has great scope for automations in its buildings. We are highly dependent on manpower and technology that just makes manpower more efficient. But fully automated systems – as basic as fully automated access control systems are still not common in Indian Real Estate.
We believe that after the Corona Episode, migration of workers etc., PropTech with respect to IoT may get a boost. Last mile delivery may also depend on a few new Technologies in high rises. ADDA already has R&D and a ready product in this direction.
ALSO READ: 'We Work with Builders for Sustainability'- Sriram Kuchimanchi, Founder & CEO, Smarter Dharma