5 Traditional Touchpoints That Realtors Are Ignoring Today And Are Losing Out Of The Race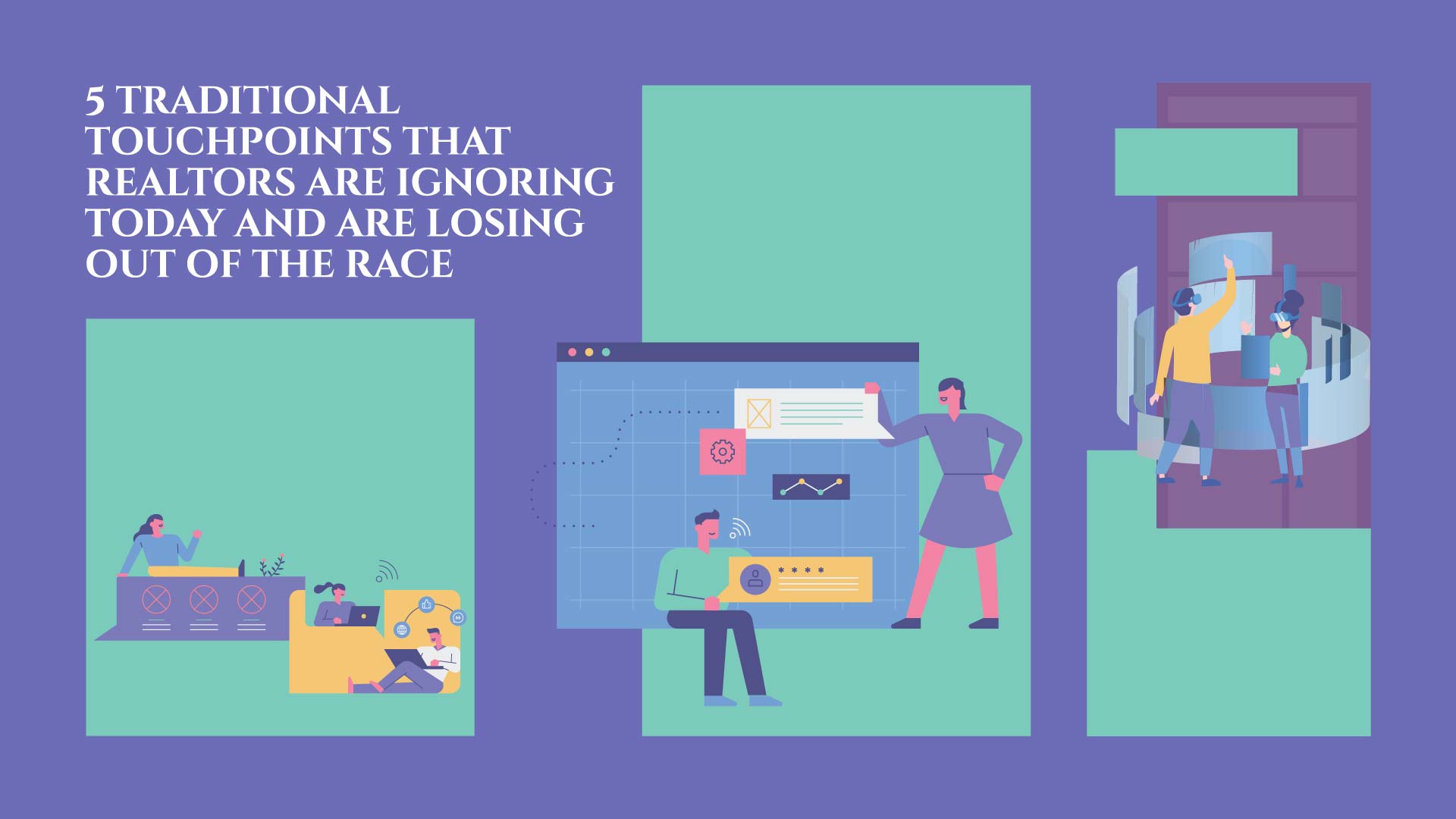 Have you ever wondered why despite the advent of the treadmill, kindle & online newspapers most humans still prefer to walk in actual parks, read physical books and newspapers?
It is simple because we feel more connected to these 'traditional' things. The fresh air inhaled along with the beautiful smell of wet grass early morning makes jogging in a park a much more deeper and soulful experience. Not to forget the interaction with other fellow humans. The physical touch and smell of books and newspaper makes reading a more personal and satisfying experience. When these technologies had arrived in the world many had predicted that newspapers and books would go out of print but they didn't. Why? Because as humans we love a wholesome experience which enriches our senses and satisfies us in every way possible.
This same thing can be said for the current state of real estate marketing as well. With the advent of new digital technologies, what happened was that developers started leaning towards them while moving away from their tried and tested methods of marketing. The result? (Let us keep aside the exorbitant rise in property prices.) Sales have dropped and the buyers are no longer attracted to the idea of buying a home. So why did this happen? How could the best of technologies not convince the buyers to live their ultimate dream life? Because developers and their marketing gurus have moved past these five traditional touch points focusing mostly on digital methods thus robbing the buyers of any emotional connect and urgency to buy homes.
RealtyNXT lists out these five methods which though old are the sure shot way to boost sales and bring profits to developers and realtors.
Call centre support
The most ignored out of this lot, the simple power of a phone call has been replaced by random unemotional text messages. The limited amount of money, strategy and lack of training for the call centre representatives has diminished the desired output. In reality, lead generation through call centres has taken a back seat due to the lack of planning, training and proper professional scripting. Call centre representatives of developers are no longer being trained as to how to engage the customer, explain vital details about the projects and their locations and convince them to physically come for an onsite visit. There is a lack of awareness about the kind of technologies which are being used to make the process more engaging with the customers. PropTech startups like Prop VR have come into the forefront and they are revolutionising the call centres in a whole new manner. But is that enough? Are tabs being kept? Cheaper seat costs, unqualified call centre representatives and and outdated unrevised script sans a flow have resulted in a dip in sales which led to developers sidelining this method.
Things an efficient call centre can do
Voice calls, both inbound and outbound
Email management
Live chat
Appointment scheduling
Customer care
Sales support
24/7 phone support
Lead generation
Answering customer's queries
Thus generate positive leads and help the developer's overall sales.
Next time: If call centre employees are more qualified, don't shy away from paying them Rs 35,000 instead of the nominal Rs 25,000.
Channel partner sourcing team
Channel partners have always been there. However, gone are the days when one would simply call Channel Partners for one meeting addressal and that's it. The advent of RERA completely changed the game of India's real estate technology and the ones who emerged as the most invaluable asset in the game of sales are channel partners. Today, channel partners have evolved into an unbreakable link between the developers and the buyers. If a developer is able to successfully crack a way in which he can provide good incentives and keep the channel partner happy, it automatically results in a huge boost in sales. The million dollar question is… Are developers doing enough these days? Do developers have the right sourcing team to interact with them in the right manner? Boost their confidence and offer them the incentives which would make CPs put in extra efforts to convert leads into sales? Developers are offering monetary slabs between 2% to 4% to them. They also are offered incentives upon the completion of a certain number of site visits. The ways to woo channel partners are constantly evolving and developers are expected to constantly be on their toes if they wish to keep up the spirit of high sales.
Things CPs do:
Elevate sales of projects
Ease the process of property sales
Reduce a part of the developer's advertising cost
Take complete responsibility of the project's sales
Collaborate with with vendors for joint marketing and cobranding activities
Next time: If the team demands to give a leverage to channel partners to make them work with you as a close confidant, give them that liberty.
Localised outdoor presence
These days, almost every developer who can afford it opts for a pan city communication strategy. In the race to be seen all across the city however, the significance of localised exposure goes on the back burner. While a broader presence seems more lucrative from a sales perspective, the assumption is that local outdoor advertisements are not important can dampen sales. Localised exposure is always going to be helpful in terms of building the recall value of the developer. Passersby are also more likely to remember what they see, how they see it and where they see it. Humans see and react to things and this leads to conversations and increases customer engagement. Customers who visit the project site from another locality will see your local presence and that always helps. Outdoor is not yet dead. Every developer must include localised outdoor presence in the media plans. Local options available are billboards, posters, pamphlets, site branding, magazines, cable TV channels, and public transport advertising.
Benefits of local advertising:
Hit the bullseye of target demographics
100% exposure to potential customers
Quick spread of word
Less expensive compared to other areas
Minimal competition makes your project stand out more
Next time: Make sure your marketing team gives prominence to local advertising as much as distant locations.
Onsite visualisation and experience
Change is constant and it is making a huge presence in how the customer is made to feel. They say the first impression is the last impression and this holds very true to a customer's overall experience and the manner of onsite visualisation. The second the customer walks in, it is just not enough to have a typical office with a person showing them a small brochure. The fact is that people love engagement and it plays a very important role in the ultimate sale of a project. Experience defines everything. Your sales will be a direct result of how you treat your customer, how are you engaging them and what kind of experience you provide them. Keeping them waiting, having rude staff and not offering them refreshments are among the many things which will drive them away no matter how big your brand it. On the other hand, making them feel special, having extra polite staff and extremely well-informed staff along with innovative ways to showcase your project will help retain their interest. Remember, the more relatable your manner in conveying information relating to your proposition, project, and location, the more likely your customer will seal the deal.
Creating a win-win situation
Introduce your project via VR
Use AI to share important trivia/statistics
It is all about pleasantly surprising the customer
Give them a little bit extra so that they come back
Creativity and kindness will go a long way
Next time: Go out of your way to make your customer feel special by adding a unique touch.
The print classified section
Newspapers are an inseparable part of the lifestyle of a majority of people. At a time when digital presence has taken precedence over print, the humble classified section is a treasure trove for those seeking crisp information. While the biggest brands can do without it, brands who have a sales driven outlook can immensely benefit through them. Putting up information about your project in the print classified section makes it appear more credible. It can help developers achieve the right kind of ROIs. It is a known fact that those looking for home rental options still refer to the print classified section. It is one of the quickest and best ways to connect with home buyers and can fetch you ROIs similar to what any digital campaign might bring in.
With a minimal investment, you will be able to catch many eyeballs. Print classified ads are often referred to by those individuals who really are on the lookout of information in a substandard budget. While print ads are more about push broadcast print classified ads are more of a pull mechanism. Tap into it because it delivers the best ROIs.
Benefits of classified ads
Cheaper to invest with good returns
Exposure to a wider audience
Makes your project appear legally authentic
Guaranteed qualified leads
Saves a lot of time and money
Next time: Have the right strategy for this medium and use it to benefit your case.
These methods require patience and a highly excellent skill set of experience in order for them to reap the desired results. A proper use of these five traditional methods will result in a jump in leads, ROIs as well as establish the real estate brand and its projects in a solid way.
ALSO READ: 5 New Ways Of Marketing Which Are Helping Realtors Tap Into A New Customer Base