RBI Extends EMI Moratorium For Another Three Months On Term Loans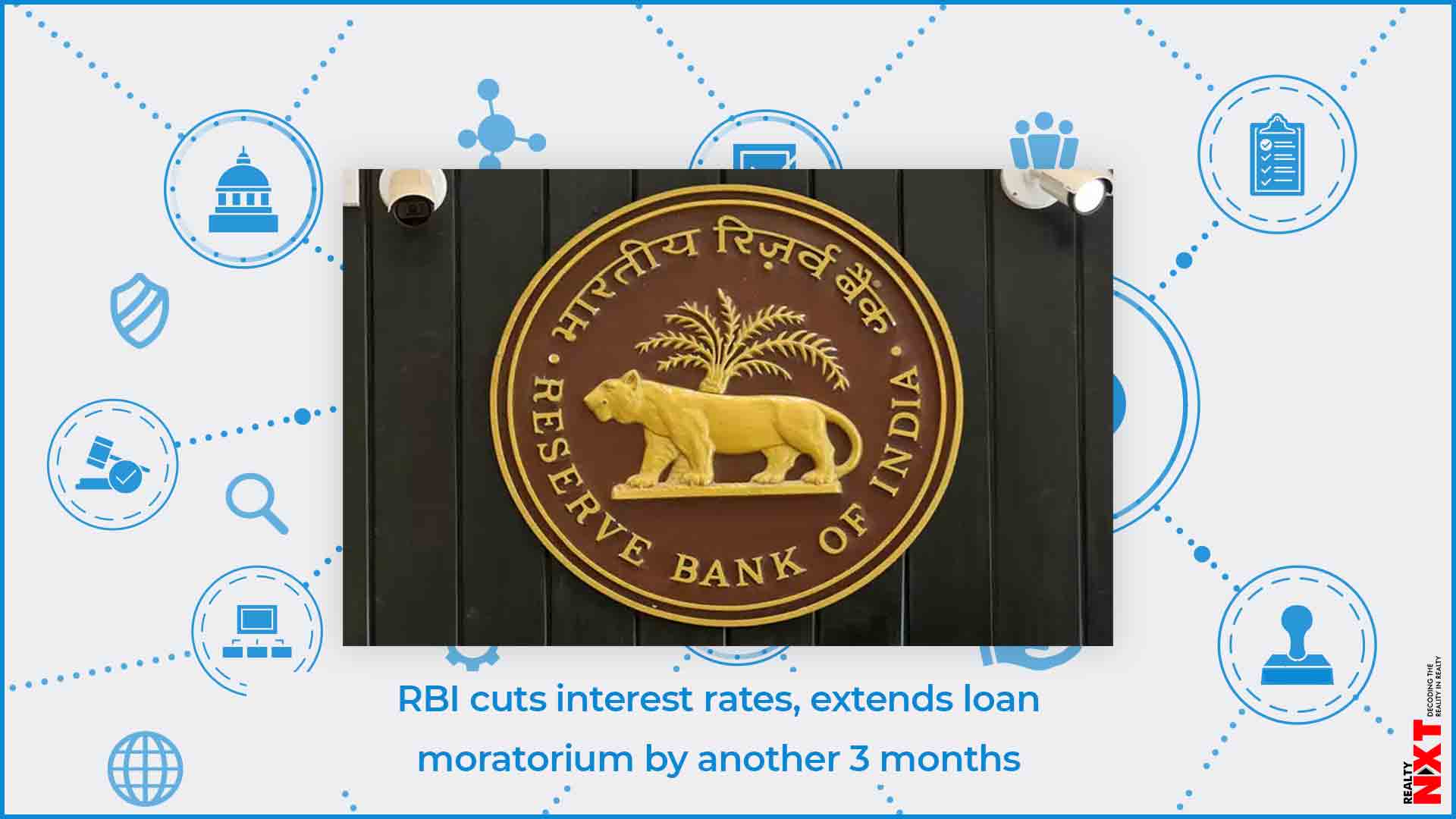 In his third such address since the coronavirus-induced lockdown began on March 25, Reserve Bank of India (RBI) Governor Shaktikanta Das today cut the repo rate by 40 basis points to 4% and also extended moratorium on all term loans by another 3 months.
After the lockdown began, Das had slashed the benchmark interest rate (repo rate) by a massive 75 basis points and also announced a three-month moratorium to be given by banks to provide relief to borrowers whose income has been hit due to the lockdown. The loan moratorium has now been extended till August 31 for 6 months.
Finance Minister Nirmala Sitharaman, who recently announced the ₹20 lakh crore economic package in five tranches, will also hold a review meeting with CEOs of public sector banks (PSBs) today to discuss various issues, including loan disbursement, as part of efforts to revive the economy reeling under the COVID-19 impact.
RBI Governor Shaktikanta Das press conference:
-RBI on Indian economy during coronavirus: "Even though the lockdown may be lifted by end-May with some restrictions, economic activity even in Q2 may remain subdued due to social distancing measures and the temporary shortage of labour. Recovery in economic activity is expected to begin in Q3 and gain momentum in Q4 as supply lines are gradually restored to normalcy and demand gradually revives."
-RBI on inflation: "The inflation outlook is highly uncertain. As supply lines get restored in the coming months with gradual relaxations in the lockdown, the unusual spike in food inflation in April is expected to moderate. The forecast of a normal monsoon also portends well for food inflation".
-Group exposure limit for lenders to corporates raised to 30% from 25%: Shaktikanta Das
-RBI has increased export credit period to 15 months from 1 year.
-Monetary policy transmission has continued to improve: Das
-RBI will continue to be vigilant and will take whatever measures are needed to be taken due to the Covid pandemic: Das
-RBI will extend ₹15,000 crore line of credit to EXIM Bank
-Loan moratorium extended by another 3 months till August 31.
-Government 10-year bond yields slumped 15 basis points after the repo rate cut.
-India's foreign exchange reserves have increased by 9.2 billion during 2020-21 from 1st April onwards. So far, up to 15th May, foreign exchange reserves stand at 487 billion USD.
-India seeing collapse of demand; electricity, dip in petroleum product consumption; fall in private consumption: Shaktikanta Das
-Govt revenues have been impacted severely due to slowdown in economic activity amid COVID-19 outbreak: Das
-We are trying to be proactive: Das
-Impact of coronavirus turning out to be more than expected
-GDP growth expected to remain in negative category: Shaktikanta Das
-RBI maintains accommodative stance.
-Inflation to remain firm in the first half of 2020 but ease later on.
-A ray of hope comes from the forecast of normal monsoons: Das
-MPC, which met off-cycle, voted in the ratio of 5:1 in favour of the repo rate cut
-RBI MPC cuts repo rate cut by 40 basis points from 4.4 % to 4%. Reverse repo rate stands reduced to 3.35%.
-Repo rate cut by 40 basis points.
-Stock markets are flat ahead of the RBI press conference.
-The RBI cut interest rates by a sharper-than-expected 75 basis points in late March. Markets and economists now expecting at least another 75-100 basis points cuts in the remainder of this fiscal year.
"After lowering a cut in repo rate by 75 basis points in the previous announcement, the MPC has today announced another cut on repo rate by 40 basis points from 4.4% to 4% followed by reverse repo rate at 3.35%. The announcement will indeed act as a remedial measure to ail the economy as the government previously lent its support by providing a fiscal and monetary stimulus worth Rs 20.97 lakh crore. This move by RBI is expected to direct positively and reduce the cost of EMI on loans taken by the homebuyers. The investments in the sector will rise as the loans will be available easily. There will definitely be a surge in demand for homes as Buyers , including millennials and NRIs who were searching to have their own homes which they could customise will now be keen to take decisions of owning homes. With this cut, RBI has also announced an extension of the moratorium period for 3 more months till August 2020 which will buy some more time to pay the EMIs and increase the liquidity in the market. However, to control the inflation and inject more liquidity in the market, a further rate cut is expected as the market is unstable and there is a minimal sign of growth. The growing economic and financial stress will see a massive reduction and the measures overall will help bring in financial stability."Mr. Ashok Mohanani, Chairman, EKTA World & President-Elect NAREDCO, Maharashtra.
"We are delighted with the reduction in prime lending rates announced today by the RBI. With a cumulative 115 basis point rate cut by RBI as response to the impact of COVID -19, we are in line with the rate cuts announced by developed economies like USA (150 bps) and UK (65 bps). Given the backdrop of an unprecedented economic situation, we are happy that the RBI has reduced the key policy rate and taken note of rate cut transmission to borrowers. The extension on the moratorium and improved terms will provide a breather to industry and household borrowers alike. It would have been a big respite if the long-standing real estate industry demand for a one – time restructuring of loans was allowed along with the measures announced today. The expected contraction of the GDP is worrisome emanating from a significant drop in private consumption. While the RBI has taken steps to boost liquidity, one of the real challenges remains boosting of demand which we hope that subsequent announcements will address."Mr. Shishir Baijal, Chairman & Managing Director, Knight Frank India
"The hard facts of declining consumption and a deepening economic slowdown in India are inescapable. All sectors including real estate have been severely impacted. To this gloomy backdrop, the RBI's repo rate cut of 40 bps – from 4.40% to 4% now – is a welcome move. Simultaneously, for the second time in a month, the reverse repo rate has also been slashed by another 40 bps and now stands at 3.35%. This is another big step which will ease liquidity for developers – the rate cut will not only send out positive signals but will enable banks to lend even more. Thus, the rate cuts combined with the further extension of loan moratoriums by 3 months up to August 31, 2020 augurs well for the real estate sector in the times to come. This move is a major booster shot aiming to cushion the impact of COVID-19 on the Indian economy. Beyond doubt, repo rate cuts do uplift the sentiments of home buyers even further. Home loan interest rates have already gone down substantially over the last year, and are presently at an all-time low averaging between 7.15% to 7.8%. Interestingly, ANAROCK's recent survey conducted during the lockdown also highlighted that of the respondents who were previously in no mood to purchase properties and have now become buyers in the lockdown period, a massive 92% cited lower home loan interest rates and a sense of security that physical assets provide during such exigencies. Today's repo rate cut will further help banks to lower home loan interest rates, which may get several more fence-sitters onto the market. Moreover, the repo rate cut may compel banks to reduce the interest rates for FDs even further – this could result in even more people leaning towards housing as a better investment option."Anuj Puri, Chairman – ANAROCK Property Consultants
"With a view to supporting the economy in general and real estate in particular in the wake of Covid-19, the government has in the recent past made a series of announcements. The RBI decision to further reduce the repo rate to 4% is a major step in that direction. The move will not only help developers but also homebuyers who have been under extreme pressure due to the prolonged lockdown which has impacted their income. This along with the move of extending loan moratorium for another three months will be extremely helpful in lowering the burden for those who are paying EMIs or using credit cards and lower financial stress. What needs to be seen is how quickly the banks reflect this change in their respective rates."Dhruv Agarwala, Group CEO, Housing.com, Makaan.com and Proptiger.com
"Now the situation for homebuyers might improve further as home loan interest rates are expected to come down further. People, who have decided to buy a home during the lockdown period will take a quick decision if banks pass on the benefit. Steps by the RBI are aimed at easing the economy. Affordable housing will benefit the most as the buyers of this segment are very particular about the EMIs. With historically low EMIs, people will go out to buy and thus increase the demand. Now government has to come out with steps to help the developers working in this segment so that projects can be completed without any hindrance."Pradeep Aggarwal, Founder & Chairman, Signature Global and Chairman, ASSOCHAM – National Council on Real estate, Housing & Urban Development
" The announcement of 40 basis points to 4 per cent is a move directed towards the revival of the economy. The RBI should ensure that the benefits of the same is passed down to the end-consumers by the banks. This step will incentivise the banks to lend more, which inturn will give a boost to the currently flattened demand and infuse liquidity in the ecosystem. Also, the extended moratorium until August 2020 will give relieve the homebuyers going through trying times due to the pandemic. The real estate sector now positively look forward to the details of the promising announcement made by the governor with regards to conversion of the moratorium into a term loan. Real estate as a sector is a major contributor towards the GDP and enabling measures to ease the complexities faced by the RBI will empower the Indian economy at large." Mr. Ram Raheja, Director at S Raheja Realty