Mental Health Is Equally Important For Entrepreneurs & Real Estate Developers Webinar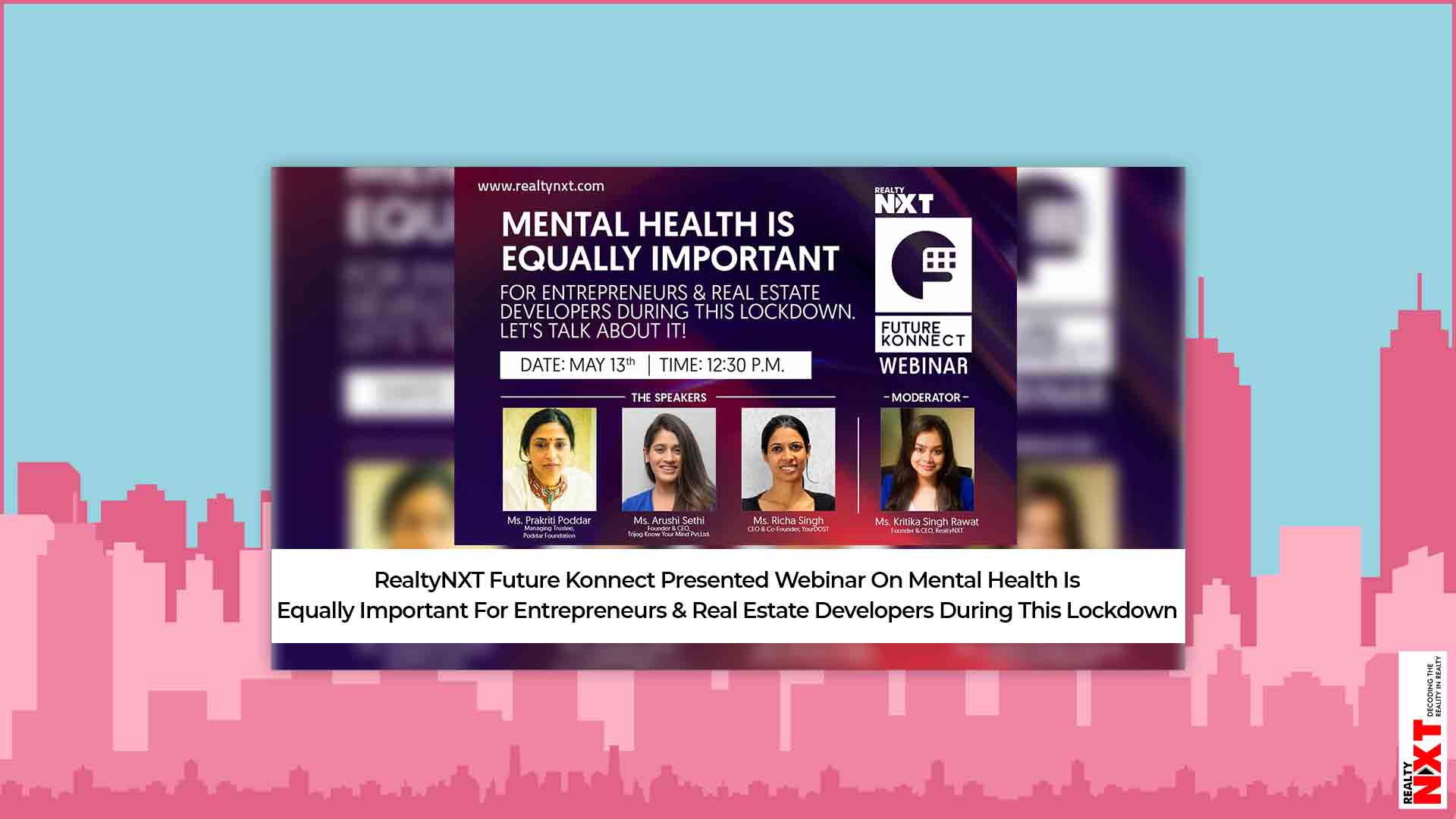 Covid-19 has unleashed havoc in the lives of billions worldwide.
While we are all aware of the plight of many in the worker class, the fact is this has affected everyone, even entrepreneurs.
Since March 24, a nationwide lockdown due to the coronavirus has led to billions of people staying indoors across the globe. "Stay home, stay safe!" is the new mantra but in these uncertain times, now more than ever a huge problem has begun to creep into countless lives or was it already there but we kept pushing it under the carpet?
Many companies let go of their employees, many didn't have food to eat, quite a few people have attempted suicide and cases of domestic violence as well as restlessness amongst people have escalated. In the process to boost immunity and prevent people from dying, mental health and well-being took a major backseat. Taking all this into consideration and to address this key issue, India's numero uno real estate news portal RealtyNXT.com organised a Future Konnect Webinar: Mental Health Is Important For Entrepreneurs & Realty Developers in Lockdown. Let us take a look at some of its key highlights.
Moderated by: Kritika Singh Rawat, Founder & CEO, RealtyNXT
Eminent speakers on the panel:
Dr. Prakriti Poddar, Managing Trustee, Poddar Foundation
Arushi Sethi, Founder & CEO, Trijog Know Your Mind Pvt.Ltd.
Richa Singh, CEO & Co-Founder, YourDOST
The webinar began with Dr. Prakriti Poddar, Arushi Sethi and Richa Singh talking about their journeys into the world of mental health awareness. It was a detailed walkthrough of what inspired these game changers to dabble into an area many avoid getting into.
The panellists also touched upon financial management and employee well-being as well as aiding entrepreneurs in managing and balancing their personal and professional relationships. Covid-19 has led to many entrepreneurs letting go of their employees and they are battling a lot of stress and anxiety themselves due to the uncertainty of the current situation. Dr Poddar spoke about a distress helpline started recently by her company to help entrepreneurs identify that their self-worth doesn't equate their net worth. And how the idea is to disassociate the two so that they are able to heal from depression. She also revealed that a whopping 90% entrepreneurs who contacted the helpline were facing dysphoria and anxiety issues.
The panel agreed that optimising one's well-being is paramount now. The webinar touched about the various pressures being dealt by entrepreneurs and its solutions. Sethi stated that what makes entrepreneurs stand apart is the fact that they have chosen this pathway of leading companies themselves as they know that they are capable enough to take up a challenge and tackle it. She added that they can take the current Covid-19 crisis as another challenge without defining or predetermining its intensity. She then went on to share 4 vital must-dos not just for businessmen/businesswomen but for everyone: Pause. Accept. Re-evaluate. Reinvent.
The panel also agreed that this is a time to live consciously. Dr Poddar gave an example of how quite a lot of people have noticed a drastic change in their eating habits. Her idea germinated from the fact that one must take control over one's life and only do things which add value to life. She also stressed upon the importance of saying NO.
Sethi pointed out that simply by enhancing activities crucial to one's well-being, one can take a step towards improving mental and overall health.
Singh spoke in depth about the 5 stages entrepreneurs are going through. This included those who have to execute massive layoffs, facing lack of funding and the uncertainties which surround the situation, depression and then acceptance. She also gave examples of how certain businesses have taken the situation in their stride and are remodelling themselves whether by going digital or completely revamping what they were offering before to essential offerings.
The webinar ended with an insightful question and answer session from the attendees. An interesting query was one from a real estate employee which was about how will one be able to get back to the "normal" work life once the lockdown is lifted? In a nutshell, mental health is real and is not merely something celebrities talk about every now and then. The current lockdown has forced us to face our demons in a way that nothing else has. It may not be easy for entrepreneurs, but there certainly is light at the end of this tunnel.
ALSO READ: Data Centre Capacity To Grow 2X Times By FY25 In India: CBRE