His Passion, His Dedication Defined Skyscraper Photography In Mumbai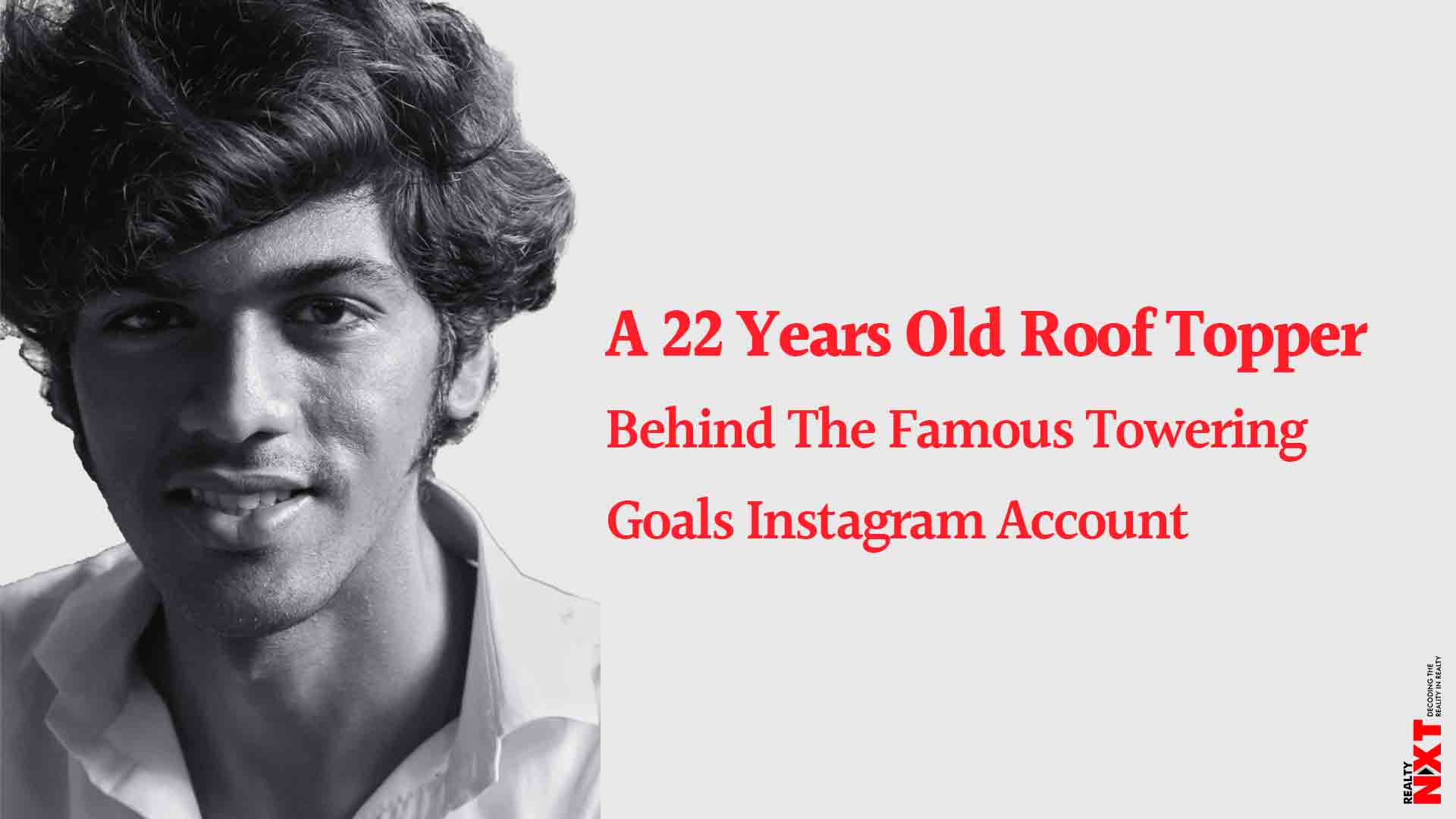 While scrolling through Instagram, I came across Towering Goals page. And the page consists of all the skyscrapers in Mumbai that were beautifully photographed. His work is magnificent, and you can see the passion reflecting in each image.
Sanjog Mhatre, 22 years old, born and brought up at Nalasopara, a town on the far outskirts of Mumbai some 50 km from the city centre. His father was an autorickshaw driver. Sanjog had no exposure to modern or tall buildings for most of his life, due to which he was fascinated by the sight and views of tall New York City skyscrapers in movies such as Stuart Little and Spiderman in his childhood.
1. Please tell us about your journey, what made you enter into skyscraper photography?

My journey is a long one, it wasn't one instant decision which led to the creation of Towering Goals.
For most of my school life too I wasn't well acquainted with Mumbai. My uncles, aunts, and cousins live at Lower Parel in a 5-storey building whose terrace offers views in every direction. We used to visit them every year for the Ganpati festival and Navratri, when I got the chance to see some of the very first skyscrapers sprouting around the area from the terrace of their building. It was 2007-2012 when prominent buildings such as Sheth Beaumonde (Prabhadevi), Imperial Towers (Tardeo), Ashok Towers (Parel), ITC Grand Central (Parel), Sunshine Tower (Dadar), One IndiaBulls Centre (Elphinstone Road), St Regis (Lower Parel), Four Seasons Hotel (Worli), Palais Royale (Worli), Peninsula Business Park (Lower Parel) and Urmi Estate (Lower Parel) were being built and I had a view of all of them from that terrace. Not knowing the names of these buildings, or even the names of areas they're located at, I used to capture these sights in my father's Maxx mobile's 2mp camera to take back with me and cherish until my next visit. I was even planning to become a civil engineer as a way of quenching my thirst to be in and around buildings and construction.

My parents bought me a Samsung Galaxy S5 after my HSC Board exams, powerful camera phone at that point. I did visit a few MHADA building's roofs in Prabhadevi and Lalbaug following the words of Humayunn Peerzaada- that you have to negotiate with the building people if you want to make it to the roofs. On 18th November 2015, out of a negative incident I felt an extremely strong urge to prove myself and I set off to visit various skyscrapers in central Mumbai. I knocked on the doors of many major skyscrapers in Mahalaxmi, Lower Parel, Worli and Prabhadevi on that same day, all the time walking around at least 13km on foot. By evening I was about to give up when I happened to visit Ahuja Towers, Prabhadevi. I met the people in the building's site office and asked them if I can be allowed to shoot the city views from the terrace on my phone. They agreed and took me to the terrace of the 54-storey, 250 meters tall building which was the second tallest in Mumbai back then. It was the first time I was on top of a skyscraper ever, and I shot photos to my heart's content and posted them on my Instagram page. I gained a few followers and appreciation for those posts.

In April 2017, I once took an influential Instagrammer with me to the top of Sunshine Tower during an assignment for Baazaar, because I wanted to use his DSLR for photography and offered him a rooftop photography experience in return because I couldn't afford to pay rent. It ended up with him posting the most important photo that I had clicked that day by risking my life- without my permission and without any credit to me, out of sheer greed. This was when I decided to not collaborate with any individual photographer henceforth. This incident also was a big motivational boost for the 19-year-old me to vengefully take my rooftop photography content and work ahead of the so-called bigshot Instagrammers who were greedy for rooftops and proud of their follower count
In November 2017, one of my photos of the under-construction Raheja Imperia was noticed by Pushkar Jadhav, Senior Head of Marketing at Raheja Universal. He was impressed with my perspective and assigned me the job of getting photos of the elevation and views from the top of the project. This opened another Pandora's box of opportunities for me- I got a few more assignments which I did with cameras borrowed from my friends- Deepthi Korovadi, Sarvesh Parawadi, and Aakash Pandit. Finally by February 2018, I had bought my own complete gear consisting of a DSLR and three lenses with my earnings.
Until a time came when I felt owning a drone was a necessity due to the growing demand. I couldn't afford to buy one either. So I pitched Glass Wall Systems- one of my oldest clients who have a great portfolio of projects across Mumbai as well as India- for a sponsorship. I pitched the idea of sponsoring Towering Goals with a drone, in exchange for a commitment of one and a half years of shooting content of their buildings. Shortly after, my father passed away due to cardiac arrest in January 2019, and Glass Wall Systems being the understanding clients they are, generously sped up the formalities to sponsor Towering Goals.
2. How many developers you have worked with? And what business model you follow with them?
To date I've worked with: Raheja Universal, Satguru RS Builders, Vajinath Realtors, Shree Housing, Ekta World, Dosti Realty, Sheth Creators, Avighna Group, Indiabulls Real Estate, Sambhav Group, Piramal Realty, Marathon Realty.

Apart from these developers I've also worked and continue working for architects (Access Architects, DSP Design Associates) as well as structural contractors and other vendors (Capacité Infra project, Glass Wall Systems India Pvt Ltd).

It is either a fully paid shoot wherein I've to create photos of the elevation, views, and/or amenities, and also aerial videos in some cases, according to their brief.

Or in some cases, it is sometimes purely an Instagram/social media collaboration, where these organizations allow me access to their premises for creating photos and I feature them on Towering Goals, which they repost on their social media profiles strictly with credits and tags to Towering Goals. If from the Instagram collab, they need any of the created pictures in high resolution for their commercial use, they have to buy that picture from me. Otherwise, reposting on social media is allowed as long as high-resolution photos aren't shared from my side.
With Glass Wall Systems, it is a contract under which I am expected to create photos and video clips of their projects, in return for the drone that they sponsored Towering Goals with one and a half years ago. There are ongoing talks with another client on the same model, wherein they agree to sponsor Towering Goals with a certain value of equipment in exchange for a commitment for a certain duration of months to cover their given list of projects.
3. Any weird or funny brief you have received from a developer so far? Please share some examples with us.
Luckily for me there haven't been too many unrealistic, weird or funny demands/briefs from developers. Though there has been one instance where, I was briefed by the marketing team of a developer to carry out a drone video shoot of their project. While on site for the shoot, they asked for extensive coverage of their other project too which was exactly adjacent to it, in the same cost for one, their justification for it being "it is just next door". I had the shot plans of only one project and was prepared for shooting only one as briefed earlier, but they demanded extensive coverage of the other project too in the same cost for one. This other project was on the same plot as the first one but is a distinct project and is marketed separately from the first. I didn't carry it forward as I didn't approve of working that way and opted out.
Also it happened once that I made a call to one person from a project's sales team after getting his contact through someone's reference. I wanted to shoot photos of the building as well as from the top of the building, and feature them on Towering Goals while also exploring the possibility of selling those pictures to the project's sales/marketing team. I sent him my profile links too. He went through my profile and in the next followup call from my side, asked me to cover the project and its views and hand over all photos to him in exchange of permission to post them on Towering Goals' instagram profile. The funny thing was that he tried to convince me saying that if you do this for us, you'll be able to post those pictures on your Instagram and will get a lot of likes, followers, comments and engagement. I explained to him that it won't work that way and this prospect never went ahead after that.
4. Now everyone entering into drone shoots, and more advanced technology. How you keep yourself updated with the latest technology by integrating it into your work?

I've never been a person who obsessively keeps himself updated with the latest tech gear. I still stick to the conventional basics- my kit that includes a DSLR, a medium focal length lens, a wide angle lens and a telephoto lens, coupled with the roof of a building from where I can get my target photos. This is how I have been doing my job since the beginning and how I get the majority of my photos. Old fashioned or not, there is something in photographing this way which cannot be replicated in working with a drone. The feeling of being physically present on the point where I have to get my shot from cannot be replaced by the act of sending a drone towards the desired vantage point. Moreover I started my cityscapes photography journey by personally visiting buildings long before I got a drone. So this has always been my preferred way. And this often becomes a necessary way out to get the job done in a city and country full of drone flying restrictions.

5. We have noticed few agencies in real estate claiming your work as theirs, how do you deal with this? Especially in a field of Indian real estate market where most of the photographers are still not given their due credit.
Honestly I still do not know how to deal with this. The owner of the agency in question who rebranded my work and claimed it as theirs, happened to be the same person whom I used to co-ordinate with during my assignment for a developer. This person was the marketing guy working at the developer in question, who had also started his own agency. So he used images submitted by me that were meant for the developer's use and rebranded them as his own agency's. I was unprepared for this magnitude of cheating. I did confront him for the usage and asked him to pay up after which he instantly removed the pictures from his agency's profile, without any remorse. He did not even honour the deal of an instagram collaboration that was earlier decided between me and the developers, in which he was representative of the developers.
One thing is especially clear that there would be people everywhere willing to cheat and take undue advantage of anyone without any guilt or remorse. There are many people who'd not bat an eye before treating you like anything. But for every bad client, there are good clients too. There goes a lot of time and energy down the drain in stressing over these negative incidents and chasing these frauds. I have learnt that I cannot afford to waste time and drain my energy chasing them, but can instead use the same to create better versions of my art, be more productive and to be a better version of myself. Minding my own business, but not taking any nonsense from anyone. Work hard enough, credit will be given where it is due.
Q6. Which has been your most favorite project till now? Name any three.
One would be Palais Royale because it was the very first supertall and is still India's tallest structure. It was under construction and topped out while I was still in school. I remember the structure being brightly lit from the base to its top, all 300+ meters with construction lights while it was under construction. That sight did play a huge role in motivating me to do this. Indiabulls Sky second due to the importance it has had in my journey, and also nostalgic reasons. I also do love its gigantic 13 storey carpark, and its glass facade. The design strikingly stands out. The third favorite for me would be One Avighna Park for its imposing hugeness, architecture, and also the fact that it gives you views of every corner of the city due to its central location.
ALSO READ: Mental Health Is Equally Important For Entrepreneurs & Real Estate Developers Webinar