Indian Proptech Companies Are Gaining More Momentum During Lockdown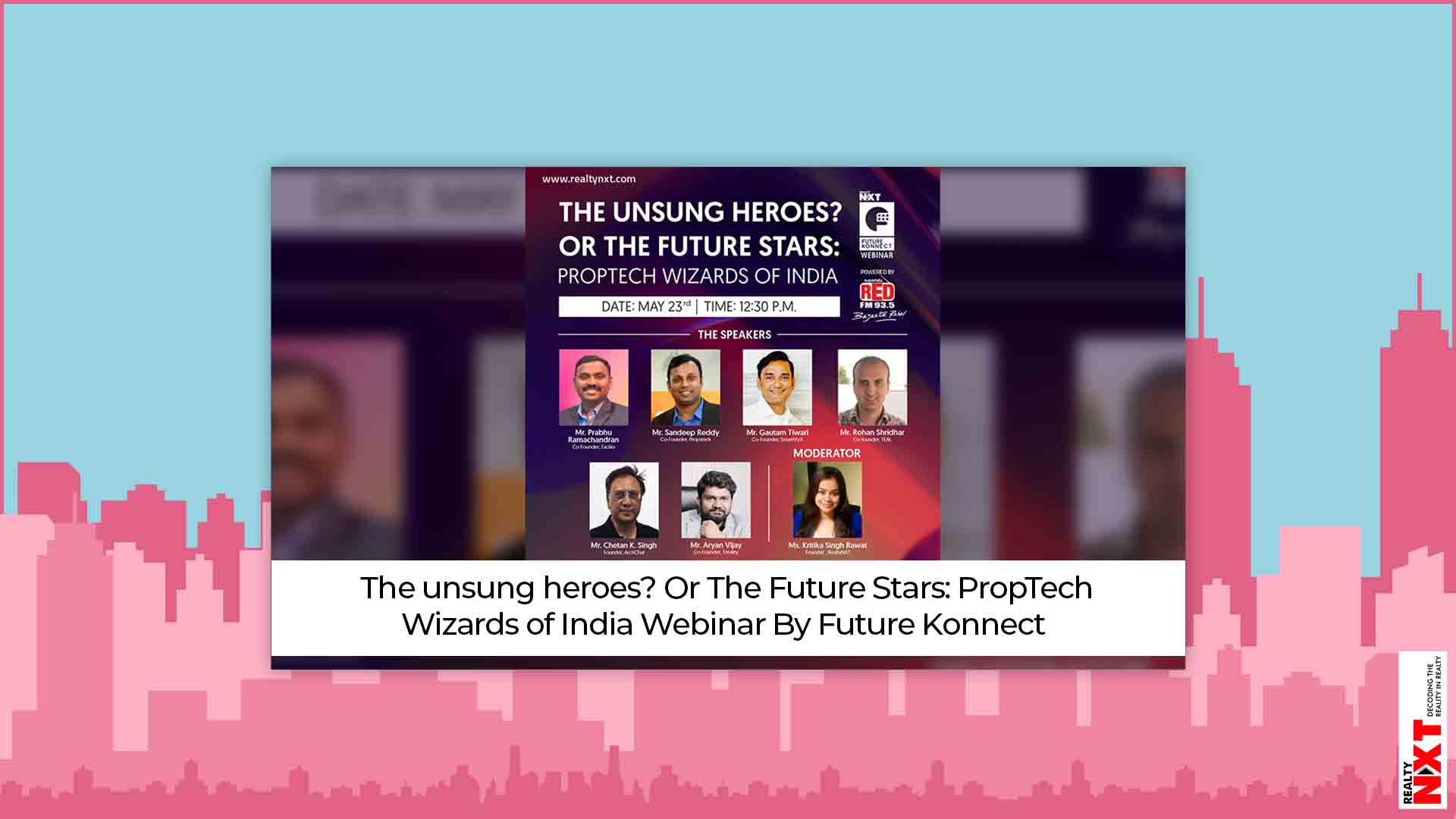 If there was even an iota of doubt in anyone's mind regarding the validity, practicality and longevity of PropTech, 2020 has diminished it all.
Today, PropTech is to real estate business what oxygen is to humans. With many PropTech companies and their out-of-the-box offerings now becoming the toast of the town, RealtyNXT organised a Future Konnect webinar 'The unsung heroes? Or The Future Stars: PropTech Wizards of India' to highlight those who dared to go against the tide.
Esteemed speakers:
Prabhu Ramachandran, Co-Founder, Facilio
Sandeep Reddy, Co-Founder, Propstack
Gautam Tiwari, Co-Founder, SmartVizX
Rohan Shridhar, Co-founder, TEAL
Chetan K. Singh, Founder, ArchChat
Aryan Vijay, Co-Founder, TOTALITY
Moderator:
Ms. Kritika Singh Rawat, CEO, RealtyNXT
The webinar began with all the panellists giving a brief overview about their respective PropTech companies. The common catalyst for them all to start their journey into the world of PropTech was the issues they witnessed in the industry functioning and the lack of efficiency that needed to be filled.
Addressing how the lockdown has impacted their respective companies, the kind of traction they have received and the increase of inclination towards technology during this era, Prabhu Ramachandran stated that real estate has been severely impacted by Covid-19. It is a tough situation but customer engagement has increased. Customers have started looking at technology as the solution to most of their problems. PropTech companies have started to witness a behavioural change in customers. There is a rise in people opting for services where minimum physical contact takes place, new ways to sanitise areas and basically anything related to a project's cleanliness and maintenance has seen a surge in popularity. The rest of the panellists also agreed that due to the uncertainty of the situation and the fact that it will remain this way for sometime, mobile and cloud-based maintenance technology is already seeing a huge spike in demand and so are many new innovative collaborations and innovations.
Gautam Tiwari spoke about how large companies will now start seeing many PropTech startups. He cited an example of how HP has entered a strategic alliance with his PropTech company. The agility with which one can keep shaping their offerings and products will become extremely important.
Chetan K. Singh spoke about how there is a need to make people more aware about these PropTech innovations. He then added that the real estate industry has to further open up to adapt PropTech as it is here to smoothen up the functioning of realty.
Prabhu also addressed the issue of maintenance and how PropTech helps save a lot of time and money which is a win-win situation for developers. He also highlighted the significance of lesser wastage and higher profits for the developers. The scope of digitised spending leads to increased efficiencies and also be a huge help ultimately to home buyers as it will bring in the element of transparency.
Aryan Vijay touched upon industry collaborations within the PropTech industry itself. He added that technology is not just key, it is inevitable. He cited the example of his PropTech company TOTALITY and how data should be combined and be present in one place. According to Vijay, by 2025, there will be a lot more collaborations and technologies will sustain only if they collaborate with each other.
Giving his take on collaborations, Rohan Shridhar revealed that the current focus of his startup is to build and consolidate their products. But despite a few conversations which have taken place within his company, this is an avenue they have yet to explore. The immediate focus is to tie up with government authorities.
According to Sandeep Reddy, there might come a time when the PropTech industry will come together to build an API. The current focus though is to provide the best solutions to Propstack's clients.
The webinar's last leg saw an insightful Q&A session from the attendees of the webinar. In conclusion, as Tiwari had rightly mentioned, the key to having success in PropTech is not just a niche technology which attracts people, but it has to get used on a day-to-day basis. In the end that is where the real relevance and value gets added and this is the pulse which has been understood by these PropTech wizards.
ALSO READ: Mental Health Is Equally Important For Entrepreneurs & Real Estate Developers Webinar