What Lies Ahead For Channel Partners Post The Lockdown?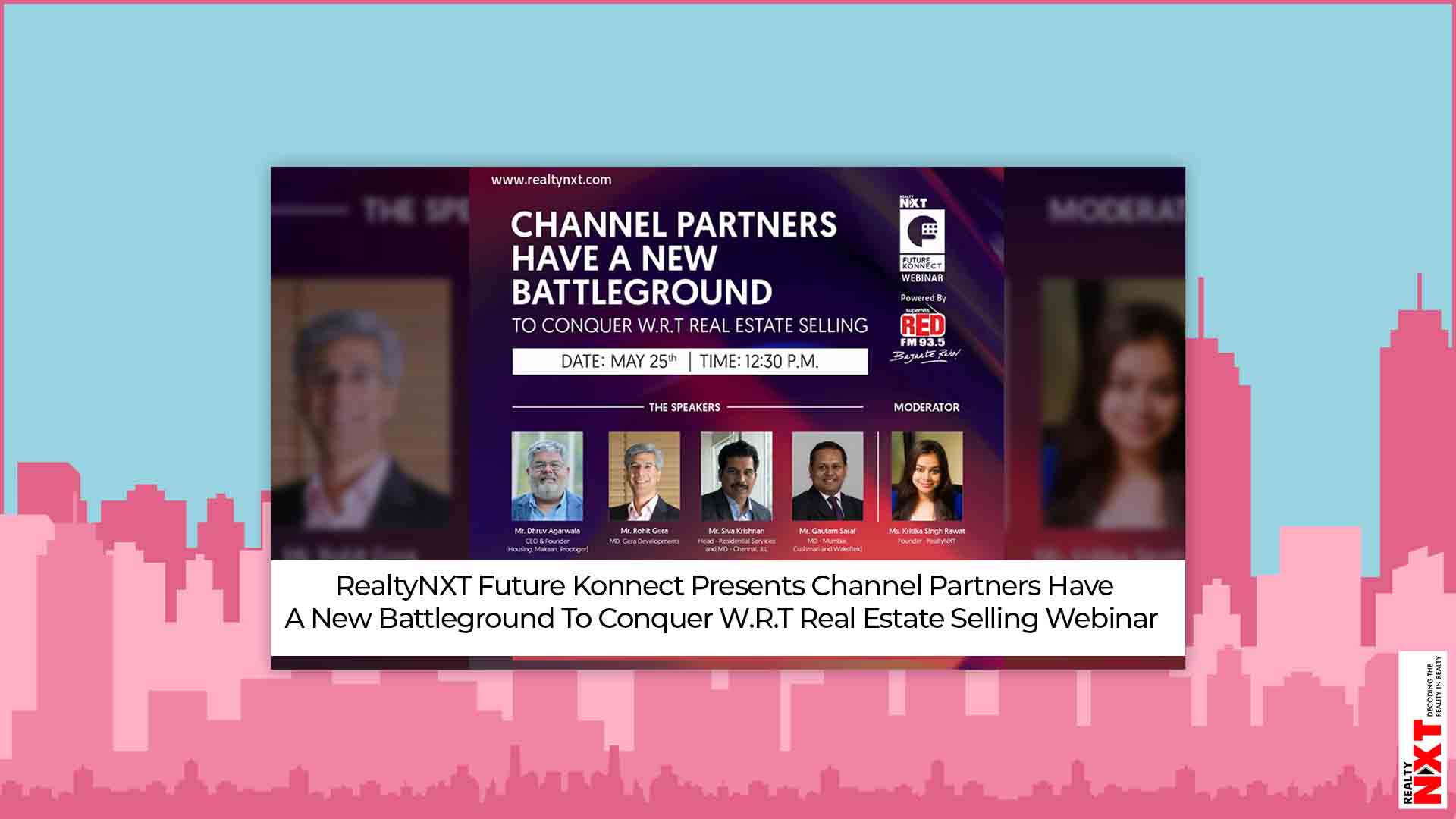 Channel partners (CPs)/brokers, these two words evoke different reactions from the real estate industry.
While some swear by their invincibility, longevity, necessity and prowess to boost sales, others dismiss them with every new emerging tech trend. So, what exactly does the current situation hold for them? To give a clear picture of what lies next for CPs, once India slowly unlocks the lockdown in various phases, India's biggest real estate news portal RealtyNXT organised a Future Konnect webinar 'Channel Partners Have A New Battleground To Conquer W.R.T Real Estate Selling'. Read on to know more.
Esteemed speakers:
Dhruv Aggarwala, CEO & Founder (Housing, Makaan, PropTiger)
Rohit Gera, Managing Director, Gera Developments
Siva Krishnan, Head – Residential Services and Managing Director – Chennai, JLL
Gautam Saraf, Managing Director – Mumbai, Cushman and Wakefield
Moderator:
Kritika Singh Rawat, Founder & CEO, RealtyNXT
The webinar began with Rohit Gera giving an in-depth analysis of what every broker should expect in the near future. According to Gera, there will be a big shift in the preferences of home buyers. Brokers will take on a very important role, that of an advisor. The brokers will need to become far more knowledgeable, adding value and insights in order to stay ahead in the game.
Dhruv Aggarwala agreed and added, "All of us need to recognize that post the lockdown, consumer behaviour will be transformed forever." Aggarwala said that the amount of digital consumption has shot through the roof in a very short amount of time. It will be a digital world more so than ever. One must be prepared to embrace digitalisation in order to move forward.
All the panellists unanimously agreed that the way forward would be through digital means. However, in reality, brokers/CPs in India are yet to master the latest digital innovations. PropTech has yet to become an essential part of their work-life. The experts weighed in on this aspect. According to Aggarwala, "As a homebuyer, people would still love to do an actual physical site visit. Digital interactions will help a developer attract a customer but ultimately one visit will be needed to close the deal." He added that the client will want to minimise physical interactions and thus a lot of brokers will have to adopt digital marketing. Adoption of CRM tools will be crucial. The ability and comfort level to use digital tools will have to be mastered. "They will have to be trained with specific skill sets which will aid them in boosting interactions with customers," Aggarwala stated.
Gautam Saraf then spoke about the 4 broad parameters which are the basis of real estate business. Lead generation, site inspections, negotiations and closures. According to Saraf, "The first and last have been replaced by no contact methods. The physical aspect will enter the final stage of right before the actual buying of a home. The phygital aspect will become vital."
Next the panellist discussed the changing pattern of the home buyers' behaviour towards the brokers. Saraf pointed out that customers' expectations will rise and trust and transparency will become even more important. This would mean that brokers will have to provide an advisor's perspective to the home buyers.
According to Aggarwala, that customers will now prefer to spend less time in meetings. This will result in brokers providing more services in the prices they charge. "Brokers won't go away and they will be critical for developers to play the role of an intermediary," Aggarwala said.
According to Siva Krishnan, data is paramount. There are too many things which confuse the customer. "The customer will have to be explained about the changing price points for their better understanding," Krishnan added.
Gera spoke about the crucial role brokers will play in the coming times and their evolving relationship with developers. "Today, data is available in abundance. 25 years ago, there were very few ads, but CPs and brokers had a trust aspect," Gera said. He then spoke about how customers now have a strong tool like RERA so a broker will have to enhance the value and transparency of a developer. "Why will a customer rely on a broker? Because he needs someone to advise him. Their reputation will be on line for every single deal. Due diligence will be a crucial success factor for future transactions. Home buyers must be delivered what is promised. The relationship between the developer and broker also needs to evolve," Gera added.
The panellists then spoke about how their respective brands were using technology with new launches to boost sales, the significance of automation, standardization and information and the possibility of hyper local services being provided by brokers.
The last leg of the webinar saw a crucial topic being discussed. The possibility of developers relying completely on third party marketing companies for sales. According to Gera since his brand doesn't believe in mandates, the company's internal marketing team is here to stay. Infact, the fact that they have a bigger motivation than a third party would. "It's all about what the brand represents. Others don't have that intimate knowledge of a brand. Importance of CPs won't decrease and there is a role for both to play," Gera added.
Krishnan agreed with Rohit but pitched in that this scenario will depend from developer to developer. In fact, there are a lot of opportunities for mandates and quite a few developers will start restricting themselves to their core workings while they will use the expertise of marketing.
The webinar ended with an insightful Q&A round. One thing is for sure any broker/CP in India who has any doubt regarding their importance post Covid-19, they can rest assured that they are needed much more now than ever before. All they need to do is become tech savvy and change their approach to data and technology to increase their chances of success with both the home buyers and the developers.
ALSO READ: Embassy Group's Realty Units May Merge Before July 15