Realtors Take On Piyush Goyal Recommendation To Sell Properties At Reduced Rates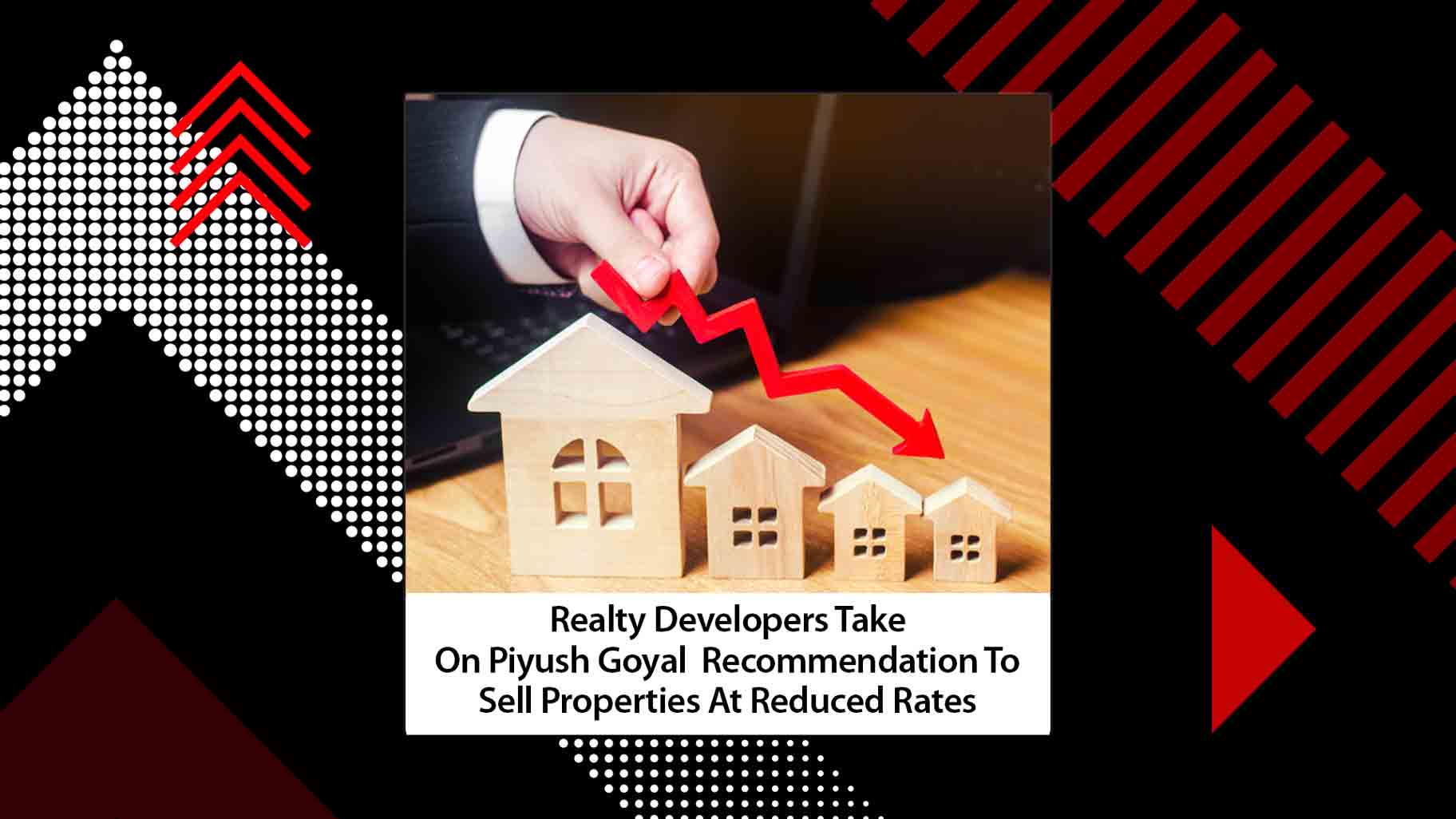 The housing industry is the backbone of the economy and is largest employer in urban India.
"For the economy to revive, housing and construction will play a critical role and both government and private players have to work together to overcome the hurdles faced by home buyers. Each new home sold leads to creation of 10 new construction jobs for a year and 25% of the entire value of the unit goes to the government which can use it for the important task of national rebuilding. The ground reality is that most of the unsold units are in under-construction / stuck projects, which no right minded buyer is inclined to buy in irrespective of the what price it is available at. The demand for ready (and close to ready) homes has grown during this lockdown and we are seeing strong desire for people to buy their homes and give their families a safe and uplifting living environment – we are supporting this desire through our Apna Ghar, Apna Desh initiative wherein home buyers enjoy lowest ever interest rates of 5.99% and upfront payment as low as 1.98 lakhs."Abhishek Lodha, MD & CEO, Lodha Group
A lot of developers have been vocal about it in their tweets as well.
"Key markets across India are facing uncertainty, and the confidence erosion amongst buyers is visible across all categories of residential real estate. Developers are already dealing with mounting concerns over unsold inventory and liquidity. Most developers are struggling to maintain their margins and may not have too much leeway to cut prices further.
At some level, the suggestion by the honorable minister to developers to lower prices is valid as it may help reducing inventory, though it may not be the most viable. The crux of the problem lies in dwindling demand that the sector has been experiencing for last few years. Therefore, the main solution will be in creating stable long-term demand by providing adequate boost to economic growth and stability. Any movement on ready reckoner rates, stamp duties and taxes will come as a further relief to help converting latent housing demand to sales. The real estate sector thus needs tangible measures to resurrect demand and ease the concerns for all stakeholders in the sector."Mr. Shishir Baijal, Chairman & Managing Director, Knight Frank India
"In the current scenario, where sales are likely to be sluggish given the weak sentiment and macro-economic environment, it would be prudent for developers to liquidate inventory to be able to retire debt from their books, as Mr. Goyal pointed out. However, the ability to offer discount will be dependent on various factors such as location of the projects, product positioning, input cost etc., and across the board discount may not be possible for the developer." Mr. Anurag Mathur, CEO, Savills India
"Obviously builders aspire to increase their sales of available inventory whether it be ready to move or under-construction. There is a price differential between ready to move or under construction projects and this is largely dependent on market dynamics. While buyers have shown a tendency to prefer ready to move in homes, there is not enough supply to meet demand, Property prices in a majority of Tier 1 cities have not increased significantly over the last few years and a significant price correction looks unlikely. However, builders are offering buyers some additional incentives to buy such as price protection schemes, flexible payment plans and offers such as waiver of stamp duty and registration charges. Given residential home sales declined 11% in FY19-20 in Tier 1 cities compared to the prior year, there is a need to stimulate demand which will necessitate Government intervention. These include moves such as one-time loan restructuring, control over raw material price escalations, input tax credits and reduction in GST rates."Mr. Mani Rangarajan, Group COO, Housing.com, Makaan.com and Proptiger.com
"The real estate industry was anticipating some relief through fiscal measures issued by the government. Perceiving the current market growth owing to the disturbance caused by the global pandemic, it has been anticipated that the market will recover gradually. Considering this slow but sure growth, The Union Minister of Commerce and Industry, Shri Piyush Goyal has advised the property developers to take the plunge of selling their properties at realistic prices. In order to optimistically climb the growth ladder post the lockdown, the best bet for property developers is to make the utmost use of this phase by timely completing under-construction projects and bringing incredible investors. By selling the unsold inventories the overall property domain will certainly survive the downturn. Furthermore, this move can prove to be an excellent buying opportunity for potential first-time homebuyers with the residential prices being condensed, thus adding to an escalation of realty sales. We are still hoping that the government will be considerate of the ongoing situation and will lend some support to get the realty sphere which is the most robust sector functioning efficiently." Mr. Apurva Gupta, Chief Marketing Officer, Rivali Park CCI Project
"Speaking of price correction, the real estate industry has already started considering the same if there are potential buyers. Developers are not turning away customers who are genuinely asking for a fair price. It is not that easy as it seems that the developers will reduce prices and inventory will fly off the shelf. Undoubtedly, the real estate demand is suffering from a systemic failure on many avenues. The industry's expectation from the Government is to allow REITS and Foreign Institutions to invest in OC ready apartments which will eventually drive housing demand. This in turn will bring the institutional and individual investors back to the table as after a long time investment in residential real estate is making sense financially. This one small change in policy will have a domino effect on the whole industry towards its revival."Mr. Anuj Khetan – Director, Vijay Khetan Group
"The recent announcement by Union Minister of Commerce & Industry Piyush Goyal, though well intentioned from a public point of view, comes at a very difficult time. It is very unfortunate that he has made such a general statement as any further reduction of property prices would inconvenience builders and developers to a great extent. Prices are currently at its lowest. Also, the real estate sector spans various associated industries with different types of product sourced from different vendors spread across the country. A blanket reduction as suggested by the Hon. Minister is impractical as one cannot equate different products in different markets. It is important to understand the ground reality of the sector and the extent to which it has been affected by the ongoing pandemic. A relief package for the industry would go a long way both in reviving the sector as well the overall economy. "Mr. Koshy Varghese, MD, Value Designbuild Pvt Ltd.
"The prolonged slowdown has left real estate developers will little room to slash prices – with prices stagnating over the last three years and discounts on offer, prices are down over 25% in real terms. The market is unlikely to see a bounce back anytime soon and any new projects launched will be at much lower price points. A majority of developers will have to book losses and banks are also likely to deal with NPAs. We are likely to a number of company and project failures in this case and the government will have to be prepared to bail buyers out."Prof Dhaval Monani, Founder and Managing Director, First Home Realty Solutions Private Limited
"As a less protected and supported segment, now is the time for us to be given the right direction and be recognized as one of the biggest contributors of GDP and employment. To curtail the starvation in fund flow and shortage of labor, the formation of policies should have been done timely, keeping in view the long-lasting effects of a recession or bad market conditions. The industry bouncing back suddenly is not at all expected, but certain waivers in GST and stamp duty were majorly essential for having the needed movement and turnovers. Telling industry to sustain on its own, and still expecting the desired contribution of taxation and inflow is totally unjustifiable. Countries across the globe are going out with major reforms and are supporting businesses that are likely to suffer. Our government needs to lay the road in such a way that the industry is able to exist, rather than collapse under the weight of COVID lockdown and negativity", said Mr. Kshitij Nagpal, President of Association of Property Professionals (APP) Delhi / NCR.
"The Real Estate industry is one of the biggest employment generating sectors of the country apart from making a considerable contribution in the GDP. However, the real estate sector has been witnessing a slowdown for a long time now. This announcement by the Union Minister Piyush Goyal advicing the developers to reduce property rates is only going to add to the pressure that the sector is already reeling under with high taxes, cost of production and ready reckoner rates. We hope that Government and Authorities help us re-initiate our construction activities so that we can return to normalcy by Diwali and the demand too shall pick up post the festive season." Mr. Hakim Lakdawala, Promoter, GoodWill Developers
"Prices are already low in real estate and developers do not have a huge inventory of RTMI properties to meet the overall demand. Focus has to be on developing and completing projects at hand. To execute it with control over prices, developers need support from the government. Present government has come up with many measures to help real estate but the need is to address all issues at one go. The crisis that has now engulfed the whole country, especially calls for immediate action so that the 'Housing for All' dream can be met."Mr. Ashok Gupta, CMD, Ajnara India Ltd.
ALSO READ: World Environment Day: The Best Tips To Make Your Home Eco-Friendly