Marketing In The Real Estate Sector Has Truly Evolved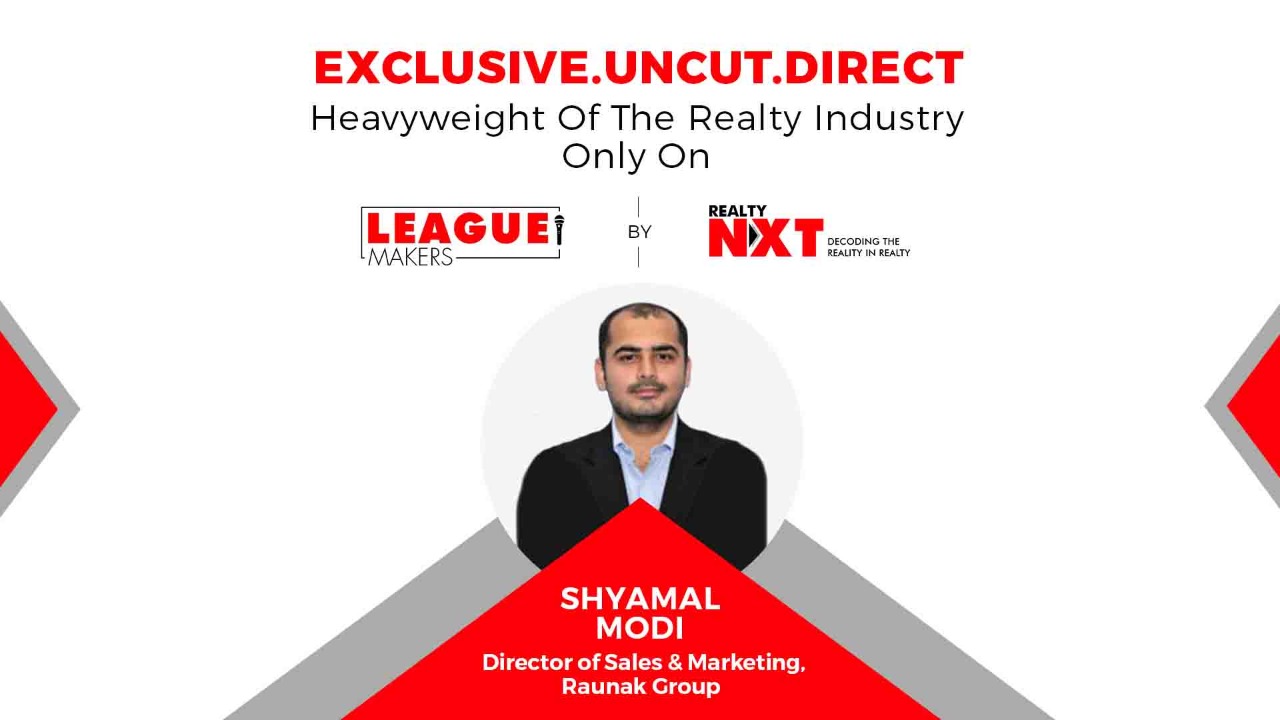 Technology is a great enabler and we have been trying to make the best of it. We are automating every process possible, says Shyamal V Mody, Director of Sales & Marketing, Raunak Group.
Established in 1980, Raunak Group has been catering to the housing needs of Mumbai, Pune, Kalyan, and Thane. They have developed various township projects over the years, and have completed projects covering over 56 lakh sq.ft.
In the interview with RealtyNXT, Shyamal V Mody, Director of Sales & Marketing, Raunak Group talks in-depth about how marketing has evolved in real estate as well as his favorite real estate marketing campaigns and how technology plays a vital role in marketing as well. Read on for excerpts from the conversation.
1. In the last two years, we have witnessed Raunak Group emerge as on the top preferences for customers to opt for in Thane and Kalyan. How are you trying to stay ahead of the curve when both these catchment areas have witnessed the entry of some big brands?
Our focus has been our customers, knowing what they really want and planning our product offerings accordingly at the best price has been the most important element to our success that we have witnessed in terms of our sales in last few years. And when it comes to bigger brands entering the Thane or Kalyan market, we believe the market has something for everyone. We have made sure our offerings are unique and our approach to remain approachable knowing both the catchment areas well has been an important element. When customers interact with us they know quality and delivery on time is a given while post sales engagements and responses are probably the best and the most intimate amidst all our competitors. Of course, our team works hard to achieve this but the success that we have witnessed is all because of the customers and their trust placed in us.
2. Apart from the focus on effective pricing what do you think are the key reasons a customer chooses a Raunak home over any of your competitors?
As mentioned above, pricing can only get you initial awareness and trigger to inquire. But, the consistency of our past deliveries and post booking engagement are a key where we have worked hard in last many years. So, when a product is liked by our customers they can almost blindly go about booking their dream home with us. Since, they know we will be there at every step to take care of them.
3. How has marketing really evolved over the last 5 years? Do you think in current times just on product strength one could reach out to customers and win them over without any spends on marketing?
In the last 5 years, the marketing landscape has truly evolved. Customers today are more aware thus it is important to plan all stages of communication. When they have so many options available it is very important to highlight the key USPs from the word go. With regards to the mediums, emergence of digital medium has really helped us engage with our clients in our own very unique way. We have always kept our positioning clear, but have never shied away from communicating our offerings with a bit of humour and fun. So, whatever content our customers consume with regards to our offerings they can do it without fuss. Breaking down the offerings in the simplest form. In the last 5 years, we have seen a drastic shift of our spends on digital shifting from 2-3% to 30-50%. The way we are engaging with our customers has certainly changed. The communication even on ATL medium too has changed where we have seen a rising need of keeping our communication sharp. And every medium now we try to carry out customised strategy unlike blanket strategies being put in motion in past.
4. How has technology evolved for the real estate specifically towards marketing and sales side? How is Raunak Group harnessing the real potential of it in the best way?
Technology is a great enabler and we have been trying to make the best of it. Automating every process possible. Which goes beyond using right construction technology to increase efficiencies and save cost. But, also on the level of marketing and sales. Mapping ROIs on all campaigns and mediums in real-time basis to launching the first one-of-its-kind app for customers and brokers to engage with us in real-time. Driving referral sales and creating much evolved lead funnels offer us better insight in to our customers like never before. With more and more data coming in our analytics are able to give us better actionable insights. It's too early for us to have a data set big enough to take advantage of Machine Learning and AI. But, we don't think that day is too far away when we start utilising the full potential of technology. We have been partnering with best of solution providers to keep us ahead on this front. And a lot of our decisions unlike before are driven by data over gut.
5. Which has been your favourite campaign for a real estate brand apart from yours?
We believe we have been doing great ourselves with regards to our campaign offerings right from #SabseSaste4Din, #100DaysOfRaunak and #SayNoToRent. These offerings have now more or less become a regular yearly offering for our customers. But, apart from ours there are many campaigns which have inspired us to push the envelope continuously. A few of them would be Lodha's Crown launch campaign, Chandak's Latest No to EMI, No to Rent campaign, Hiranandani's Neighbourhood is the Amenity campaign for Skylark. There are many amazing marketing campaigns around. And certainly real estate has come long way w.r.t. their marketing campaigns. They are no more about only tactical communication around elevation, location and price. In this competition everyone has come to realise that customers are expecting more and to entice them gallery play isn't always the solution.
6. Which campaign for you, you think has been your biggest success?
We have had tasted success in many back-to-back marketing campaigns. But, #SabseSaste4Din if asked to name one would be the one which has been the biggest success beside #SayNoToRent. Under #SayNoToRent we offered our customers something really unique which was unheard off till then thus it would be closest to our heart. Since, we were genuinely solving the problems of our customers from our efforts and were making home buying decision a breeze for them. Our 2016 campaign #DarrKeAageyGharHai was a similar one such effort which met with great success since we were solving 26 pain points of our customers from A2Z via a unique offering. Both the campaigns later went on to win quite some awards as well. But, of course the walk-ins and the number of bookings were the biggest testimony for us and reality check for us that we indeed got our customers and their pain points right.
7. There are a new set of companies evolving which offer Direct Marketing Solutions to reach out to customers and help in better sales velocity. Do you think that's going to be the future for all realtors? Will these companies make marketing and sales position within a realty brand less relevant?
Direct marketing companies have started to emerge now. But, can that be a future format which will replace the existing in house teams? We got to still wait and watch to see the same since it is not a feasible solution all the times. Since, cost of acquisition does go high while it benefits the sales velocity. I believe it is dependent on inventory to be sold and velocity to be achieved. As of now, we see them co-existing with the in house team and they are certainly not a threat. May be for smaller developers who are looking for instant bail outs and want to exit the game quickly. May be for them. But, for larger players having their own team has its own advantages.
8. What 3 important key takeaways you would like to suggest to the new generation of marketers entering into the real estate segment?
Know your customers well. Read between the data and from actionable insights. While doing so the data set is of certain size and may be not too small to influence decisions, which may hurt you later. And lastly, try to explore all mediums and try to keep a tab on what works where and how. Optimisation of media platforms is very important today. Saving any unnecessary cost is eventually a huge saving towards acquisition cost.
ALSO READ: 5 Quality Assurances While Buying A Home