Duravit Has Become A Brand Preferred By The Creative Class Worldwide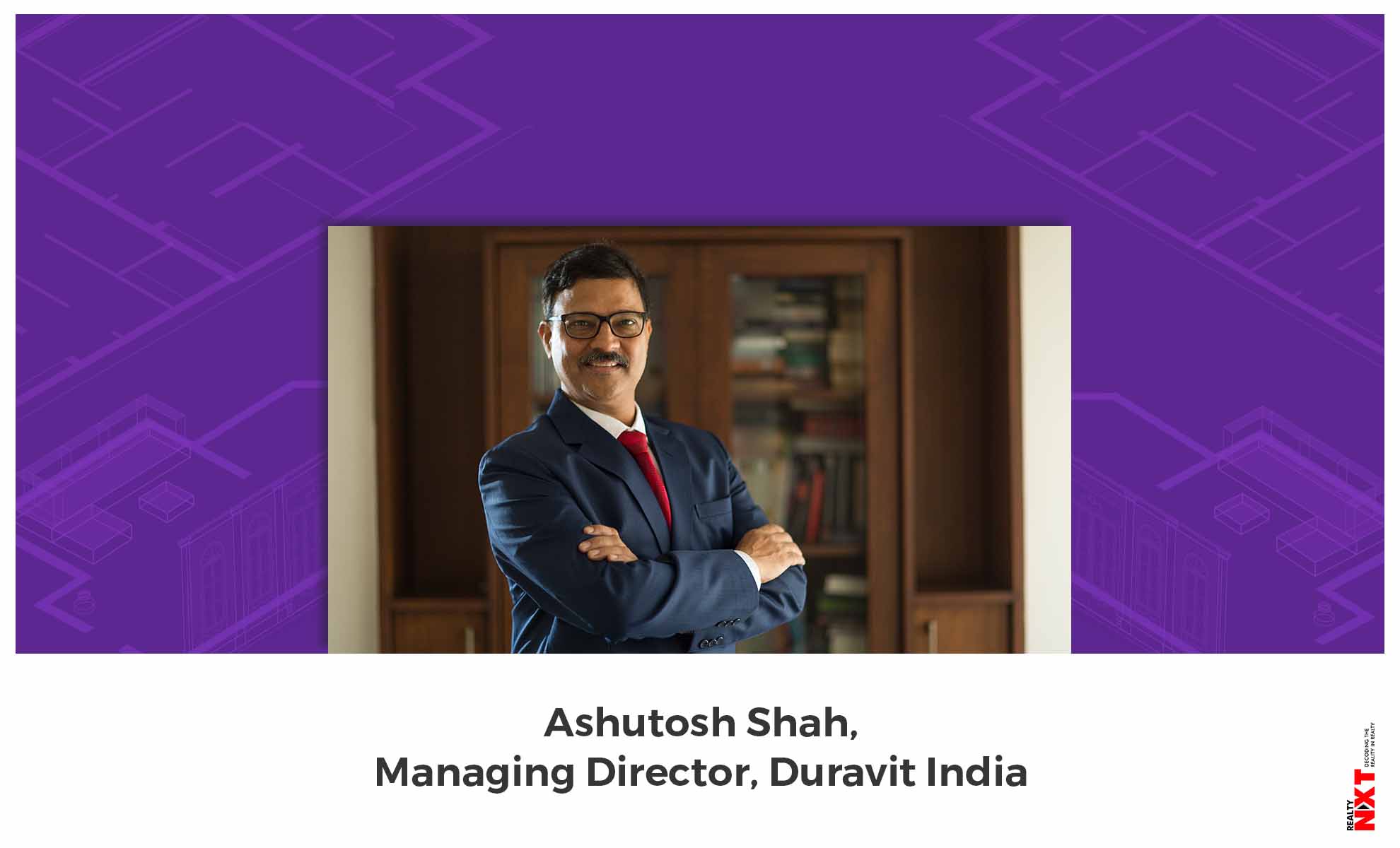 We have some really exciting products lined up for 2020. They include a beautifully designed toilet by Phillip Starck and an innovation which the industry has not seen yet says, Ashutosh Shah, Managing Director, Duravit India
Duravit AG operates in 130 countries and boasts of 12 production plants with a workforce of more than 6,000 worldwide. As India emerged as a major sanitaryware market in Asia-Pacific, Duravit India – a wholly-owned subsidiary of Duravit AG – launched its first factory in Gujarat in September 2010. Since that day, its Managing Director Mr. Asutosh Shah has led the company through a continuing growth period to become a recognized export house.
Mr. Shah, Managing Director, Duravit India Private Limited, sheds light on the brand and its functions with RealtyNXT. Read on for excerpts from the conversation.
1. How was the market in 2019 for Duravit? What new product line up can we expect from the company in 2020?
It was a roller coaster ride for sure however most business and political leaders are acknowledging that the economy is slowing down. I believe it's a state of demand slowdown, particularly of discretionary buying. This is the combined effect of global trade hurdles and major reforms in India. While the long term impact of reforms such as GST is expected to be positive, global trade issues may take time to resolve. India will have to find opportunities among trade conflicts, especially between the US and China. The lack of interest of private enterprise to invest and reduced appetite of the financial sector are the key concerns.
Building material suppliers cannot escape from the impact of the economic slowdown. The realty sector is reeling under the pressure of disruptive reforms like RERA, GST and demonetisation. The builders are faced with more compliances, and their ability to execute timely is being challenged. This is a complete reversal of the past, and their operating model has been turned upside down. Besides, the demand for premium housing is also facing a downturn, given that the buyers (small and medium businessmen) are facing challenges in their businesses. Investment in realty is a thing of past, and the current demand is essentially from real users.
Among all these challenges, an opportunity has emerged in the sub-segment of affordable housing. Due to concessions and thrust from the government, this segment has thrown up a great business opportunity. Clean India is another such initiative that's leading to a high demand for products like tiles and sanitary ware. Further, the demand for commercial space has also done well in the recent past, due to investment interest from private equity and the development of REIT.

On the whole, realty is a sunrise sector with a lot of unfulfilled demand. It has a promising future in the long term. We are therefore not perturbed by the short term cyclical changes. With a strong foothold on the ground, Duravit is well poised for becoming a key player in the market.
We have some really exciting products in the pipeline for 2020 including a smartest and beautifully designed toilet by Philippe Starck and an innovation which industry has not seen yet.
New launches will reflect our true DNA of design, quality and technology.

2. How does Duravit as a brand keep itself evolved in terms of new designs and innovations?
When it comes to our products, the world knows that Duravit is a name to reckon with. Take Philippe Starck for example, the uncontested king of product design internationally. He has collaborated with us for some time now which has led to the creation of some mindboggling range of designs that are truly futuristic in their essence. DuraCeram and SensoWash are enough evidence of that and the romance with a truly international aesthetic shows in whatever goes out from our stable. Over time, Duravit has become a brand preferred by the creative class worldwide.
It stands for luxury in its truly incorruptible sense, and its association with international marvels like Burj Khalifa or projects by stellar architects like Zaha Hadid gives it an aura hard to imitate. It wasn't easy at all in the beginning, but over a period of time we have managed to integrate a luxury brand into the value driven Indian market. We have made major inroads into the consideration set of aspirational Indians, and we prefer to sell personalised high-end bathrooms to those who cherish that spectacle. From the brand, what's on offer is pretty incredible; luxury bathroom furniture, mirror, wellness, WC, furniture basins, designer basins and an exclusive range of products for different projects. As a brand, we give equal attention to the quality of product as well as the after-sale service. This sounds pretty simple, but is probably one of the toughest jobs in the business. But then, there are no short-cuts; quality ensures that our customers come to us, our service guarantees that they will stay as well. All over the world, that's how we go about it and create a happy ecosystem of consumers, architects and business partners who together define where the brand wants to be in the future.

3. What's your go-to-market strategy amidst intense competition?
In India, the future looks exhilarating. Even though Tier I cities get us the largest chunk of business, Tier II and III cities in India hold immense potential for a brand like Duravit. Rising disposable incomes and the growing demand for luxurious products in these cities as well have led to several big ticket projects which are under construction in these cities. This is surely is the next phase of growth, while in the metro cities, the consumer is already pretty sure of his/her demands. As for our partners, we are always on the hunt for great long-term relations, whereby we can together transform the luxury segment in the sanitation category. It is no blind investment for idle money, rather it's a growth plan that will surely surprise you, once you lay down the details.
4. Bathroom Planner helps the customer plan and design their dream bath online with the help of Duravit. Are there any other immersive experiences or technologies which Duravit provides to their online customers to engage with them?
Bathroom Planner is one such example wherein we want to involve the end consumer in the buying process. However, we have a wonderful technology platform for an architects and interior designer i.e. pro.duravit.in. It is not only about the technical detail of the product but they can get all relevant files like CAD, Revit etc. and completed product guidelines including certification Also we are a brand who believe that bathroom design is not only about well-designed products, but also about technology that enhances comfort. Useful technology should be available to the user at all times but, ideally, hidden from view. That's why we have developed integrated, discreet technologies which improve comfort, ensure intuitive operation, and deliver the highest standards in design and quality. These characteristics are increasingly important for consumers when purchasing any bathroom product. With new technology comes exciting advancements, clever innovations like Shower + Bath and SensoWash, which are making life in the bathroom easier and more enjoyable.
ALSO READ: The Current State Of Indian Realty And How It Can Revive From The Pandemic