Sustainability Is The Need Of The Hour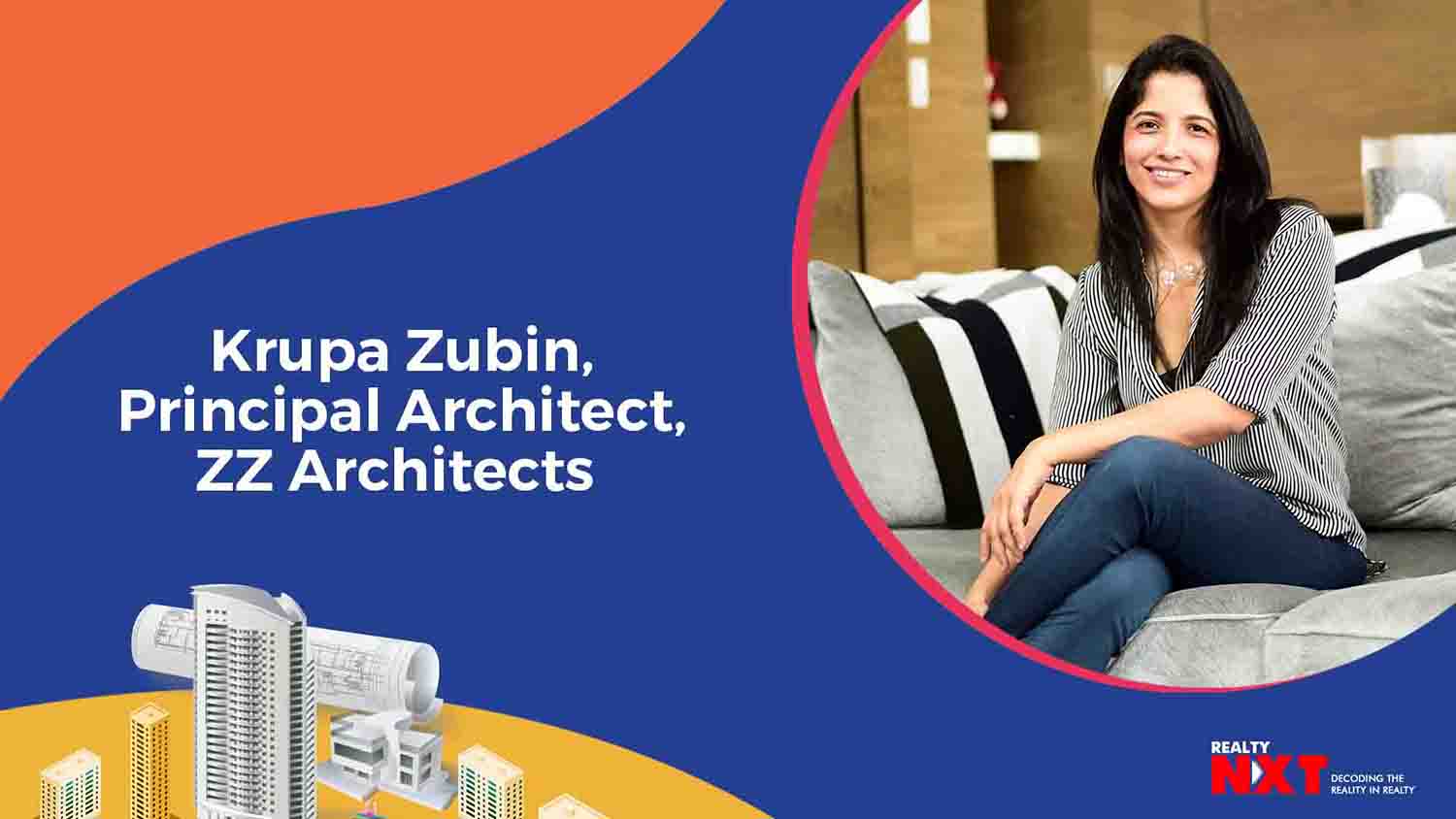 We have always made sure that every trip that we make can help us to evolve to be better at what we do, says Architect Krupa Zubin.
ZZ Architects is known for their unique approach, to architecture and interior design, which is a bespoke and very intimate process of discovering each client's personal style. Over the past few years, ZZ Architects has emerged as a leading full-service luxury architecture, interior design, and décor firm based in Mumbai and have been working across key cities in the country with clients including leaders in business, finance and industry, as well as society, film, and politics.
Architect Krupa Zubin was clearly responsible for creating ZZ Architects. Her belief is the cornerstone on which the firm has grown. Exciting play of materials, the judicious use of technology and a design sensibility that is extremely refined, defines the style of Zubin. She aims at transforming every site into a unique environment.
In an exclusive conversation with Krupa Zubin on her early inspiration for becoming an architect, the current state of architecture in India and what the future holds. Read on for excerpts from the conversation.
1. What inspired you to become an architect?
We have had our individual and collective journey in framing our work at ZZ Architects. Zubin (Zainuddin) realized his passion while he was young and naturally gifted. He knew that was his calling. On the other hand, I had only begun exploring possibilities and drifted from design to architecture. To begin with we wanted to immerse ourselves into design at all levels.
2. Name your favorite creations so far, if you had to name any four.
There have been many over the years, am fortunate that we have been so involved in every project that we have handled. Every project clearly resonates with us on a very personal level. The earlier years were learning ones. It clearly helped in defining our core values and what we would evolve to become. We still clearly feel that every project, client and every single day is a learning opportunity. I love the fact that we are destined to be students of design forever.
3. How do you assess the current state of architecture?
We are in a phase of transition, as we get to work with some of the leading brands and products globally, the work and our approach professionally needs to clearly become more aspirational and global. There are some amazing young talents that keep cropping up from every corner of the country. We need to showcase our design skills and capabilities on a global scale and promote 'Design in India' as much as 'Make in India'.
4. Can you describe the initial stages and design processes when you first embark upon a project?
We love to listen and imbibe the client's aspirations. We are fortunate to mostly be getting a free hand in almost all projects after we have received a brief. We then ensure that the client is handheld and taken through every process to ensure that it is a bespoke experience. Educating the client of the selections and processes is as important as handing over a completed project.
5. What's your favorite stage of a project?
This is an extremely difficult question to answer. The beginning, process and final handing over all combine together to form a narrative of the project. They just cannot be delinked. Love what we do for a living and just can't get enough of it!
6. What is the greatest challenge faced by the architects at this time?
Processing of information and clearing all the unnecessary imagery is very important to be able to deliver a project that finds its true calling. We also, in many cases, need to pause and take in the process of designing as that is what helps us to deliver something worthwhile both for our clients as well as us.
7. How do you assess the current state of architecture in India? Are you optimistic about the future?
We are on a clear threshold and the way ahead can only get better. A lot of policies are being put into place. Sustainability is the need of the hour and we are seeing a lot of awareness in such matters. Super speciality in domains of architecture also seem to be evolving and every project needs the right partners to come together to give a cohesive solution. We are enjoying working with individuals, firms and companies of various scales and typologies and all this interaction can only help the cause of learning and delivering better projects. The future of any country clearly depends on good architecture and design.
8. Were there any particular influences early in your career?
After Architecture College and having worked with some amazing architects, both Zubin and I just wanted to have a firm where we could learn and evolve both as architects and individuals. We are constantly learning and every passing year just makes the experience so much more rewarding.
9. What have you seen on recent travels that inspired you?
We have always made sure that every trip that we make can help us to evolve to be better at what we do. Learning is a must and we are fortunate to be extensively travelling all around the globe for work and also in a lot of major cities in the country for our work. Clearly, 'inspiration is in the eye of the beholder'.
10. What advice would you give to young architects/designers starting out today?
Look deep within for what you want to leave behind in your work. It's imperative we realize our responsibility as designers. There is far more we must achieve collectively. Above all, follow your passion.
ALSO READ: How Technological Transformation Can Reshape The Real Estate Sector?