We Don't Go And Pitch Ourselves Against Other People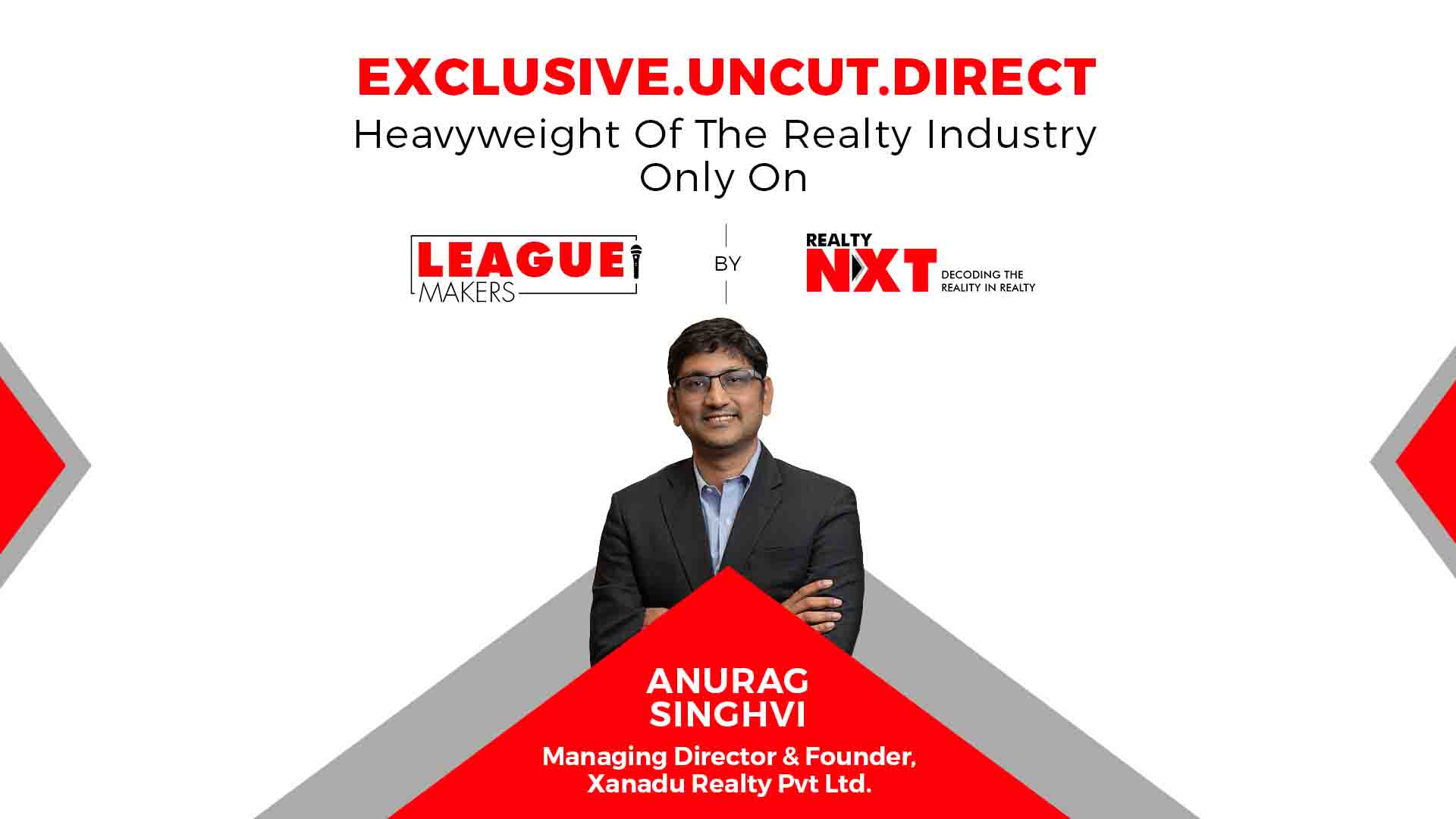 We started with a thought 'Inspiring Momentum' which is still our motto. It is also a part of our logo, says Anurag Singhvi, Managing Director & Founder, Xanadu Realty Pvt. Ltd.
Before interviewing Mr. Singhvi, I had organized a photoshoot for him and his partner. While the photo shoot was going on. I noticed a few things about him. He was shy, very receptive, and could easily make my team be in ease. No wonder Xanadu is where it is today!
It is run by two great leaders. No wonder all developers want Xanadu as their first choice as Xanadu not only brings professionalism to the table but also builds great trust and deals with every situation in a specialized manner. They are not in a business of mandates only but they are extremely detailed and transparent in their treatment of clients.
This helps build long-lasting relationships based on the fusion of the magic of science and credence. They become their clients. Coming from a developer background automatically makes them think like developers and provide excellent solutions for the entire project.
They do not just limit themselves to just one launch which is a very myopic view of doing sales and business, they enhance the brand to a whole new level. Hence, a lot of work goes into Product, development, consumer, and brand strategy. And when it comes to strategy Mr. Anurag Singhvi, Managing Director, Xanadu is the right man for it.
During the conversation, he gave some great insights on technology, the exact process Xanadu follows, and about his core team. Read on for excerpts from the conversation.
1. Please summarize your four years of journey. How's it been?
Exciting, fulfilling, and enriching. A start-up is a challenge, and we have found this challenge to an enriching one. Even with 20+ years of varied experience behind us, you realize that entrepreneurship is a completely different ball game altogether. And this journey has helped us both personally and professionally.
2. You left Lodha when it was at its peak and then you guys decided to start Xanadu. What made you leave that comfortable, good job and begin this journey?
I believe the pursuit of innovation and the spirit of comradery is what inspired us. I do believe this journey would not have been successful without Karthik and me together. Our journey actually began 27 years ago, when we were batchmates at IIM Bangalore. Since then we have had garnered successful and varied experiences. I have worked in an MNC culture, and then I helped what was at that time a small promoter-driven firm into one of the biggest RE  brands of the country. Once we achieved that we saw an opportunity for innovation in the market and grabbed it. 
3. What are the core values Xanadu stands by?
I believe real estate is fundamentally a relationship. And hence, our core business value is a long-lasting relationship. We try to forge relationships based on business with every employee and every client.
The typical pitfall, I believe is when one does not believe in a relationship, a believes in a transaction – then you are unable to cater to the long-term – it becomes a commodity sale – inventory and pricing. You do not care what happens to the project or what doesn't happen to the project.
4. What is the criteria you look into when you bring any new project in? Is there a particular process you follow?
We believe that our success formula has a bit of science and a bit of art. When bringing in any project, we first analyse the tangible elements – size, quality, relevance to the customer and importance to the portfolio – this is the science bit done. Post this we believe in creating unique art. I am referring to the impact of the output which we believe we can achieve with the project – it could be the reputation, the trust, motivation of the market or the industry.
Of course, having a team of 300+ highly motivated and talented means that you need to throw them a challenge every now and then. We believe that in taking up projects which fulfil our criteria – we can build a lasting trust between the client and us.
5. What's your moat?
We believe in ourselves. We believe that our impact, the amount of value, the quality and intensity of work we provide speaks for itself. We believe we are fundamentally different from others, and that we don't need to pitch ourselves against others. Further, to establish our credibility, we have always had the ability to be a seamless end-to-end solution for any client – this I believe could be the moat.
6. There are a lot of companies who take any project that comes their way. Right?
I think it depends on the service that others provide, we believe that we are fundamentally different, an end-to-end solution which others don't provide, but more importantly we strive for impact which is meaningful.
7. But I think with Xanadu what I have noticed is you guys have a particular checklist.
We are definitely far more selective, we follow a sincere process in selection. All of this to create the larger-than-life impact. We won't take up projects where we know we won't be able to make an impact.
8. It's very rare to see and especially if you're a four year old company and directly saying no to a lot of projects in comparison to your competitors. What's the process behind it?
Yes indeed. I believe it all stems from the vision of the company. Our company vision is 'Inspiring Momentum' – a thought that we spent creating before we took our first steps in creating this organisation. To achieve this vision, we not only have to deliver the X-factor but also see the possibility of creating, delivering the X-factor in the project.
We start with the consumer, consider the macro, micro and Real estate micro-market scenarios. Then we move into the development, the possibility of brand creation, the possibility of innovation and the possibility of incorporating consumer insights into an innovative solution for the customer.
We don't believe in just pure distribution play, we believe in brand creation – which we believe is the X-factor.
Once, the philosophy of the project, client is in-line with our vision, we deliver the highest intensity. We strive on every aspect to create the impact which we believe will bring about innovation, excellence and inspire momentum.
We want to achieve our goals of excellence while being unique. We have always stood for passion, and we take on projects which we believe in.
9. FMCG and all people have their values and philosophies, but I think in real estate, you guys have a base core that is one-of-a-kind.
We believe in inspiring momentum, a key aspect to that is allowing the multi-cultural and diverse experiences of our talent to express themselves.
We want to be the thought leaders of the industry in addition to being the powerhouse which inspires momentum for our clients.
10. Xanadu has never engaged with any PR right from the beginning. Why do you not market yourselves?
Our brand is fundamentally a B2B brand – our experience, our expertise and our success is already in the limelight of the business. A strong word-of-mouth about all of the above has led to significant publicity in the industry already.
11. Don't you like to see your brand's name in a newspaper ad? For example, you came up with the term Urban Centre for Raunak Group's Kalyan project. But not many people know about it.
Fundamentally, the consumer promise is delivered by the developer – say The Raunak Group or Ruparel Realty. We are a B2B brand, and in essence our objective is promote the developer and not Xanadu. Hence, all our campaign communication is about the project and developer, we are the just the X-factor behind the scenes, but the X-factor for the developer to be able to deliver momentum. For me the developers are the hero and they are the face to the real buyers of real estate.
12. Now, there are a lot of companies entering and operating in this space. Also, I've noticed that there's a certain price that you guys charge and it is a bit on a higher side. So, why should developers choose Xanadu over the others?
Our perspective, and intention is to create impact not just for the short-term but the for the life-cycle of the development. Hence, we just don't look at the immediate quarter, but the entire promise of the project to the consumer and hence solution for the entire lifecycle of the project.
It is a more holistic solution which few can envision. Further, our success has typically been in places where other players see things from a commodity perspective, say inventory or price – whereas we have been able to create brands which will withstand the test of time. It's a definite differentiation in terms of long-term, and holistic solutions.
13. You guys brought in the story telling in the real estate market. Now every developer is slowly looking into it. Xanadu seems to be 10 years ahead of others.
We definitely believe in brand creation – a story which a consumer can believe to be his own. And this has been a journey of consistency and focus.
If you don't believe in brand creation, you will not able to achieve significant success in today's scenario where the consumer is truly international.
We are ahead, as I believe there is an intangible art to what we do – intent, belief and innovation have always led us to success.
14. The first project you guys took up was a commercial one, and after that it's all been residential. Will you get more involved in commercial projects?
Another interesting story, we do commercial real estate which makes sense to a retail investor – which no one in Mumbai actually thinks of.
We have done a few of such projects in Andheri East, Bhandup, and Navi Mumbai. It comprises 5%-10% of our business.
15. How is technology helping Xanadu in order to achieve growth?
I believe information flow via new technology mediums has been achieved, we are the next phase of creating tangible solutions around technology.
Today, we are potent in digital marketing, we are building our CRM core today. Going forward we want to harness the power of big data and artificial intelligence in our future developments. A recent case study I would like to share, in our project Ramrajya where we sold 4,000+ homes, nearly 150 homes were sold without anybody visiting our experience centre – 150 homes sold online and with online payment. The key to achieve this is to shift the whole decision-making process online.
16. I want to understand the expansion plan of Xanadu. Right now you are more focused on the Mumbai market.
Yes, we have a definite expansion plan. With the continued rise of urbanisation, there are other metros which we will target in the future. However, we believe we are still in an early stage and want to consolidate, become a leader in one market and secure our future before expanding to other cities.
17. Could you share five sets of numbers in terms of statistics that define your growth?
We have a core team of 340. Around 15 clients with multiple projects. We are growing at the rate of 50% a year, we may probably even double this year.
ALSO READ: The "WorldHome" Collection Was Conceptualized Around The Idea Of Redefining Luxury