Realtors Disunited Over GIHED, Credai And Naredco: Ahmedabad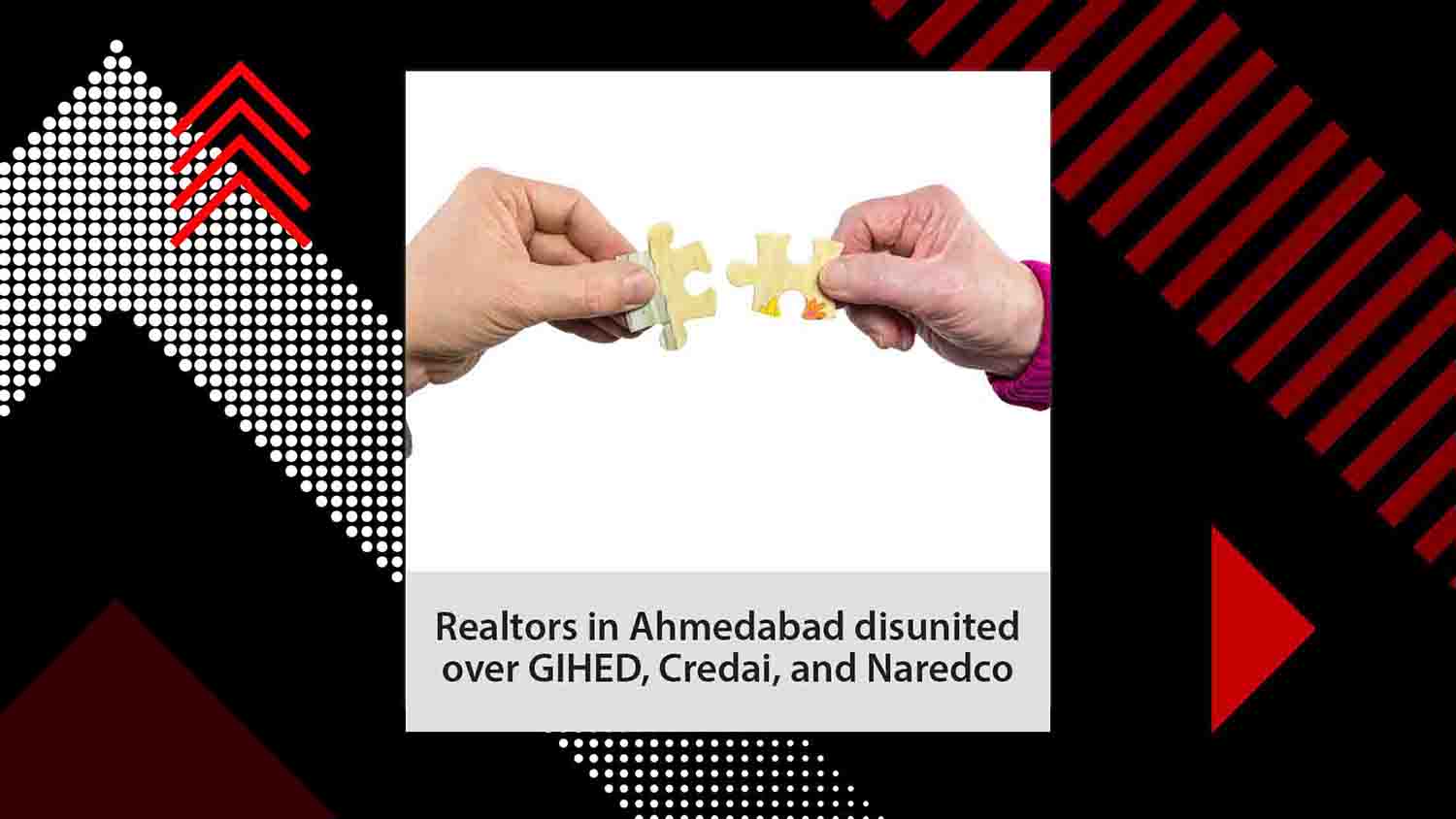 The Covid-19 pandemic has played havoc with industries across the world with certain sectors facing the brunt of it.
During the extended lockdown, real estate association National Real Estate Development Council (NAREDCO) formed its Gujarat chapter, exposing the disenchantment of realtors with older representative body like Gujarat Institute of Housing and Estate Developers (GIHED) and Confederation of Real Estate Developers' Associations of India (CREDAI).
About 300 developers from Gujarat have already registered with NAREDCO. Of these, about 70 per cent are from Ahmedabad.
Industry sources said formation of the new body reveals lack of confidence in GIHED-CREDAI which have not been aggressive enough to raise issues dogging the sector.
The distrust has only exacerbated post the lockdown which has thrown the capital-intensive realty sector into disarray.
NK Patel of Sun Builders has been appointed the chairman of Gujarat chapter of NAREDCO whereas Suresh Patel of Surya Group has been appointed its president.
Areputed builder said a WhatsApp group of about 300 members has been formed to discuss issues faced by the sector.
Several new members said, "GIHED-CREDAI have lost the purpose for which it was created — to aggressively represent and fight for interests of the sector. The lockdown has brought several developers to the edge of going down under. There was a need for a strong representative body which can fight for the rights of builders and buyers."
Another realtor said, "The existing bodies got limited to holding cultural activities."
A developer pleading anonymity said, "The core group in GIHED- CREDAI humiliated anyone pointing a finger or raising pertinent issues. In fact, such people were targeted. Many intellectuals and technocrats stopped participating in association matters due to these reasons."
N K Patel said, "We feel that GIHED-CREDAI has missed to live up to their purpose over the last three years. They failed in taking up industry issues aggressively."
When asked how NAREDCO would address realtors' issues, Patel said, "We want to work on futuristic town planning and key issues facing the sector such as reduction in stamp duty and problems being faced in RERA-2 online portal.
Dipak Patel of Ozone group who has been appointed vice president of NAREDCO, Gujarat said, "Everyone knows, but no one wants to say it. Right now if a flat costs Rs 1-crore, around Rs 30 lakh goes to the government in the form of direct or indirect tax. If this is worked out through a strong dialogue with the government, the benefit can be passed on to the buyers."
Hinting at GIHED-CREDAI, Patel said, "An organisation must stick to its main motto, followed by cultural activities." GIHED-CREDAI president Ajay Patel said, "We are happy that NAREDCO's Gujarat chapter has been formed. It will only make the real estate industry's voice stronger at State and central government level."
Commenting on GIHED members also becoming member of NAREDCO Gujarat, he said, "It's like joining any other club, one can be a member in multiple organisations."
However, he denied allegations against GIHED-CREDAI's leadership or intentions. "We have not received any complaint by email. If that would have been the case we would have known about it. However, comparing leadership is not the right way as we regularly make representations to the State government and so far 80 per cent of the work has been accepted," he claimed.
Talking about the association, Suresh Patel said, "We have developers, who do work in volume becoming our members. We don't want to go in quantity. but want to maintain quality. Moreover, we want the industry issues to be addressed by the association which wasn't happening."
Patel also pointed out that an association must run by people as trustees and not owners.
Also, one needs to keep his personal relations aside when representing an association to carry out result oriented work.
ALSO READ: Royal Orchid Hotels To Sell Jaipur Hotel, Land Parcels In Mumbai, Tanzania