PropTech Is One Of The Most Underrated And Under-Penetrated Technology Areas In India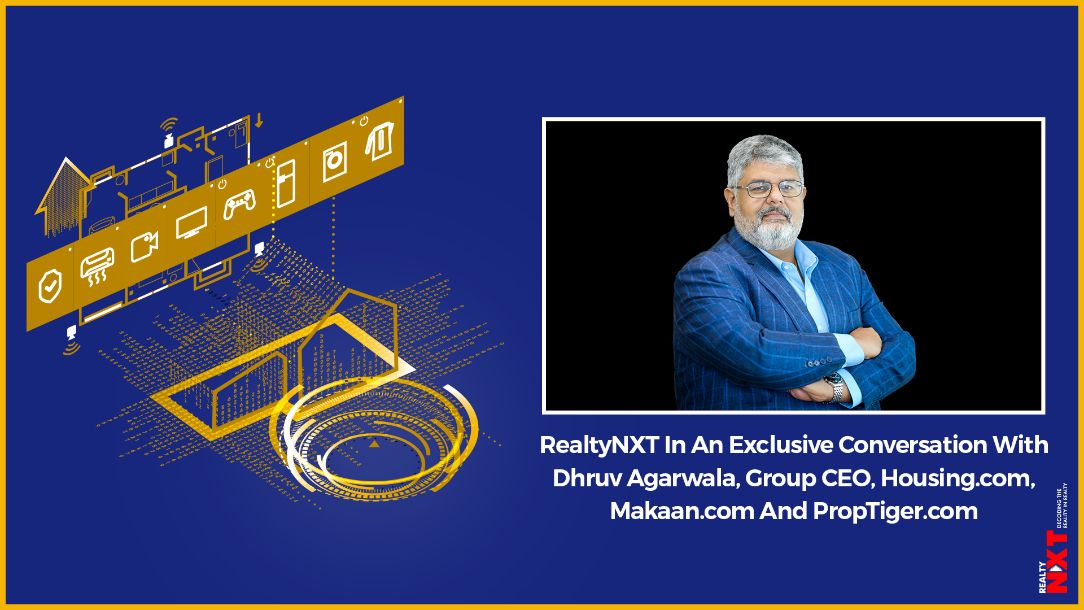 Housing demand may improve in 2020, especially since buying today is more affordable now than it has been for years, says Dhruv Agarwala, Group CEO, Housing.com, Makaan.com, and PropTiger.com
In January 2020, News Corp-backed Elara Technologies, which owns and runs Housing.com, PropTiger.com, and Makaan.com, had raised $70 million from its existing investors NewsCorp and REA Group. With this fresh financing, Elara has raised a total of $175 million to date.
Elara Technologies will use the capital to accelerate growth by investing in further building the brand and boost its product, technology, and sales teams.
Co-founded by Dhruv Agarwala in 2011, Singapore-based Elara Technologies offers services such as advertising, marketing, mandate business solutions for realty players, realty consultancy, personalized search, virtual viewing, 3d B2B solutions, site visits, negotiations, home loans, and post-sales service.
Agarwala talks in great detail about all three of his companies, his views on PropTech and much more. Read on for excerpts from the interview (Please note that this editorial interview was taken pre-COVID):
Q1. How was 2019 for your company and the industry overall? What expectations and targets you have set for 2020?
From an industry perspective, 2019 was a tough year. Sales continued to fall quarter after quarter despite tax benefits offered by the government and the interest rate cuts by the RBI. While these measures failed to boost consumer confidence in the property market, sources of funds further dried up for builders as the NBFC crisis deepened. 
On the positive side, the Rs 25,000-crore fund announced by the Centre to help stalled projects and the progress made in resolutions for Jaypee, Amrapali and Unitech cases will go a long way in reviving sentiment in the market in the future.
The demand for affordable housing seems to be growing, especially for builders with a fair track record. The co-living segment for students and young working professionals has gained a lot of momentum.
Commercial real estate performed exceedingly well, with leasing of office space hitting record levels. India got its first REIT with more in the pipeline. This will transform the industry with the unlocking of massive amounts of capital. The co-working segment also witnessed growth as demand for flexible and short-term office space is on the rise.
From our group's point of view, 2019 has been an eventful year despite of all the industry issues we talked about earlier. After venturing into the rental transactions segment with our acquisition of FastFox.com earlier in the year, we have recently forayed into the co-living listings market though Housing.com with an aim to digitise the unorganized PG operators and also enhance visibility of organized co-living players.
Year 2019 was also the time when we launched multiple marketing campaigns, strengthened our leadership team, and enhanced our product offerings. It was also a year where our revenues grew by more than 50% and audience on our platforms jumped significantly.
2020:
Housing demand may improve in 2020, especially since buying today is more affordable now than it has been for years.
The progress made in resolution of bankrupt firms, including, Jaypee and Amrapali, would help in rebuilding customers' trust in the market and revival of demand.
The disbursement of money from the government's Rs. 25,000-crore fund is also expected to start soon, paving the way for completion of around 4.5 lakh units.
The extension of enhanced tax deduction on interest paid on home loans for affordable housing in the recent union budget will continue to provide a boost for affordable housing.
Q2. What are some new trends which will propel real estate performance in 2020?
In 2020, we expect the co-living segment to become huge. There has been a change in consumer preferences. The young working population of today is interested in flexibility of living choices, modern amenities at affordable prices and hassle-free living. The idea of owning an asset is slowly changing because people don't want to be tied down to a particular location and want the flexibility and convenience to move fast especially in a dynamic work environment such as todays.
We also believe that the overall real estate market will continue to consolidate and remain a buyers' market. Ready-to-move-in properties will find more takers, which in turn will improve the inventory overhang situation.
Pressure will also be on banks to transmit the low repo low rates to fuel demand. The reduction in personal income tax slabs in Budget 2020, will increase people's spending power and hopefully fuel real estate demand further.

Q3. Is there a possibility of all four of your companies coming together in the future to deliver something much larger compared to what is being delivered right now?
We have Housing.com, Makaan.com, PropTiger.com and FastFox.com. There are already a lot of synergies between all the platforms and as we go forward, we will strive to provide a seamless full stack offering to our consumers that draws upon the strengths of each of these platforms.

Q4. PropTiger.com has its own USP, but how you are positioning Housing.com and Makaan.com different than each other. How do you see and differentiate the positioning that you already have for these two? What is the promise both the platforms are actually delivering to the customers and realtors in the current market?
Housing and Makaan are independent platforms that would continue to operate independently in the near future but would strongly collaborate to deliver the best outcomes for consumers, real estate developers and agents. The consumer overlap is minimal between the two platforms, enabling us to reach a much wider audience with both the platforms operating together.

Q5. We have seen a huge amount of transformation with regards to housing. It has been a roller coaster of a ride. Has Housing.com pivoted from what it was, to what it is now and it might be in the future? Where do you see a bigger chunk of revenue and growth coming for it in the future?
We have focused on enhancing our product, driving audience growth and increasing monetisation since we acquired Housing.com three years ago. Since then, the platform has been on a consistent upward trajectory and things continue to look up for the platform. Revenue growth in the future will come from increasing our market share in our existing markets and entering new markets such as the non-metro cities and introducing new segments such as co-living.
Q6. PropTiger has penetrated across India quite well. How do you see the technology is helping you to deliver a better promise? Whom do you see as competitors from the current time and what is the USP that you believe you have this point in time when compared to your current competitors?
PropTiger is differentiated from its competition in that it is truly a digital brokerage powered by technology both in terms of customer acquisition as well as the end to end customer experience. We have established ourselves as the most trustworthy brand in the residential brokerage market and are well regarded by both developers and consumers. Trust is our number one USP.

Q7. Name three key PropTech innovations that you think can address the major challenges looming over Indian real estate.
PropTech is one of the most underrated and under penetrated technology areas in India. The sector holds a lot of promise and the opportunity is huge for startups to create valuable companies in the space. Three technology areas / innovative ideas that come to mind that could solve some of the challenges facing the real estate sector in India are:
1. Innovation in construction tech to reduce cost of construction and time to market in an industry where costs and delivery are a challenge.
2. Blockchain to ensure trust, reliability and transparency in a market riddled with mistrust and opacity.
3. Real estate as a service to ensure optimal space utilisation in a country where expensive land prices have made housing unaffordable for many.
ALSO WATCH: