Revolutionising Real Estate During The Lockdown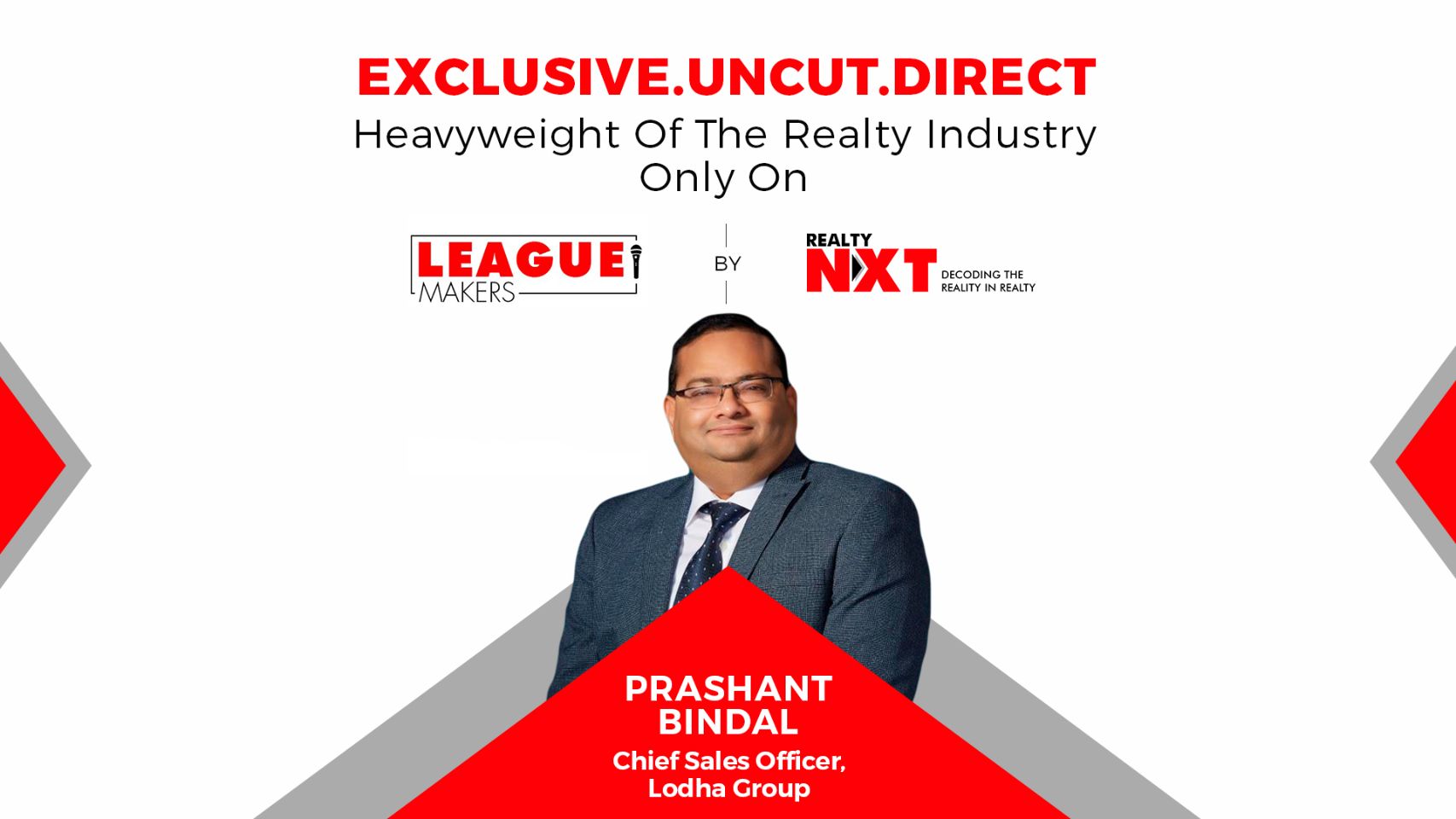 Lodha Group needs no introduction. The brand has been a pioneer of India's real estate industry from the get-go.
Right from uber-luxury to affordable housing, it has been the developer people trust and prefers. In an exclusive interview for our series Let's Talk Business, we caught up with Prashant Bindal, Chief Sales Officer, Lodha Group.
Read on to know more about how one of the country's biggest real estate developers is functioning and thriving during this global pandemic.
1. Lodha Group recently launched a campaign Apna Ghar Apna Desh which brings out the importance of having a home of your own. And for every house that was sold, Lodha dedicated a certain amount towards the PM Cares Fund. What was the thought behind this campaign? How did the campaign benefit the brand?
We know that when Covid-19 hit us we all were caught by surprise. We had certain structures built in place. We had in the past 7 years done business worth Rs 50,000 crores. Our structure was such that the client used to visit the site, we used to walk them through our projects and we would lock the deals successfully.
The Covid-19 crisis brought in the lockdown, our potential customers stopped visiting our sites and our whole working structure came to a standstill. Another noteworthy thing was that the consumer behaviour changed drastically. We brainstormed on what the consumer now wanted and we undertook extensive research on their thought process and how we can engage with them. We got the clarity we were looking for and that led to a lot of insights.
The first was the need for housing increased disproportionately after the crisis. Everyone was looking for a safe home and because of that they were ready-to-move-in houses. Consumers were more interested in homes which were ready rather than waiting for 3-5 years. Because of the uncertainty surrounding the situation, they wanted to conserve their cash. They wanted the developers to reduce the token booking amount and the balance would be paid by the banks as usual. 90% of consumers take loans for affordable housing segment and they want to get the loan properly with even the stamp duty and registration fees taken care of. We created Apna Ghar Apna Desh keeping into account what the consumer was thinking.
We reduced the overall contribution of the client to bare minimum which he/she would pay without any fear and we worked out loans of up to 90% for them from the banks with the lowest interest rates possible. When we combined all these parameters, we also realised that we need to give back to society and thus decided to contribute a part of our earnings to the PM Cares Fund. We have a responsibility not just towards our clients but our country as well. Since the lockdown began, we have sold 1,800 units and done business worth Rs 1,000 crores. We believe these numbers will increase because owning a home now is more than a basic need. People have to buy a house but now the trend has shifted to buying ready-to-move-in homes.
2. Do you think that pandemic has significantly increased the desirability of owning a home rather than renting it?
Our own scheme of exiting the current rental players who are staying in our homes has been extremely successful. Nearly 250 out of the 1,800 units we sold have been bought by those who were renting our homes. So that shift from rent to buy is significant. This is the best time to buy a house and feel safe especially with millennials. They have shown maximum interest in buying a home.
3. Lodha Developers crossed sales of 1,000 homes during the lockdown. Did you reduce the actual price of the homes or offered discounts in order to boost sales? What other strategies did you follow to achieve this number?
We had to completely change the way we functioned. In China, 90% of their home bookings happened through e-bookings. We couldn't believe it but now the world had changed significantly and this forced us to change our strategy for ourselves as well as our customers. Initially it was very tough for our team to come to terms with the idea that people would buy homes without physically visiting the site and the customers were also a bit reluctant. But it was a learning and training phase and we created a method where they would feel as if they were visiting a site without stepping out. Technology played a big role in this idea. Slowly but steadily things started looking up and soon business picked up. Buyers want a safe house with good facilities. We have changed the way we work from home so timings have changed. Now, the whole family of a buyer sits together and it is quite an experience when they see the project digitally.
4. Do you believe smart homes are the future? Do you think it's a smart investment option?
Now, for booking homes, the husband and wife sit together and they want a study room, a working room and larger spaces infused with technology. One and a half BHK and 2 and a half BHK are huge hits. More open spaces and more technology are in demand now. We are evolving with times and smart homes will be in huge demand in the near future.
5. Are you observing any shifts in residential inquiries because of work from home scenario?
People either enquire about puja rooms or study rooms. There is definitely a huge demand for a space where people can work efficiently and effectively from home.
6. Based on our interactions with customers in mid-segment mix-used projects are being chosen over standalone, is it a similar trend you are observing as well?
People want to live in homes where they get everything. Our project Palava offers schools, hospitals, shopping malls and world-class amenities within a complex and that is the need of the hour. We aim to make it the number one smart city in India. The amenities are opportunities in such projects are going to be the norm in coming times.
 7. How have you been engaging with channel partners? What kind of support system channel partners are given in these uncertain times?
We realised that the channel partners are our veins and arteries. Nearly 1,500 channel partners were active with us on a monthly basis pre-COVID-19. Our first responsibility was to take care of them because a lot of their businesses and the running of the household were dependent on us. We have given almost Rs 10 crores to them in the last two months and we have ensured that each of their needs are taken care of. All their pending dues have been cleared by us. We take pride in knowing that we were there for them and that has strengthened our relationship with them. In June, we have almost come back to normal functioning with 1,200 active channel partners. We are doing ECP meetings with them and we are informing them about our programmes via technology.
ALSO WATCH: