Dehumidifiers A Must Purchase To Avoid Mold And Mildew During Monsoons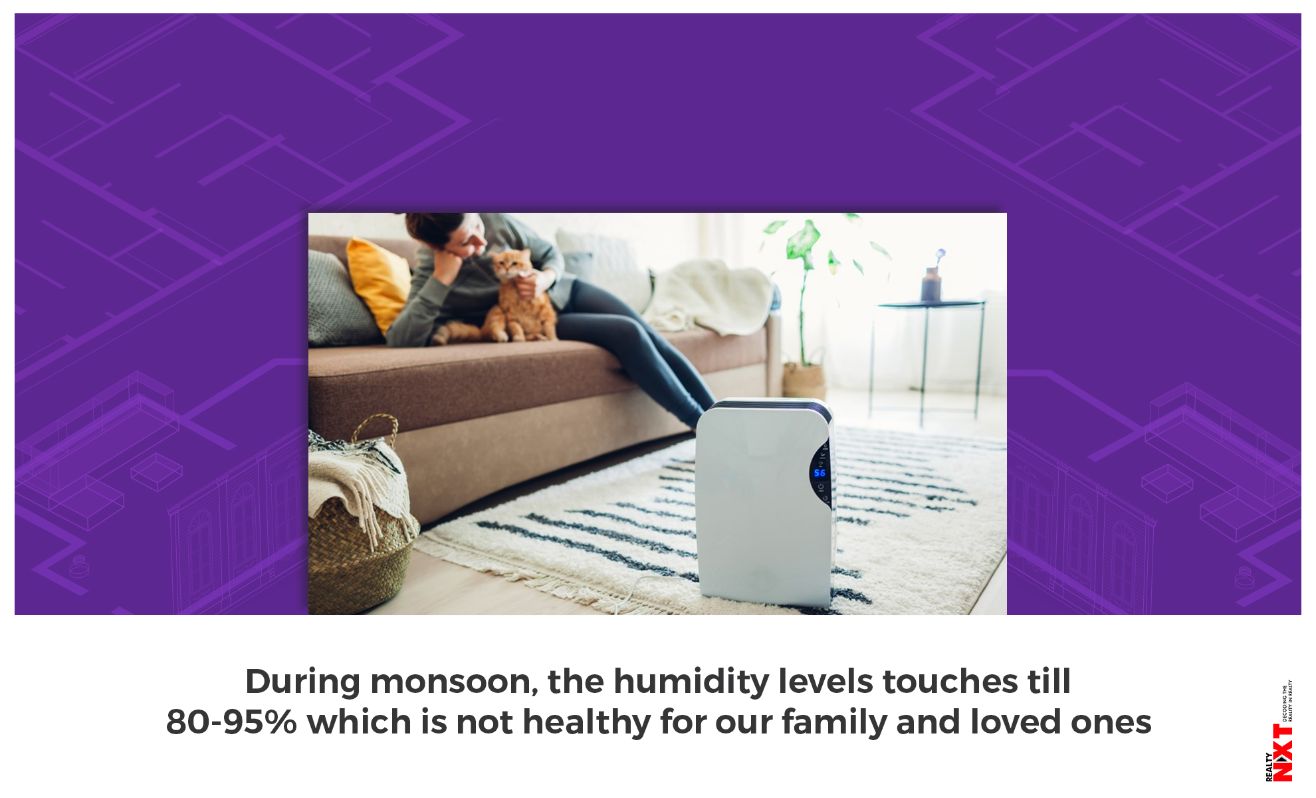 A dehumidifier is a bit like a vacuum cleaner: it sucks in air from your room at one end, takes the moisture out of it, and then blows it back out into the room again. 
We try our best to make our home a healthy space to live in, but during monsoon we all face a common problem in our living space that is humidity. Increase in humidity level leads to mold or mildew to grow, resulting in musty smelling air and unhealthy airborne mold spores. The ideal relative humidity for health and comfort is about 40–50%. A relative humidity above 60 percent is generally considered too high. But during monsoon, the humidity levels touches till 80-95% which is not healthy for our family and loved ones.
How does a dehumidifier works? 
Dehumidifiers work in one of two ways—by refrigeration (cooling air to remove moisture using similar technology to a refrigerator or air conditioner) or by absorption/adsorption (where moisture is absorbed into or adsorbed onto a drying material and then removed).
How to decide if you need a dehumidifier for your home? You know you need a dehumidifier if:
Moist or wet stains on walls or ceiling
Room feels unpleasantly stuffy
Windows are covered with condensation
Musty odours exist
Mold or mildew growth
Excess moisture
Rotting Wood. Creaky doors, cabinets, windows, or floors.
Allergies
Brand: POWER PYE ELECTRONICS
Description:  Storage Tank Size: 2.3 Litre With 12 Litre Performance, The Powerpye dehumidifier removes large volumes of water per day, thus making it ideal for dealing with condensation, damp and drying washing. Powerpye dehumidifiers are made to be energy efficient. At just 1.5p per hour based on 7.5L/kWh they are inexpensive to run for long periods in your home.
Price: INR ₹ 32,999.00
Brand: Sharp
Description: Sharp presents unique combination of Air Purifier with Dehumidifying function, making this unit a choice for every home. Be it coastal regions, low ventilated rooms, basements, studio and museums use this product to purify air and maintaining ideal moisture in the indoor air.  The auto-dehumidifying function helps in maintaining the humidity levels in the air for health and comfort.
Price: INR ₹ 35,000.00
Brand: Better & Brighter Homecare
Description: Collection capacity: approximately 450 m. Per day at 30c and 80%relative humidity (RH). Water reservoir capacity: approximately 1.5L. Compact and lightweight, making it easy to transfer from room to room as needed . At capacity, indicator lights up and device auto-shuts off.
Price: INR ₹ 5,999.00
Brand: ANSIO
Description: Ideal for use at home, office, bathroom, kitchen for improving the quality of air.
Dehumidiying capacity of approximately 250ml per day at 30°C (86°F) and RH80% with maximum water tank capacity 500ml.
Price: INR ₹ 2,799.00
Brand: ORIGIN
Description: Origin Novita Dehumidifier Model ND 328 is an energy-efficient unit, using just 304 watts to remove excess moisture in the air to give you ideal humidity level. The recommended coverage area of the unit is up to 300 sq ft. It extracts up to 20 litres a day.Tank Capacity is 4 litres
Price: INR ₹ 35,900.00
Brand: CRANE
Description: 23 L daily water extraction :Oscillating function : between 45 to 90 degrees. Humidity control range : 40 to 80 % Ideal for Room Size : 650 sq ft room
Price: INR 29,990.00
Brand: KORYO
Description: The dehumidifier is easy to use and attractive. It makes your life easier, simpler and better. The ultra-stylish design adds to the beauty. The unique features and performance makes it a quality product with higher stability and durability.
Price: INR 19,999.00
Brand: Sujay
Description: It cuts off and enters standby mode when the relative humidity is ideal, saving electricity costs. Also has 2-level fan speed and programmable timer between 1-12 hours. If the storage tank gets full, the dehumidifier stops automatically and generates a full-tank indicator. 
Price: INR ₹ 18,899.00
Brand: ORIGIN
Description: Large Tank Capacity @ 6 litres, continuous drainage option is available. Heavy Duty Performance Economically, power saving @ 405 watts. Has features like Semi-Permanent Built-In Ionizer, Semi Purification mode, Childlock Function, Auto Stop with Full Tank Indication
Price: INR ₹ 44,500.00
Brand: White Westinghouse
Description: White Westinghouse WDE50 3 in 1 Dehumidifier, Air Purifier and Dryer, Power Controls, Micro Controller, Easier Mobility with convenient wheels.
Price: INR ₹ 47,990.00
ALSO READ: Greater Noida: An Upcoming Student Housing Node In India