Taronga Ventures Expands In Singapore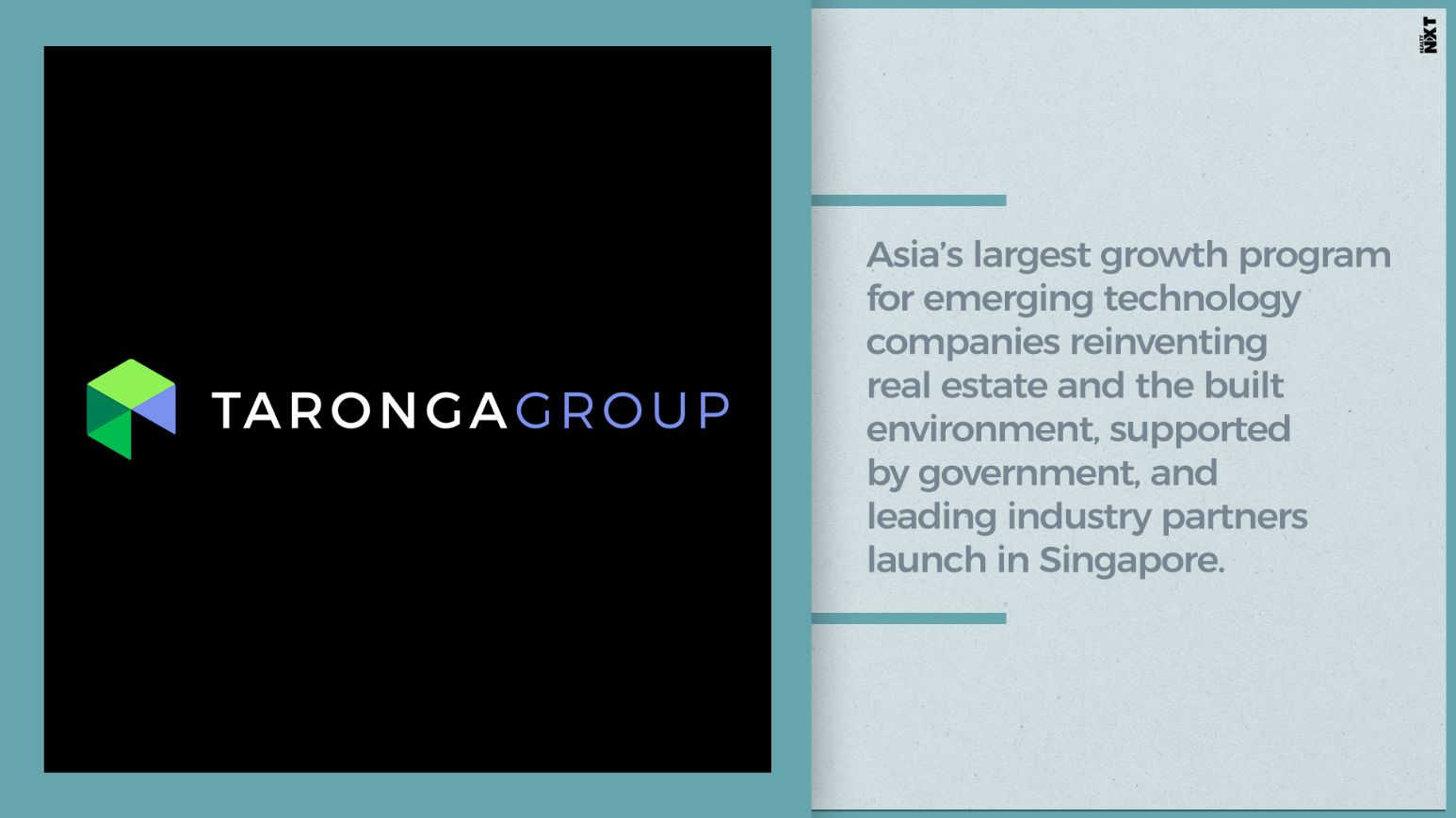 A key part of the Singapore expansion will be RealTechX – Asia's largest growth program for emerging technology companies reinventing real estate and the built environment.
Singapore has been chosen as the Asian headquarters for Taronga Ventures as it expands its real estate focused innovation and investment ecosystem into Asia. The Singapore office will support the RealTech Ventures Fund and its global built environment Growth Program – RealTechX. Taronga's vision is for its Singapore headquarters to be a hub for regional investors and real estate owners to come together with emerging technology companies and deliver innovation and value across Asia.
This announcement follows on from the most recent close of the RealTech Ventures Fund in May, 2020, with significant investment coming from strategic global investors in Asia, Europe and the United States, including:
CBRE Inc – the world's largest commercial real estate services firm
PATRIZIA AG – the global partner for pan-European real estate investment, and,
Dexus – Australia's largest office landlord
A key part of the Singapore expansion will be RealTechX – Asia's largest growth program for emerging technology companies reinventing real estate and the built environment.
Taronga's Singapore office will be staffed by a team of real estate and venture experienced professionals and led by Taronga Ventures Co-Founder Avi Naidu. Mr Naidu said "Innovation and technology are having a major impact on the real estate sector in Asia. By extending the Taronga platform into Singapore we will be able to better serve our regional investors and real estate owners and have greater visibility into the region.
Taronga Ventures Co-Founder, Jonathan Hannam, said that the Singapore expansion was a critical component to support new Asian investors and partners, as well as helping to secure and develop Asian investment opportunities. "Having worked and lived in Singapore for many years we understand the relevance of having a physical presence. We are already seeing many of our existing investments entering the market and looking to use Singapore as a base to grow into Asia."
Singapore Partnerships well established
Both the RealTech Ventures Fund and the RealTechX Growth Program have received substantial support from CBRE – the largest property services company in Asia – and from PGIM Real Estate, as well as from groups like Dexus and PATRIZIA.
Taronga Ventures also works closely with Austrade Singapore and a number of Singapore Government agencies, including IMDA, ESG, BCA and EDB to provide support and market access to emerging companies who are looking to use Singapore as a base.
Sandeep Davé, Chief Digital & Technology Officer at CBRE, said "As the global real estate market continues to evolve, technology is an increasingly critical enabler of solutions for both occupiers and landlords. CBRE's relationship with Taronga in Asia will provide value-added insights on emerging solutions, particularly for Singapore and the Asia Pacific region, and help to inform how we serve our clients around the world."
Benett Theseira, head of Asia Pacific at PGIM Real Estate said: "Across our global platform, we are intent on understanding and capitalizing on the tech-driven opportunities impacting real estate to enhance investment management decisions, implement specialized asset strategies and elevate operational capabilities to drive higher returns on behalf of our investors. We are pleased to bring RealTechX into Asia and to help the property industry keep pace with the innovation and technology changes that are rapidly impacting the built environment. Our partnership with Taronga Ventures and RealTechX will help PGIM Real Estate to remain at the forefront of innovation – with the aim of delivering better outcomes for our investors.

Investments growing in Asia

The RealTech Ventures Fund has made more than 10 strategic investments and many of these companies are expanding across Asia, through Singapore.
Switch Automation is a US software company that analyses and manages commercial properties at scale. Switch Automation has had a great level of success in the United States, has been deployed globally in nearly 3000 buildings and is now expanding into Asia. According to Deb Noller, the CEO of Switch Automation, Taronga's support for Switch's move into Singapore has been invaluable. "The Taronga team has directly introduced us to more than 15 real estate firms in Asia including PGIM, Keppel, CapitaLand, ARA, Allianz, Frasers in Singapore as well as groups like Mitsubishi Estate, Swire and Grosvenor across Asia. We were also introduced to major Singapore government linked entities such as IMDA, ESG, BCA and EDB. These introductions have led to new customers that have cemented our expansion into the region. We are now hiring in Singapore and are refocusing on this market as the next leg of our growth strategy."
With OpenSpace out of San Francisco, Taronga Ventures has invested with groups like Menlo Ventures, Lux Capital, Tishman Speyer, Navitas, and JLL Spark in a technology solution that helps to digitalize construction projects. Construction managers simply walk the site and the technology records the level of construction and directly compares that to the Building Information Management software (BIM). Jeevan Kalanithi, Founder and Managing Director of Open Space commented "As a fast-growing US-based company, OpenSpace is thrilled to have Taronga Ventures as an investor and partner as we expand into the Asia Pacific region The team has been generous in sharing their time and extensive regional networks to open-up executive-level relationships that have resulted in significant project opportunities. Taronga's perspective, as the leading strategic investor in real estate technology in Asia, has been invaluable."
Another business expanding into Singapore is Ynomia, an Australian technology company that has expanded into the United States with major US investors coming on board. The technology incorporates a cost-effective, blue tooth low energy sensor to allow the tracking of machinery, materials, and manpower on a construction site – live. Co-Founder Matthew Barbuto commented "We met the team from Taronga Ventures in 2018 at an early stage of our product commercialisation. The team was instrumental in educating our team on the dynamics of the real estate sector and generously opening up their relationship networks to senior and executive-level decision-makers in key organisations. Significantly, these warm introductions have led to the Ynomia team winning flagship projects with major real estate corporates in Australia, the United States, and now in Asia. Taronga's ability to provide flexible guidance in strategic, commercial, financial, and sector-specific ways is a truly unique asset for their portfolio companies."
About Taronga Ventures
Taronga Ventures is a technology and innovation investor focused on the real estate sector and the wider built environment. The RealTech Ventures Fund is targeting a $100 million from institutional investors and major real estate corporates. The Fund invests into globally scalable technology and innovation that enhances or challenges traditional real estate and built environment models. The Fund is focused on investing in strategic opportunities and providing its institutional partners first-mover advantage, whilst maintaining a focus on creating a better-built environment, through sustainable and responsible investment practices. For portfolio companies, the Fund provides access to a network of global owners, capital, and strategic mentorship. The Taronga Ventures ecosystem also includes:
RealTechX, Asia's largest growth program for emerging technology companies reinventing real estate and the built environment, supported by government and leading industry partners.
Taronga Venture Advisory, a strategic advisory service that helps institutional asset owners and operators to successfully implement and drive innovation within their portfolios.
ALSO WATCH: