Architecture And Culture, A Match Made In Real Estate Heaven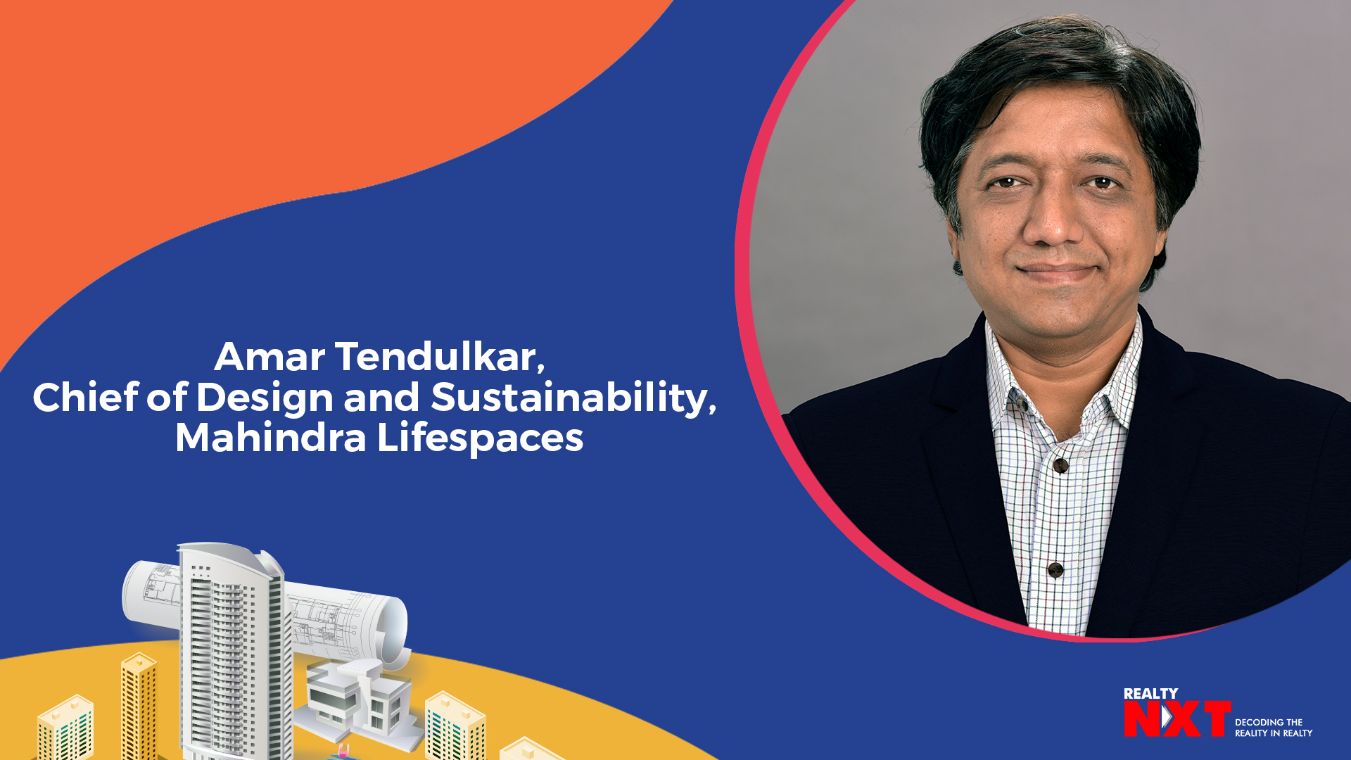 India is a land of varying cultures and traditions and its architecture and designs are interwoven intricately with it feels Amar Tendulkar, Chief of Design & Sustainability, Mahindra Lifespaces.
In an insightful conversation with RealtyNXT for our Design Story Series, the architectural genius talks about the changing face of real estate designs, sustainability, affordable housing, the importance of balconies in every residential project and more.
Read on for excerpts:
One look at Amar Tendulkar and you know that here is a man who has within him an ocean of wisdom and ideas. He talks in detail about the inseparable aspect of our culture with our architectural designs. "Architecture is all about culture. It is a cultural expression of a community. Architecture and culture cannot be separated. Our culture is more family-oriented. There is a deep sense of bonding in Indian families," Tendulkar says. He went on to give an example of a client of his who was based in Kenya. "Do you know what is the sense of a house is in Kenya? The house is a ranch which has an area of approximately 50 acres. The bedroom itself is 4,000-5,000 sq.ft. So from one bedroom to another bedroom one has to take a golf cart! So this is the kind of culture in some parts of the world. In India, we still want to stay together close to our loved ones," Tendulkar says with pride.
We then quiz him about the new sustainability trends in the Indian real estate market. Tendulkar says, "Few years ago, sustainability was introduced as a marketing gimmick. Back in 1995 also I was working on projects which were sustainable but weren't marketed that way. But that sustainability was different as it was more focussed on going back to the roots and doing many plantations etc. Today's green buildings are a revamped version of that version of sustainability."
He adds, "Emission of green gases was the main concern as the projects coming up were bringing unhygienic and unrecyclable elements into the environment. Soon the industry started developing eco-friendly products but this process began in developed countries and gradually entered the Indian real estate industry. What is sustainability all about? It is about the panchamahabhuta (5 elements) which are there since ancient times." He then gives an example of Jaipur's architectural marvels.
"You see the architecture of Jaipur is not only based on the 5 elements but also on the understanding of the planetary systems and Vastu Purusha Mandala. So our ancient architectural system was much more evolved than the West. Now with the focus on sustainability, we are going back to our roots once again. Resources are being optimised so these are the kind of fundamentals now with which we work now. All projects at Mahindra Lifespaces are green projects," Tendulkar says.
He then goes on to the significance of having balconies in residential projects especially during a time when all of us are stuck at home and we need that special personal space. "The adaption of balconies in our houses has started becoming important. A balcony in a living room or bedroom is one's own private space. While there is an option of a common podium garden but you can't visit it in your pyjamas right? After a hectic day at work (even when we work from home), one would like to relax and unwind. What's the most relaxing space in your house? It is the balcony. We need our own spaces. It is in our behavioural pattern. People should start falling in love with their homes only then the developers are successful. At Mahindra, we are evolving towards that feeling. We wants our buyers to feel that they love living in our projects," Tendulkar states.
The conversation moves to how this pandemic has made many home buyers regret buying small homes and how now smaller spaces will take a backseat and the design and modern aspects will take a front seat while designing homes. Tendulkar says, "Now while designing a kitchen, the most important thing is the focus on the placement of kitchen appliances like dishwashers, juicers, roti makers etc. This is a huge development and a developer has to understand and provide spaces which support this lifestyle. If a developer doesn't take care, the customer will lose respect for him. It is important to provide an experiential quality and create good spaces. This is possible only with a good design and it cannot be detached from our cultural aspects."
When quizzed about the upcoming architectural trends he foresees especially those which many home buyers will demand, he lists the following, "Balconies, touchless technology, individual space with spacious homes and amenities and how developers will have to figure out cutting down the construction cost of projects."
Tendulkar is no stranger to PropTech. He is crystal clear about how developers need to pull their socks up and create homes which are future proof. "Developers must leave flexibility in home designs to adapt to the latest technology as and when it progress. For example, we know that the popularity of pipe gas is growing slowly so many home buyers have to go through pains to get it as some developers didn't think it would become a part of homes.
This kind of attitude will leave customers agitated. Developers have to envisage the things which will happen over the next 20 years. Our company will provide shoe cupboards for people to remove their shoes outside as now people no longer take their shoes inside their homes. We even have ideated a specialised door with a pocket so people can get things hygienically," Tendulkar says.
The design of a home can make or break the way its residents feel about living in it. Tendulkar has a few key things always in mind while designing residential projects. "Hygiene and clutter free designs are a must. A system of carrying waste and disposing it hygienically has to be there. Environmental consideration along with cross ventilation and good light. Adaptability and space availability for bringing in new technologies. Kitchen and kitchen appliances, balconies for drying. A little bit of an extra space to support work from home or for a small pod or studio or study room. A unique space within the house is so important now. At a community level, there should be a well-stocked medical store, video call facility to doctors, focus on providing proper space for a fire emergency or health ambulance services, good quality high speed lifts, well designed lobbies and amenities," Tendulkar says.
The list is exhaustive and he is not done yet. The environmentalist in him rues over the wastage of water during car washing in such facilities provided by developers. "We have to come up with an idea to dry wash cars to save water," he emphasises. His last point is that there will be a demand for small business centers in mid-sized complexes.
As we move towards the final leg of the interview, we ask him about his role models and yet again the man doesn't fail to impress us with his choices. "Balkrishna Doshi was my first mentor from whom I learnt the fundamentals of good design. How to get good influences from the Western world yet without getting influenced by their thoughts, how do we make those designs Indian. That was the biggest teaching I got from him. My hero in terms of designing is Sir Norman Foster.
I can look at his ability to understand the customer quickly. Foster understood the Indian customers so quickly and he was keen to bring new technology to India. I saw some of his developments in slum rehabilitation and Dharavi and his thoughts on remodelling that area and low cost housing using technology to bring in the most affordable housing. Last year when I had visited his office, they were working on a project for housing on the moon! We need to learn so much! Fundamentals are very important. Both are top-of-the-line architects and both understand the customer very quickly and their start putting their thoughts towards their customers," Tendulkar gushes.
He minces no words when we ask him to shares his pearls of wisdom to young architects who wish to enter the corporate real estate market of India. "They should have a sense of commitment and ownership. You can only be successful if you are passionate about what you are doing and enjoy it and the ability to think deep. People are attracted to the corporate world because of the money and culture. But one doesn't need to run behind them, all the things follow. Hard work is important. It is vacant on the top but the journey to go there has to be sincere," Tendulkar says.
As is always with all good things, this conversation too came to an end but the wisdom and depth of clarity Tendulkar shared with us has left us appreciating architecture in real estate a little bit more!
ALSO WATCH: