Maharashtra Government Reduces The Stamp Duty To 2 PerCent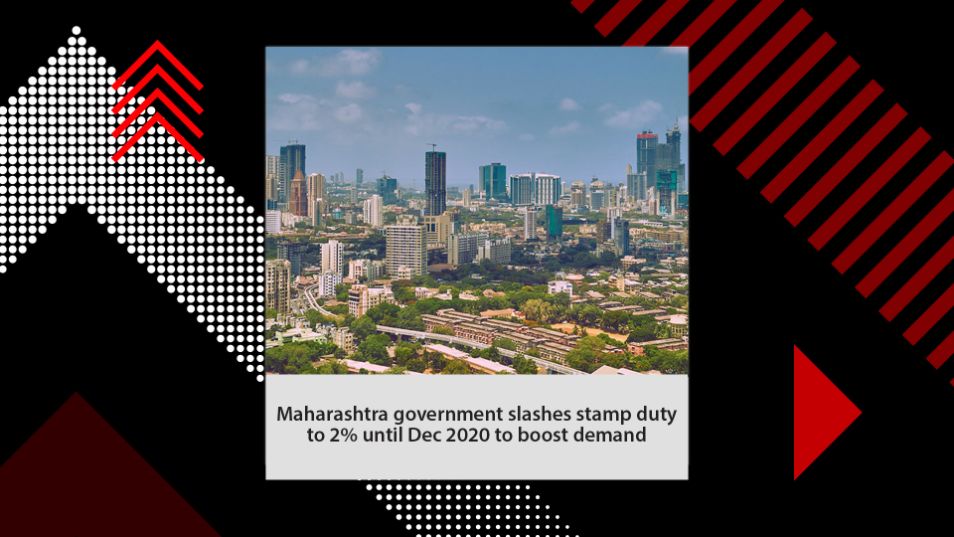 The state government charges a six per cent stamp duty against a total cost of the property and one per cent stamp duty or Rs 30,000 registration whichever is lower.
The ailing real estate has welcomed the Maharashtra government"s decision to reduce the stamp duty to two per cent till December saying the move will foster demand creation and give a boost to the allied industries.
The state government charges a six per cent stamp duty against a total cost of the property and one per cent stamp duty or Rs 30,000 registration whichever is lower.
The proposal of reduction in stamp duty was mooted by revenue minister Balasaheb Thorat department on Wednesday.
The state government on Wednesday decided to slash stamp duty on sale deed documents by 3 per cent from September 1 to December 31, 2020, and by 2 per cent from January 1, 2021 to March 31 2021.
Stamp duty is the transactional tax, collected by the government on property purchases. Stamp duty collection is one of the largest contributor to a state"s revenues.
"Besides, many supplementary businesses are also depended on the real estate sector. If the real estate sector survives then other sectors can also do better. Therefore, it was need of the hour to do this moral and economy-boosting at this juncture where due to pandemic situation everything has come at a standstill. I am confident that this move will rebuild the confidence of buyers and sellers in the property sector," revenue minister said.
"CREDAI has been pursuing the state governments for reduction in stamp duty since the beginning of lockdown. The move will benefit the customer and foster demand creation along with giving a stimulus to the allied industries coupled with employment generation," CREDAI National Chairman Jaxay Shah said.
Dr Niranjan Hiranandani, National President, Naredco lauds the announcement of stamp duty slash by the state government, " This will certainly stimulate the housing demand and help in converting inquiries into the sales closures. The fiscal advantage should nudge fence sitters convert into the actual home buyers with rippling effect on 269allied industries and employment generation leading to an economicgrowth. With many other favorable market conditions, this announcement shall rekindle ailing real-estate sector and see volume in transactions. He further emphasized saying that if central government can slash GST rates in an upcoming council meeting would act as a shot in the arm".
Mr. Rajan Bandelkar, President, NAREDCO West & Convener, Housingforall.com said, "In a bid to resurrect from a continuous decline in the housing sales and revive the demand amid the worst hit Covid-19 pandemic, the Maharashtra Government's great decision to temporarily cut stamp duty on flats from 5% to 2% till December 31, 2020 and 3% following that till March 31, 2020 is a welcome decision favouring the homebuyers. My advice to all the homebuyers is they should not wait any longer to buy their dream home. It is a convenient time considering that stamp duty has been reduced, also, property prices and bank loan rates are at a low. Therefore, it is a win-win situation for both developers and homebuyers."
Mr. Nayan Shah, CREDAI-MCHI, President said, "This coupled with the festive season, we expect demand to pick up significantly which will provide a huge respite not only to homebuyers but also to developers who have been suffering amid low demand and limited cash flow availability due to COVID-19,"
Mr. Shishir Baijal, Chairman & Managing Director, Knight Frank India, "The reduction of stamp duty by the Maharashtra Government is a very welcome move. We expect this to provide a temporary relief to end users looking for relaxation to complete their impending purchases. We hope that this move will help the residential real estate segment to gain the ground lost during the pandemic and stimulate demand."
Mr Ramesh Nair, CEO & Country Head (India), JLL said, "Though temporary in nature, this is a strong inoculation into the dampened market sentiment and will help in reviving sales. While economic growth is expected to be under pressure in the short term, we definitely see positive synergies for home buyers,"
Mr. Arvind Subramanian, MD & CEO, Mahindra Lifespaces said, "The reduction in stamp duty is a commendable move that will improve affordability, especially for aspiring first-time home buyers. It will aid in accelerating purchase decisions, while driving demand in the affordable and mid-premium segments. This is an opportune time for intending homebuyers who have put off decision-making due to the pandemic. Allied industries also stand to benefit."
Mr. Rohit Gera, Managing Director, Gera Developments Pvt Ltd said, "The proactive move by the Government of Maharashtra to reduce stamp duty is most welcome. This will help the struggling real estate sector tremendously. The 2 tiered reduction will help incentivise home buyers to purchase sooner rather than later".
Mr. Sharad Mittal, CEO, Motilal Oswal Real Estate Fund said, "Reduction in stamp duty is a positive move by the Maharashtra government and demonstrates its intention to boost the real estate sector. This will provide a thrust in demand for new homes as customers garner more confidence in the sector."
Mr. Chintan Sheth, Director, Ashwin Sheth Group said,"The Government of Maharashtra's decision to reduce stamp duty is a much-needed boost for the real estate industry and will provide a respite for first-time home-buyers, fence-sitters & resale flat buyers. Moreover, we anticipate low and mid ticket sizes to move at a faster pace. With this the number of registrations will grow, thus generating significant revenue for the government."
Mr. Shailesh Puranik, Managing Director, Puranik Builders said, "We thank the Government of Maharashtra for acknowledging the slowdown in the overall economy and reducing the stamp duty rates to stir up demand for homes. This will immensely benefit homebuyers as well as boost the real estate sector,"
Mr. Ram Naik, Executive Director, The Guardians Real Estate Advisory said, "The steep reduction in stamp duty of 3% and 2% till December 2020 & March 2021 respectively, will lead to an unprecedented surge in demand for the real estate sector. This move will benefit ready-to-move-in apartments the most as OC ready projects do not attract GST and the reduction in Stamp Duty will now bring down the transaction cost for such apartments to a very negligible percentage. We had been demanding a reduction in the transaction cost since quite sometime and today, we wholeheartedly welcome it. The timing of this move could not be better as it comes at the back of a substantial reduction in the repo rates. The reduced borrowing cost, negligible transaction cost and developers willing to offer lucrative prices, creates a great opportunity for serious consumers to make a purchase."
Mr. Ram Raheja, Director at S Raheja Realty, "This is a fantastic move, kudos to the Maharashtra government. It will certainly boost sales as all those sitting on the fence will take the plunge. Whats commendable is that they also put a timeline to it, which encourages buyers to buy sooner rather than later."
Ms Sonam Chandwani, Managing Partner, KS Legal & Associates said,"The Indian real estate sector, which was already scuffling to re-emerge from the tumultuous structural and policy changes, has hit a major fallout with the COVID-19 outbreak. While several steps had been taken to boost liquidity in the sector, there has been hardly any incentive for homebuyers to enhance their confidence post-COVID. Reduction of transaction costs could also help the industry sail a long way. Homebuyers always find GST and stamp duty as additional costs which comes as a burden considering high prices. At this juncture, the government's move could definitely help increase the demand of real estate in the state. The reduction has come at the right time as it incentives homebuyers also keeping in mind the festive season. it is likely to infuse growth in the ailing industry."
ALSO READ: The "WorldHome" Collection Was Conceptualized Around The Idea Of Redefining Luxury