"Indian Realty's Biggest Challenge Is The Creation of Liquidity"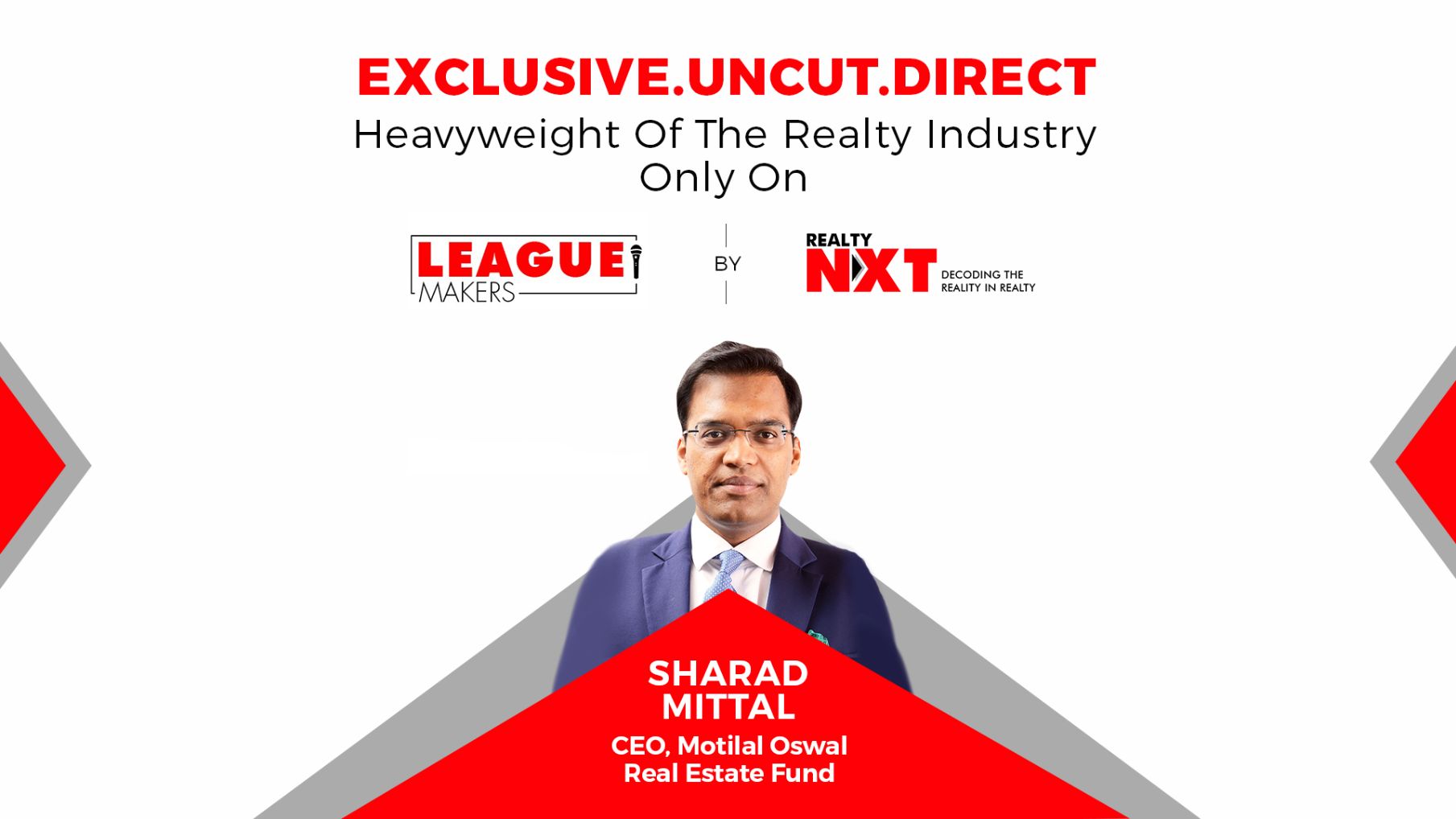 The private equity player has evolved into one of the most trusted brands in the industry.
Motilal Oswal needs no introduction. The private equity player has evolved into one of the most trusted brands in the industry. The driving force behind this success is Sharad Mittal, CEO of Motilal Oswal Real Estate Fund. Mittal played a significant role in rebuilding the company's business from an AUM of Rs 200 crore to Rs 2,800+ crores in the last 7 years. For our Let's Talk Business series, RealtyNXT caught up with him for an exclusive interview.
Read on for excerpts:
Sharad Mittal joined Motilal Oswal in April 2013. He has seen the many changing faces of the industry within that time frame and yet managed to push the company to new heights of success. When asked about his journey so far Mittal says, "I have completed almost 7 years with the company. Around the time of my joining, residential real estate prices peaked. The market has been fairly head winded especially after 2016. But I am happy to say that during this period we have been able to scale up this practice. We've raised multiple funds and been one of the key players in the domestic real estate market. I have learnt a lot in the past 7 years."
Mittal has also played a key role in shaping up the company to where it is today. How did he do it? "The firm started this practice in 2009-2010 and post my joining, I strengthened the team. Before I joined, there was one fund of Rs 160 crores which was there in place and the strategy at that point of time was to do pure equity. With a change in environment, the new team and a lot of internal debate and building up a strategy, we moved towards doing more mezzanine structures, focussed a lot around doing IT cities, we stayed away from Delhi and Mumbai and worked only with large developers doing mid-income housing," Mittal says.
Mittal feels that right now the real estate industry is in desperate need of liquidity and the Covid-19 situation has only highlighted this particular problem. "Clearly, the biggest challenge is the creation of liquidity as the entire credit cycle has broken. NBFCs which were the primary source of capital for the industry between 2013-2018 have also taken a bit of a pause right now. Sales remain muted."
Mittal like everyone in the industry is loving the technological breakthrough that coronavirus provided but feels real estate has miles to go in terms of adopting and embracing technology. "Covid-19 has accelerated the entire pace of change. The fact is that India's real estate industry hasn't adopted technology in a big way yet. It remains a brick and mortar business. Consumers have adopted the technology today and now the sales end of it has to be tech enabled. Technology can play a significant role in the entire supply chain within construction. Technology has disrupted so many conventional businesses but I feel it will be a great enabler in the real estate sector."
When asked about what should home buyers do given the current situation, Mittal feels they should grab the opportunity to buy a home at the moment. "This is the best time for home buyers to strike a deal as they would get good deals from developers."
ALSO WATCH: