Proptech – Making Real Estate Future Ready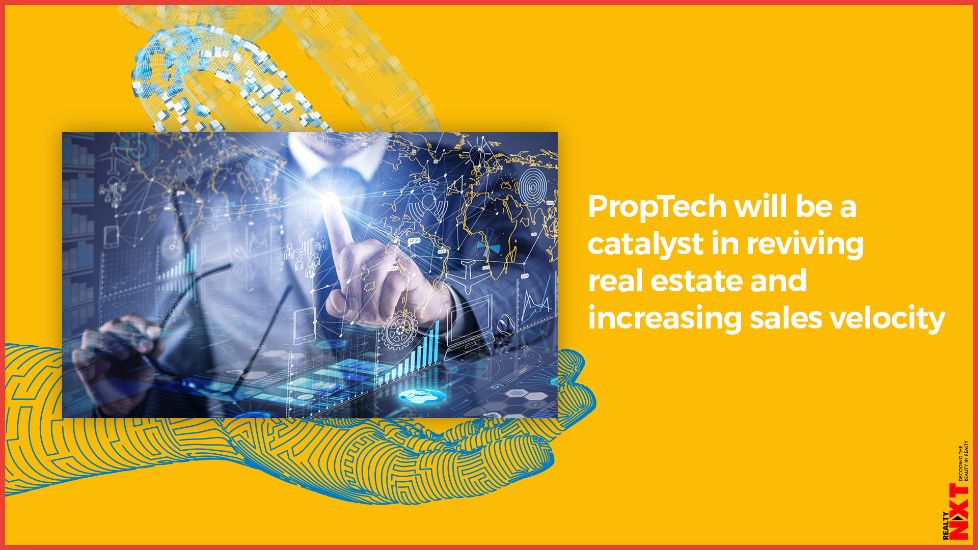 As the future of real estate evolves due to changes in the consumer buying behaviour, real estate now more than ever needs to adopt technology that too at breakneck speed to cope with the disruption in human consumption patterns caused by the COVID-19 pandemic.
Real Estate has mostly been in person transactions between stakeholders (Buyer, Seller, Developer, Channel Partner, Financial Institution, etc). Most of the aspects of the Real Estate Transactions can be aided by the use of technology for as much as 95% of the entire transaction process.
Key attributes while buying real estate traditionally:
Recce of the location: Understanding of the areas around the interested property. Nearby location, accessibility to the work place, schools, hospitals, malls, etc. This has primarily been done through physical site visits of the property and the surrounding areas.
Price Point & Financing: Consumers have also been wary of the price; the 'right price'has always been the sweetener for the transaction to go through. Primarily, these price points are shared by the stakeholders and consumer self-research through portals, etc. The financing aspect is again taken care of by stakeholders.
Amenities & Features: What are the amenities and features offered by the project. Often validated through physical site visits.
Return on Investment: While a consumer is buying for end use or investment purpose, real estate has always been a secure investment and customers prefer to understand the returns potential before signing the deal. Here also, stakeholders involved and self-research are usually the modes to obtain information.
PropTech Future Ready
Though no one can predict the future, technology can enable real estate to become better equipped to address evolving changes.
Augmented Realty (AR), Virtual Realty (VR), Guided Online Tours, 3D Walkthroughs, Drone Shoots help the customer experience the property as if he is in the premise itself. Customer can easily recce property location, accessibility from his place of interest, engage and interact with the property along with its amenities and features. Moreover, this experience can be convenience and time. Thereby, significantly reducing time and cost to physically visit and evaluate multiple properties at various locations.
PropTech also enables the customer to have the right valuation of interested property, using historic data of the properties sold in the said location and proximity, thus by deriving right price for his investment. Also, technology can help them understand Return on Investment using past trends and future potential and rental incomes that they can command, thus, making their investments secure.
Most states have already adopted online property registrations, thus, saving the countless hours of on-ground registrations at government offices. PropTech can also aid Financial institutions to move away form legacy paper work process and the entire disbursal can be done online, thereby reducing transaction time.  PropTech can assist customers to choose from multiple financial institutions and offers suited to their profile and need.
Real estate has always been a late adopter/laggard/technology agnostic sector. However, as the times change and with the slump in sales, PropTech will be a catalyst in reviving real estate and increasing sales velocity. Developers who have already adopted PropTech during this pandemic have delivered staggering numbers even in the lockdown. PropTech not only saves time but cost too for the consumer as it reduces the evaluation time and helps them make informed decisions. Developers also benefit from the adoption of PropTech as Data Analytics, Artificial Intelligence (AI), Machine Learning (ML) helps in understanding consumer buying pattern, thus, enabling the developer to offer customized offerings for a specific customer and resulting in improved margins. PropTech is indeed a 'win-win' situation for both the Developer and the Consumer.
By Pankaj Narang, Chief Marketing and Sales Officer, Prop.Vu
DISCLAIMER: The views expressed are solely of the author and RealtyNXT.com does not necessarily subscribe to it. RealtyNXT.com shall not be responsible for any damage caused to any person/organisation directly or indirectly.
ALSO READ: Real Estate Market Trends And NRI Investment In Indian Realty