Top 10 Things That Has Changed With The Consumer Post COVID-19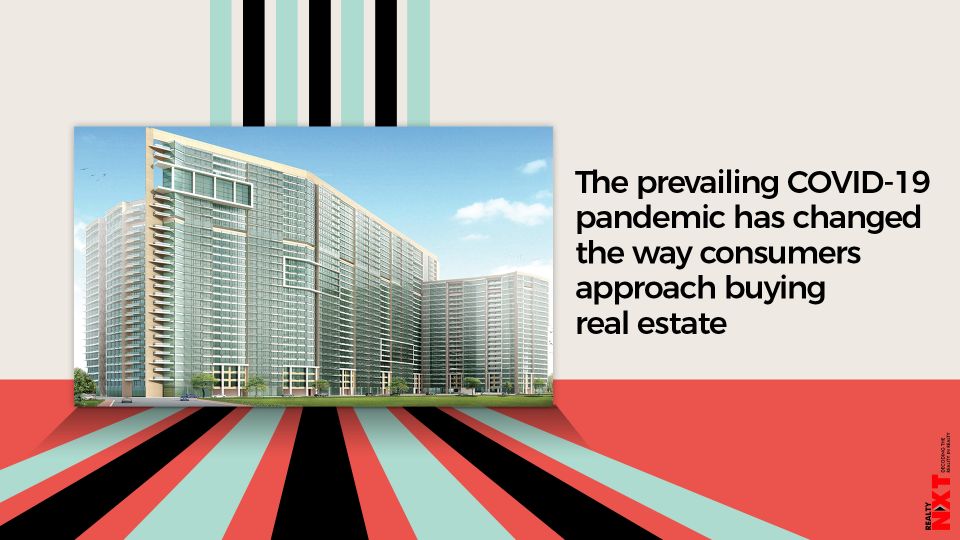 The prevailing COVID-19 pandemic has changed the way consumers approach buying real estate.
The sudden onset of unexpected developments has made many home buyers take extra precautions and demand greater value from the property including amenities, connectivity, and social infrastructure.
Overall, this is an opportune time to buy a home. As India continues to manage the crisis, the market is expected to regain its previous momentum. Although there will be a temporary slowdown, it is unlikely to affect the increasing real estate price trajectory in India.
Here are 10 things that consumers will demand more from the home-buying process in a post-COVID world.
More Demand for Virtual Walkthroughs & Property Searching
Since mobility and face-to-face interactions will be limited for the foreseeable future, home buyers are increasingly searching for properties online. Developers will offer more 3D virtual walkthroughs and full documentation on their websites for greater transparency. There are many online portals and advisory forums that will help consumers make an informed decision.
Preference for Projects with WFH & Smart Home Capabilities
As remote working becomes the norm, consumers are opting for well-equipped projects with dedicated home offices including 24-hour uninterrupted power and smart connectivity. Consumers will seek projects with home automation systems using voice, smartphone and physical commands. Developers are integrating smart automation systems for added convenience and comfort. IoT (Internet of Things) and ICT (Information and Communication Technology) systems create a convenient interface between residents and the buildings.
More Demand for Natural Surroundings & Open Spaces
The COVID-19 pandemic and subsequent lockdown has made consumers prefer homes with an abundance of natural surroundings and open spaces. Consumers are choosing projects with expansive greenery and water bodies. These projects must seamlessly fit into its surrounding area and be optimised for maximum natural lighting and fresh air.
More Demand for Safety & Security
Although security is always a topmost concern, it is more so in light of the pandemic. Consumers are increasingly choosing homes that provide 24/7 monitoring and surveillance, combined with stringent checks on non-residents at all access points of the premises. They prefer projects with home automation systems and trained security guards who patrol the grounds round the clock.
Preference for Green Construction
Energy-efficient and eco-friendly homes are gaining popularity since they prioritise resident welfare. Homes with reduced water and energy consumption, enhanced air quality, use of natural lighting, and decreased CO2 emissions have a significant impact on overall health and well-being. As home buyers shift their focus towards environmental responsibility, the availability of green amenities is on the rise including solar panels, rainwater harvesting, waste management and high-efficiency lighting.
Preference for Projects with Added Value & Amenities
Comfort and convenience would be high priorities, especially in the current pandemic scenario. The availability of modern, world-class amenities adds great value to the worth of the property, which will benefit the daily lifestyle of residents as well as their long-term investment returns. These projects are designed to provide an enhanced lifestyle for residents. Reputable developers make sure to offer facilities including club houses, fitness centres, swimming pools, spas, playgrounds and sports facilities, as well as on-site supermarkets and pharmacies for added convenience and comfort.
More Demand for Affordable Housing
Home buyers may not want to commit a large amount of money in the midst of uncertainty, but still want to make a secure long-term investment. The availability of affordable housing is critical to the real estate sector's reinvigoration. Affordable housing projects can incentivise potential buyers and widen the market opportunity. With its infrastructure status and the Government's support, affordable housing is the most incentivised segment for both developers and buyers.
Preference for Integrated Townships
Integrated townships offer residents the option of living in a highly organised real estate development which provides a holistic mix of housing with modern amenities, green open spaces and connectivity to commercial centres that can exist regardless of how rampant urbanization impacts the rest of the city. Because of all the benefits townships offer in terms of providing a serene haven from the bustling city, the integrated township model is a fast-growing segment.
Preference for Projects with RERA Compliance
RERA enables home buyers to thoroughly research the real estate developer, as well as the project. Consumers can find detailed information about registration status, litigation, and timelines. Although there may be slight delays due to the lockdown, RERA approval ensures that the project will be delivered in a timely manner.
Preference for Developers with Minimal Execution Risk
Home buyers will favour risk-free property investments during this uncertain time. They will carefully consider the quality of the developer, project, neighbourhood, environment, and amenities. There will be high demand for reputed developers with minimal execution risk. Consumers will base their final decision on the developer's reputation and previous track history. 
By Rakesh Reddy, Director, Aparna Constructions & Estates
DISCLAIMER: The views expressed are solely of the author and RealtyNXT.com does not necessarily subscribe to it. RealtyNXT.com shall not be responsible for any damage caused to any person/organisation directly or indirectly.
ALSO READ: Home Decor Ideas And Tips To Celebrate Birthdays And Festivals During The Lockdown