Fixing The Rental Industry One Rent At A Time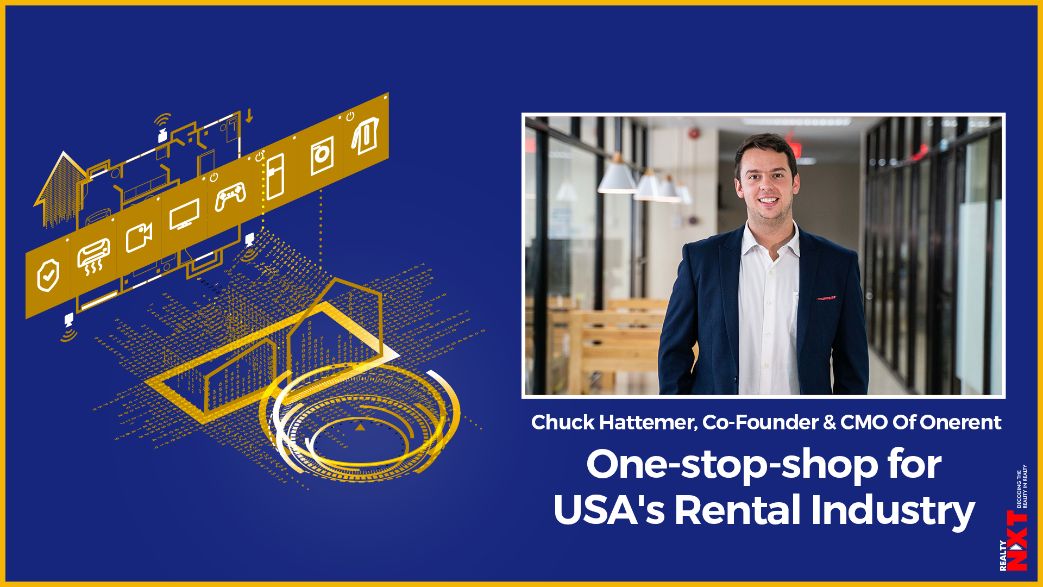 Onerent is steadily making a huge mark in America's real estate rental industry and plans to go global in the coming times.
With operations in 500+ cities in America, 18,000+ properties serviced and 60,000+ happy tenants, Onerent is determined to fix the fragmented rental industry of the US and the world in the near future with the aid of the latest and greatest technology.
If you thought that only India's real estate rental industry was fragmented and lacked transparency and all was well in the West, the revelations made by our latest guest Chuck Hattemer, Co-Founder & CMO of Onerent will surprise you. The United States of America too had a lot of problems especially when it came to the whole process of home renting and putting up properties on lease and managing them. For our Proptech Story Series, RealtyNXT caught up with Hattemer for an exclusive conversation.
Chuck Hattemer, Co-Founder & CMO of Onerent minces no words when he talks about the previous shortcoming prevalent in America's real estate industry. Hattemer goes down memory lane as he shares what led to the formation of Onerent. Hattemer says, "We started 5 years ago under the premise that the rental process was really broken and fragmented for the next generation of real estate investors. We saw that the dynamic of property owners here in USA was changing. As a new generation of home owners entered the market, so did a new generation of investors. 85% of residential real estate is owned by independent investors. This led us to realise that this era of real estate investment demands a hands free experience."
Hattemer believes that people want to invest in real estate like they do in stock markets. "We saw that the experience being provided to such investors was really tedious which required them to put in long work hours by to manage their assets. There was nothing like an Amazon in this industry where everything was under one roof. An automated property management allows one to manage their assets just like they do their stock market investments. By providing a technology fuelled experienced, we are filling this need gap as it is what the situation demands," Hattemer adds.
The company manages and monetises property in the cloud. It is the one-stop-shop for everything from marketing a rental property to screening prospective renters to managing all the maintenance and repairs throughout the property's life cycle. "We also guarantee the tenant and rent for the owner and that really helps de-risk their property while providing a real-time platform to track the performance of their assets. No matter where you are in the world, we provide this very transparent seamless platform to take care of all parts of the process and we operate under a distributed model. What that means is that we don't ask homeowners to pay for expensive local real estate offices, instead we have local boots on the ground that are on demand for all the tasks related to property management whether it be showings for tenants or maintenance etc. That allows us to charge 60% less that other competing property managers," Hattemer says.
Hattemer reveals that renters too benefit immensely from Onerent. "On the renters side we provide a white glove service and a product that makes renting a home like booking a five-star hotel resort. So renters get a concierge experience leveraging AI and that helps them go through the whole rental process online so it's totally contactless and really allows people to go from beginning to end all through one experience," Hattemer says.
Speaking about the brands USP, Hattemer states that unlike other competitors, his company allows even an independent home owner to experience and get the operating scale and benefits of a large real estate owner operator.
Hattemer understands the immense value of technology and gives it full credit for Onerent's growth story. "Technology is a huge reason why we are able to add 300-500 new doors to our portfolio every month. We use it to really automate the property on boarding process and support our scale," Hattemer says.
One of Onerent's flagship products is ACE (Accessible Conversational Entity), which is a personal rental assistant, a chat bot platform for both the landlord and tenant. Elaborating on the same Hattemer says, "ACE uses AI to automate all the tedious parts of property management. One of our lead investors and advisors is Jeff Dean, the Chief of AI at Google. One of the biggest reasons he invested in our brand was because technology has been a core of our vision since day 1."
Seeing the massive number of rental frauds occurring in the US, Onerent recently launched Scamlord.ai to help educate renters and protect them against the danger of what Hattemer calls "scam lords".
This free tool that allows people to verify the legitimacy of a listing and detect any potential scam has helped 10,000+ renters check and verify if they are dealing with a genuine landlord or not.
Onerent is steadily making a huge mark in America's real estate rental industry and plans to go global in the coming times.
Note: This was an excerpt of the interview. Click on the link below for the complete version.
ALSO WATCH: