Hot Interior Design Trends Around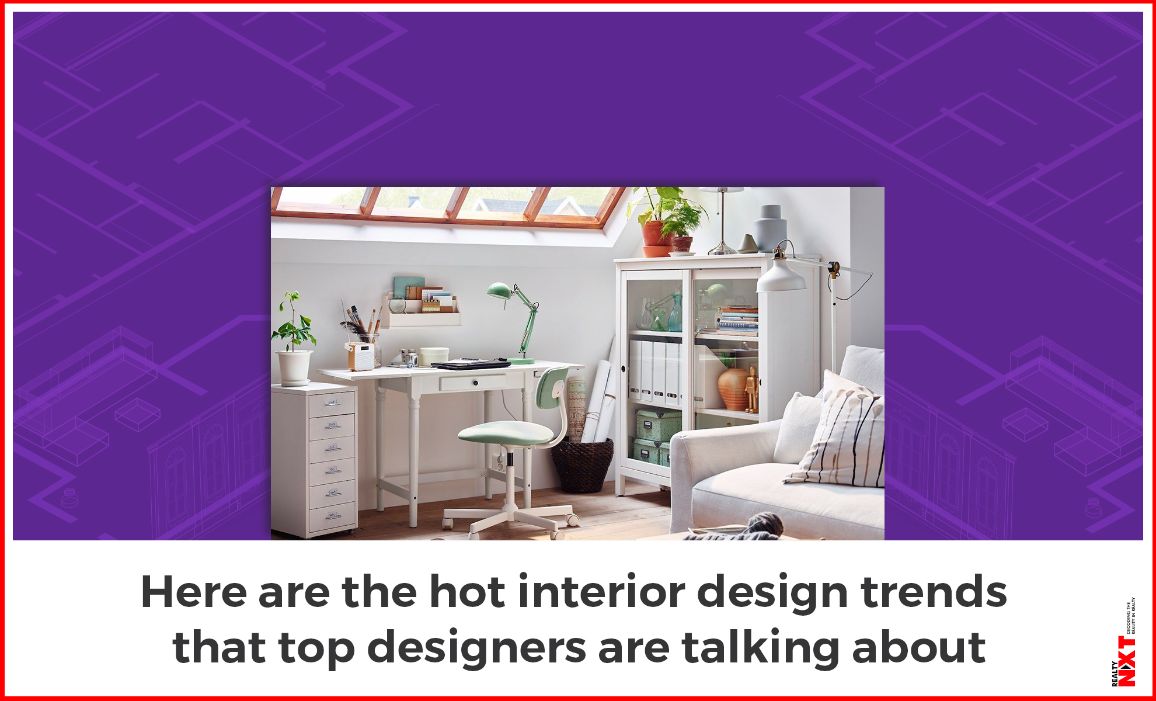 What's hot in the interior design world? 
If you are looking for some inspiration for your next interior design project, the right place to be is here.
We will be digging into some of the trending interior design trends across the world and see what the top designers are talking about.
From personalizing home accessories to bringing in mixed metals interiors and incorporating the elements of nature, here are the hot interior design trends that top designers are talking about.
Have a look at them to draw inspiration and try incorporating them.
Upcycle, repair, and personalize
2020 is a year in which interior designers are putting a big focus on sustainability and reducing waste. 
Harriet Anstruther, an interior designer, said that 2020 would see an upsurge in homeowners upcycling, mending, and personalizing their accessories. 
Though up cycling has been consistently going on, people are becoming more environmentally conscious, and Harriet opines that more people will desire to learn the right upcycle skills. Workshops will become popular in domestic projects.
Bringing in mixed metals interiors
Metals, namely, silver, gold, tin, and copper, are going to be used widely in interior design in 2020. In the kitchens, tin panels are going to replace the backsplash. 
Also, metal decor is going to be extremely trendy in interior design. Thus, you can try mixing silver and brown metals or iron and gold or bronze. 
However, see that you are limiting the mixture to not more than three metals in one room.
Geometric tiles
Geometric tiles are hot in interior design and are mainly used in bathrooms. Geometric tiled floors bring an unexpected splash of colour to your bathroom. 
Behzad Kharas, an architect and Chairman and Managing Director of The BNK Group, says that geometric tiles are inspired by Turkish / Moroccan design. 
He also added that geometric tiles work best for either eclectic or rustic bathrooms. So if you are designing a spa or an eclectic modern bathroom, you can go for the geometric tiles.
Earth Tones
Yes, the cold tones are out. Trending in the interior design world are shades of chocolate brown, olive green, wine, and yellow ochre. Try switching these warm earthy tones for a neutral on your sofa or walls.
Tech-savvy interior
Laurence Carr, the interior home designer, said that smart technology connected homes, and AI applications at home are going to be at the forefront of 2020.
Smart technology is going to keep homes organized and also give mental peace. Plus, instead of considering such products as luxury items, they should be viewed as installations that will improve the quality of your life.
No doubt, tech-savvy homes are expensive, but they allow homeowners to outsource their thinking about simple things.
Chic caning
Amber Dunford, an interior stylist, recommends the use of chic caning accessories and furniture. Stool seats, cabinet doors, lampshades, and many more are made of caning material, the same material used to make classic bistro chairs.
This beautiful material permits light to filter through it, creating a light and airy vibe. You can get a beautiful dappled lighting effect if you use it in lighting fixtures.
Story element in the style
Linda Hayslett, the founder of LH Designs, is of the opinion that people are going to become conscious of cultural designs and will want to incorporate more authentic pieces.
Linda's clients demand more thought-provoking pieces from cultures, rich in history. They also want to know the stories behind the natives there. 
She also added that knowing the story of how a certain piece was created, makes people more eager to create spaces that emphatically resonate with their personalities. 
Chic floral wallpapers
Floral fabrics and wallpaper have always been in trend. But there is a big difference between the floral wall trends of 2020 and the pink floral walls of the yesteryears.
Modern floral wallpapers incorporate patterns of different sizes and colours. Lively colours like yellow and contrasting colours are popularly used, and it makes the walls pop. In 2020, you will see more of an abstract chic rendition of floral wallpapers.
Element of nature
Jason Grant, Author, Stylist, and Designer, says that he adds an element of nature to every space he creates. It can be an oversized palm leaf, a handmade ceramic, a piece of furniture made of timber, or some native botanicals. 
Jason also added that he likes to create spaces that give out calm and relaxing vibes. And for that, he gets inspiration from his favourite elements from nature that includes the ocean, the beach, and the bush.
Simple shapes
Vincent Van Duysen, an acclaimed Architect, opines that design now is about more simplistic proportions and sensuousness. 
In his design collaborations, he tries to retain the essence of form while incorporating as many technicalities as possible. 
Multifunctional spaces
With many employees switching to remote work in 2020, it is only obvious that creating multifunctional spaces is a top priority for homeowners. Mixing space and functionality is generally seen in the kitchen and dining room areas. 
Kitchens islands can serve as a dining table as well as a workstation. In smaller spaces, breakfast nooks and kitchen counters can be used, eliminating the need for an extra room. 
Jewel tones
According to Suzie Mc Adam, the Principal of Suzie Mc Adam Design, a major trend seen in Irish interior design is rich colour tones. 
In the '90s, a great deal of development and new constructions were done in Ireland. But strong and vibrant colours are resurging on wall tones as well as in furniture selections.
High-quality craftsmanship
Roberto Peregalli and Laura Sartori Rimini of Studio Peregalli say the new interior design trend is high-quality craftsmanship. 
They believe that a standardized, industrial production cannot bring out unique and personalized details as it is a creative process.
If you are looking to create a unique, personalized space, consider adding high-quality craftsmanship to space.
Art deco
Caroline Chin Geyler, Founder and Creative Director of Arete Culture, says that Singapore is seeing the resurgence of Art Deco inflected interiors both in commercial and residential interiors.
In residential interiors, Art Deco elements add richness to the home. All the glamour of deep jewel tones, sleek metallic accents, and plush upholstery of the past continue to be relevant today.
Eclectic design
Matching the old and new is a trend that is still hot in 2020. 
Choose primary modern decor and chip in some antique accessories, or it can be done vice versa. It adds a fascinating appeal to your space.
For instance, hang a contemporary piece of art in a space full of antique accessories. Or place an antique lamp on a modern sofa table.
Wrapping-Up
There you have it! These are the hottest interior design trends around the world as spoken by top international designers. Hopefully, they will give you inspiration while working on your next project. 
Just like fashion, interior design trends will vary based on which part of the world you reside in. So do take that into consideration. 
You may also consider incorporating other popular design trends such as vintage accents, patina accents, antique arts, and tribal-inspired prints and textures.
By Richa Parmar, Architect Blogger
DISCLAIMER: The views expressed are solely of the author and RealtyNXT.com does not necessarily subscribe to it. RealtyNXT.com shall not be responsible for any damage caused to any person/organisation directly or indirectly.
ALSO READ: Chad Smith Is Selling Hamptons Home For $15M