Veyor, A Game Changing PropTech Idea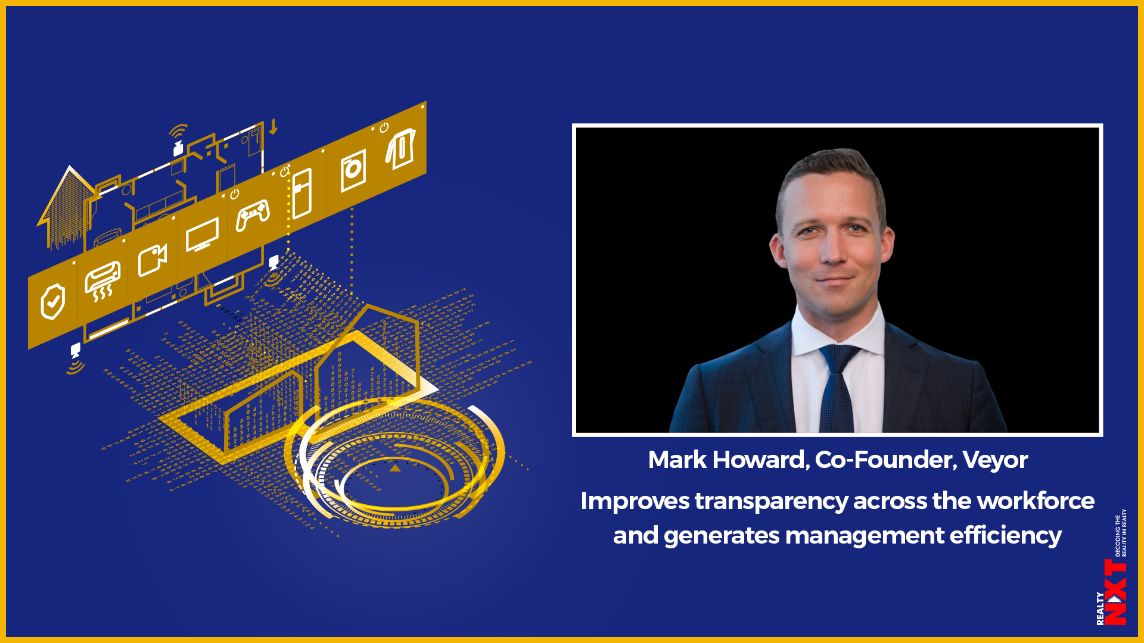 PropTech may be at a nascent stage in India but internationally, it is growing by leaps and bounds.
RealtyNXT caught up with Mark Howard, an Australian PropTech wizard whose pioneering company Veyor impressed the government enough to get a funding worth half a million dollars. Read on to know more.
1. Please tell us about Veyor? How does it work? How are you helping in managing daily materials handling and site activity?
Veyor was born out of the frustration of trying to manage logistics and materials handling on some of the largest, commercial buildings in the world using manual and static systems such as whiteboards, phone calls and spreadsheets. These methods are not able to cater for the dynamic, ever-changing nature of construction and can cause great losses in productivity for all parties. 
The Veyor system was initially developed to allow a site team and its very extensive supply chain to coordinate in real time, on one live platform. Everyone can login, see what's been planned on site for the day and what assets, such as cranes, gates or hoists are available. It allows teams to request time slots with complete information while keeping complete control with the builder – who, with a few flicks of the thumb, approves, declines or can reshuffle the program and notify everyone instantly. The system improves transparency across the workforce and generates management efficiency, which has a dramatic effect on overall site productivity.    
The system also integrates live tracking and digitises and incorporates necessary safety processes which further improves efficiency and productivity. Due to the engagement across the supply chain and the amount of information collected, there is an extremely rich data set collected and available to clients. This data lets builders understand utilisation and performance across the site, which enables optimisation of current and future projects.       
2. Since the COVID-19 situation has hit us, how do you ensure construction sites are safe and compliant?
COVID-19 has caused huge disruption for all industries and while construction has fared better than some, it has been very challenging for site teams to remain safe and productive during this time. Veyor has been able to help in a number of ways. 
Veyor's work area and exclusion zone scheduling tool enables site teams and the extended subcontractor workforce to better plan and coordinate daily work activity across the many site areas. Pre-start safety checks and visibility of work area status leads to a more informed workforce which leads to better utilisation and safe distancing.   
Using Veyor's mobile platform, site management can reduce the amount of meetings required and manage site activity remotely. This improves efficiency but also reduces the need for physical contact and the risks associated with the spread of COVID.
3. How can digital innovation improve construction productivity?
The construction industry has lagged most other industries over the past 20 years in terms of productivity growth.  We believe that one of the primary reasons for this is the lack digitisation that has occurred in core daily construction site processes.  
There are three major components that need to be managed across a construction site on a daily basis; materials, plant and people, and these are still mostly managed manually across disjointed systems. Implementation of digital technology to manage information, allocation, and scheduling across these areas will remove the current standard of manual and error prone processes and will provide connectivity across the supply chain. This will result in significant efficiencies across daily work activity which will have the biggest impact on overall construction productivity.
As digital solutions begin to be widely implemented, the exponential growth in site data collected will lead to greater ability for the industry to analyse and optimise projects and planning.    
4. In January 2020, the Australian Government granted you over half a million dollars towards the growth of Veyor. How did it help you towards the growth of your brand?
The Australian Government-backed Veyor due to its potential to: improve efficiency in one of Australia's largest industries and contributors to GDP, provide highly skilled jobs in the workforce, and scale into global markets and drive export revenue.
The support has provided us with the ability to accelerate the development of our unique product offering, which has resulted in our ability to implement the Veyor system onto major Australian building and infrastructure projects, where it is already providing substantial productivity benefits.  As we set up more large-scale projects, we are generating greater brand awareness across the workforce, leading to more and more projects and business growth.
5. What sets you apart from your competitors?
Veyor was built out of the first-hand experience from the construction field. From the outset, it has been designed to be easy to use and help all parties within the site and supply chain – from the principal contractor's site management to the subcontractors, plant operators, suppliers and drivers.
Veyor is the only live construction logistics software that successfully engages all parts of the supply chain onto one central platform. This drives greater transparency and leads to a myriad of more efficient processes, while reducing the chance of clashes, cancellations and delays.        
6. Currently, you are based in Australia, New Zealand and UK. What are the different trends you have observed in these markets?
We've noticed a few nuances between the markets. For example, in the UK, the management of logistics on construction is generally outsourced by the builder to specialist logistics contractors, whereas in Australia and NZ, this is managed in house by the general contractor.  While this doesn't change the impact of our core logistics tool, it can change the types of users that will lead the implementation of the Veyor system.
We have also spotted a number of different trends – for example, London seems to be the first market to mandate a form of digital booking of deliveries onto large scale projects.  However, the systems widely used in the market are still basic and do not integrate construction assets to the bookings, nor do they provide tracking and live mobile connectivity across the supply chain.
This trend looks to be just emerging in Australia where on the Sydney Metro project, Australia's largest infrastructure project, we've seen the mandated use of a digital logistics and tracking tool. Veyor is now being implemented on this project and we believe this will set a benchmark for future large scale infrastructure projects in Australia.     
We believe we are at a tipping point where the global industry has started to collectively accept that digital technology will be the only way to compete in an advancing market.  Many leading contractors now have their own digital innovation and implementation staff.
However, this trend is not just at management level – we are starting to see site teams and construction workers on the ground level adopt and push the use of digital systems, as they start to experience benefits of digital processes that make their day easier and less stressful. With management level interest and ground swell support, we believe there is going to rapid adoption of digital technology across the construction sector over the next few years.   
7. In the upcoming BWT event, what are the key things you are looking forward to?
The BWT event provides a great opportunity to showcase our technology to experienced industry participants on a global stage. Over the event, we were able to listen to the challenges being faced by large Asian based contractors as well as meet with and hear from venture capital funds with global reach and other fast growing technology providers in the property and construction technology space. The BWT event is an excellent way to keep up to date with the industry trends and challenges in our region.  
ALSO WATCH: