India's Economic Stimulus Packages: Grace For MSMEs Or Solution To A Larger Fiscal Problem?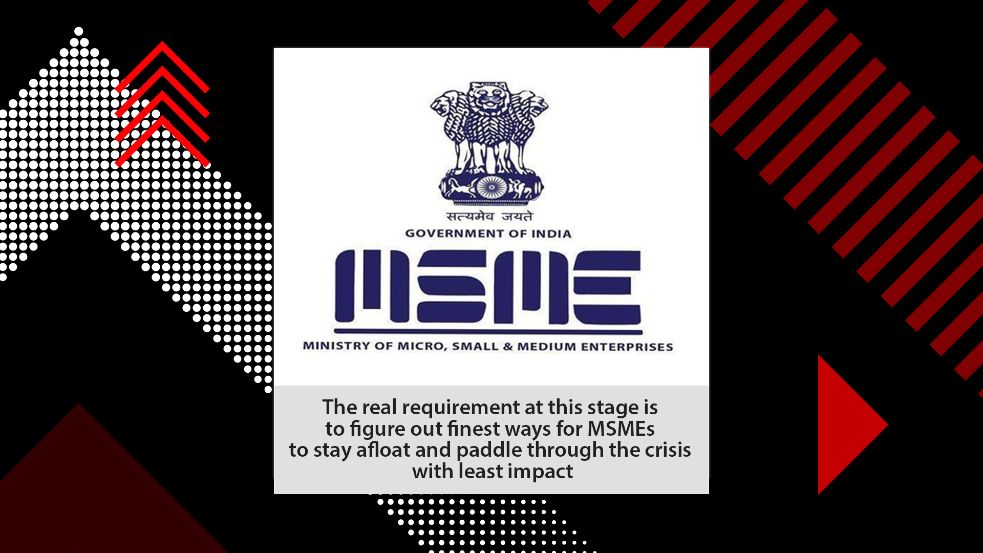 The COVID-19 pandemic has hurled some of the world's most intrinsically strong economies into a financial abyss, and India is no exception to that.
India's economy was on its way south due to low investments, weak domestic demand, and falling exports before the onset of the pandemic. The pandemic exacerbated operational and financial constraints in terms of decrease in working capital, unavailability of raw materials, and labour crunch due to mass migration. Evidently, MSMEs have faced a disproportionate impact of COVID-19 and the concomitant economic downturn.
With over 11 crore persons employed in the MSME sector, the Finance Ministry has, on numerous occasions, introduced a number of measures to detangle MSMEs from financial gridlocks during the crisis. In doing so, the government government announced an economic stimulus package of Rs 20 lakh crore for reviving COVID afflicted MSME businesses.
Subsequently, the government revealed an array of initiatives for MSMEs, including Rs. 3 lakh crore worth of collateral free automatic loans for businesses, Rs. 20,000 crore subordinated debt for stressed MSMEs, a Fund of Funds for equity infusion of Rs 50,000 crore followed by a revision in the MSME definition to widen the quantum of beneficiaries under the aforesaid government initiatives.
Collectively, these supply side measures are aimed at providing buoyancy to MSMEs and accelerate growth despite the current economic gloom.
At the surface, the quantum of economic packages aggregating to nearly Rs. 6 lakh crore are indicative of a fast-drying Indian treasury, however some experts believe that the amount of money actually spent by the government could be far lower, at anywhere between Rs 16,500 crore to Rs 55,000 crore.
This is because most measures are credit-focused or aimed at solving liquidity concerns of MSMEs and the NBFC sectors. By prompting the financial institutions to lend more, none of these announcements actually involve the government spending a great deal in this financial year. However, with no end in sight to the pandemic the resilience of financial institutions is likely to be tested overtime and the numbers may vary greatly with prolonged subsistence of the pandemic-induced lockdown. 
The real requirement at this stage is to figure out finest ways for MSMEs to stay afloat and paddle through the crisis with least impact. A one-time economic reform can provide a preliminary push to MSMEs, but survival and growth are largely dependent on the individual borrower's capacity to bounce back to normality.
Further, the RBI approved loan moratorium option for businesses provide a temporary relief, however interest on outstanding loan amounts continue to accrue during the moratorium period and further exacerbate the financial woes of distressed MSMEs in the long run.
The Brazilian government has announced part-payment of salaries of MSME employees, while Canada and New Zealand have offered wage subsidies. However, the Indian government has not announced any wage support or subsidy package to incentivise MSME employers to retain employees during this crisis although the government has directed businesses to continue paying wages in a timely manner without deductions.
Thus, it is evident that the recently introduced reforms overlook the woes of workforce employed in the MSME sector and are not adequately addressed therein. While the recently introduced reforms do not directly provide wage support, the secondary beneficiaries of government measure are people employed in the MSME sector, who can be relatively at ease with the potential accelerated growth of MSMEs in the post-COVID era.    
It is undisputed that GST and demonetization have tested the resilience of MSMEs in the last couple of years. Although the financial disruption induced by COVID-19 pandemic is a larger threat, MSMEs are diversifying their product portfolio to paddle through the crisis and accelerate business growth.
Naturally, the collective effect of the measures introduced by the government to provide access to funding will enable numerous MSMEs keep their heads above the water muddled with financial gridlocks on account of COVID-19.
While the pièce de résistance of Finance Ministry's economic package was its push for micro, small and medium enterprises (MSMEs), its benefits maybe percolate into various interlaced industries and benefit the economy at large.
By Sonam Chandwani, Managing Partner, KS Legal and Associates
DISCLAIMER: The views expressed are solely of the author and RealtyNXT.com does not necessarily subscribe to it. RealtyNXT.com shall not be responsible for any damage caused to any person/organisation directly or indirectly.
ALSO READ: The Great Indian Warehousing Sale