Top 10 VC's For Fintech & Retail Tech In India By RealtyNXT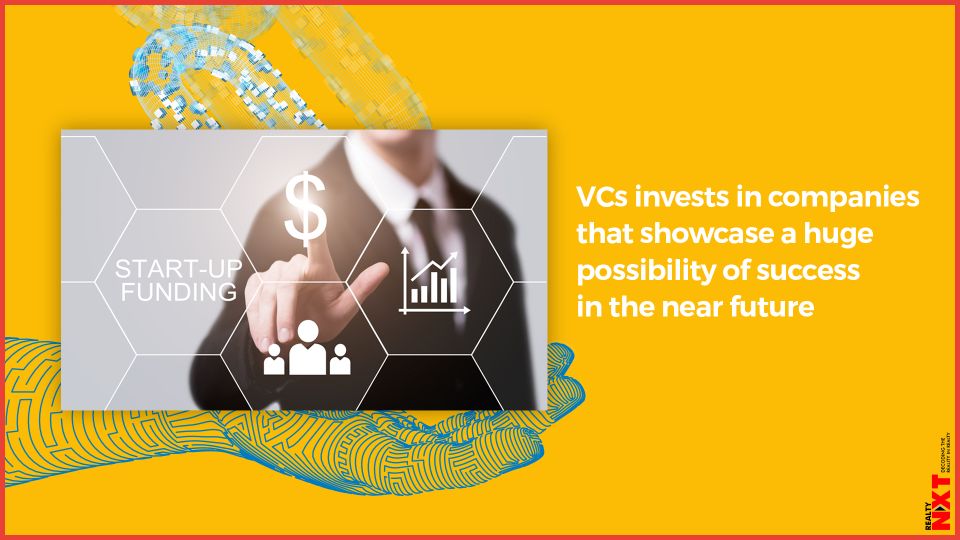 Fintech and retail tech companies have eased our lives tenfold.
Whether it's ordering food from our favourite restaurants from the comfort of our homes or safe and secure online monetary transactions and more. According to a report by Bain, 2019 saw $10 billion worth of investments by the VC industry towards various startups.
This was 55% higher than its previous year. Our country also saw a 30% rise in deal volume last year compared to 2018.
By December 2019, despite all the hurdles faced by the industry, it still managed to deploy a whopping $7 billion and that moved over to this  year. The report also stated that approximately 80% of VC investments in 2019 were focussed on consumer tech, software, SaaS, fintech and B2B commerce and tech.
So what exactly are venture capitalists and why do they matter so much? VCs are private equity investors which fund companies that showcase a huge possibility of success in the near future. VCs invest in them to get a certain percentage of the equity stake.
VCs fund companies right from their teething stages to those who are slightly established and wish to grow further but do not have access to equity markets. RealtyNXT takes a look at the 10 best VCs for retail tech and fintech in India.
1. Sequoia Capital India
 WestBridge Capital Partners was formed in 2000. In 2006, Silicon Valley VC firm Sequoia Capital bought it. As per the Hurun India Top Unicorn Investors List 2020, Sequoia Capital has funded the maximum number of Indian unicorns. This July, they launched a $1.35 billion fund for Indian startups which has a venture fund of $525 million and a growth fund of $825 million.
 Co founders: Sumir Chadha, K.P. Balaraj, S.K. Jain and Sandeep Singhal
 Active since: 2006
 Domains invested in: Healthcare, Consumer Internet, Financial Sector and Technology
 Funded: Grofers, Bulbul, Cardekho, Circles.Life, Happay, Porter, Razorpay, Prizm, Pine Labs and more
 2. Helion Venture Partners
Their focus is primarily on early to mid-stage unicorns. Helion funds ecommerce, online assistance, movement and outsourcing startups. Their motto is help in the journey of world-class companies. Till date they have funded 60+ startups.
Co founders: Rahul Chandra, Ashish Gupta, Kanwaljit Singh, and Sanjeev Aggarwal  
Active since: 2006
Domains invested in: eCommerce, Online services, Mobility, Enterprise Software and Outsourcing.
Funded: Doormint, Big Basket, Fashionara, NGPay, ShopClues and more
 3. Nexus Venture Partners
This VC firm is an Indo-US collaboration which mainly invests in small businesses and startups with out-of-the-box ideas. They invest anything from $5,00,000 to $10 million and has 229 startups under its belt. 
Co founders: Naren Gupta, Sandeep Singhal, Suvir Sujan
Active since: 2006
Domains invested in: Data Security, Mobile, Infrastructure, Bio Data Analytics, Agribusiness, Consumer and Business Services
Funded: Biz2Credit, Craftsvilla, NamasteCredit, Paysense, Snapdeal and more.
 4. Chiratae Ventures 
With 80+ ventures and $700+ million under advisory, this VC firm has a clear goal. They fund startups from the seed stage till their expansion is realised successfully. This VC firm is quite popular in India. The startup ideas it invests in include mobile phones, Internet and software technologies. 
Co founders: Sudhir Sethi, TC Meenakshisundaram
Active since: 2006
Domains invested in: Consumer Media & Technology, Software/SaaS, Health Tech, Fin Tech
Funded: Myntra, Lens Kart, Agro Star, eShakti, Credit Mantri and more.
 5. SAIF Partners
This firm began its funding journey by raising its first India-dedicated fund worth $350 million from American investors. It is known for its keen eye for spotting some of the most famous brands we know today at their early stages. Till date it has funded 100 companies and has $3 billion assets under management. It aims to help those startups grow from concepts to IPOs which have an India-First innovation, and an India-First approach. It funds startups at the seed, series A and series B stage. 
Founder: Andrew Yan
Active since: 2011
Domains invested in: Consumer, Education, Finance, Healthcare, Industrials, Internet, IT Services, Logistics, Mobile and SaaS
Funded: Paytm, Capital Float, HomeShop 18, CashFlo, ClearTax and more.
 6. Jungle Ventures
Headquartered in Singapore, this VC is responsible to bring to life some of Asia's biggest brands. It has invested in 35+ startups and has $352+ million assets under management. Its functioning includes aiding startups with capital structuring, strategic partnerships, developing founders' leadership abilities, and attracting and retaining top-talent.  
Co founders: Amit Anand, Anurag Srivastava
Active since: 2012
Domains invested in: Consumer Tech, SME Tech, Global Tech
Funded: PaySense, Shopspot
 7. Kalaari Capital
This VC firm is well known for investing in small companies right from their inception. Their specialised advisors are a boon for budding entrepreneurs. It is a $160 million venture capital fund which invests in early-stage, technology-oriented companies in India.
Founder: Vani Kola
Active since: 2011
Domains invested in: Consumer Tech, Enterprise Tech, Fin Tech, Health Tech and Supply Chain and Logistics
Funded: Myntra, UrbanLadder, Airpay, MoneyOnClick, Creditvidya, Mall91, Shop 101, Snapdeal and more.
8. 3one4 Capital
This company invests mostly in early-stages of a startup. In recent times   Fund III, its third early-stage VC fund closed. This will spike the firm's assets under management to $210 million.
Founder: Pranav Pai
Active since: 2016
Domains invested in: Direct to Consumer, Media and content, Fin Tech, Enterprise Automation and Deep Tech
Funded: Faircent, LoanTap, MoneyOnClick, Jupiter and more.
 9. Zodius Capital
This VC firm is known for providing the midas touch. They take upon one startup at a time to focus solely on its success. They fund startups which show potential high growth as well as India centric, disruptive businesses. It has funded 25 startups till date.
Co founders: Neeraj Bhargava, Gautam Patel
Active since: 2011
Domains invested in: Media, Commerce and Consumer Services and SMAC (Social, Mobile, Analytics and Cloud) driven IT/BPM opportunities
Funded: BigBasket, Pepperfry, Zivame, Antuit and more.
 10. Intel Capital
The Indian branch of the globally renowned VC firm Intel Capital is known for its meticulous approach to startups. A few years ago, it had launched 'Intel Capital India Technology Fund' valued at $250 million. The US based VC firm is known to fund startups across Asia.
Co founders: Avram Miller and Les Vadasz
Active since: 2009
Domains invested in: Digital, Retail Tech, Gaming, Cloud and AI, Cyber Security.
Funded: Indiamart, Jio Platforms, Mobiapps, Persistent Systems and more.
The Bain Report revealed that from 2012 to 2019, while the number of start-ups grew by 17% annually, funded start-ups grew 19% every year. According to National Association of Software and Services Companies (Nasscom), India's start-up ecosystem alone will be able to provide 12.5 lakh direct jobs within the next five years.
VC firms will play a huge role in making these amazing figures a reality. The Covid-19 pandemic has resulted in more and more people relying on fin tech and retail tech to function normally on a daily basis. The future of both these sectors looks bright as their demand grows by the day in India and across the globe.
ALSO READ: Budget-Friendly Ideas For Soft Furnishings In Your Living Room