Facilio, The One-Stop-Shop For IoT Based CRE Solutions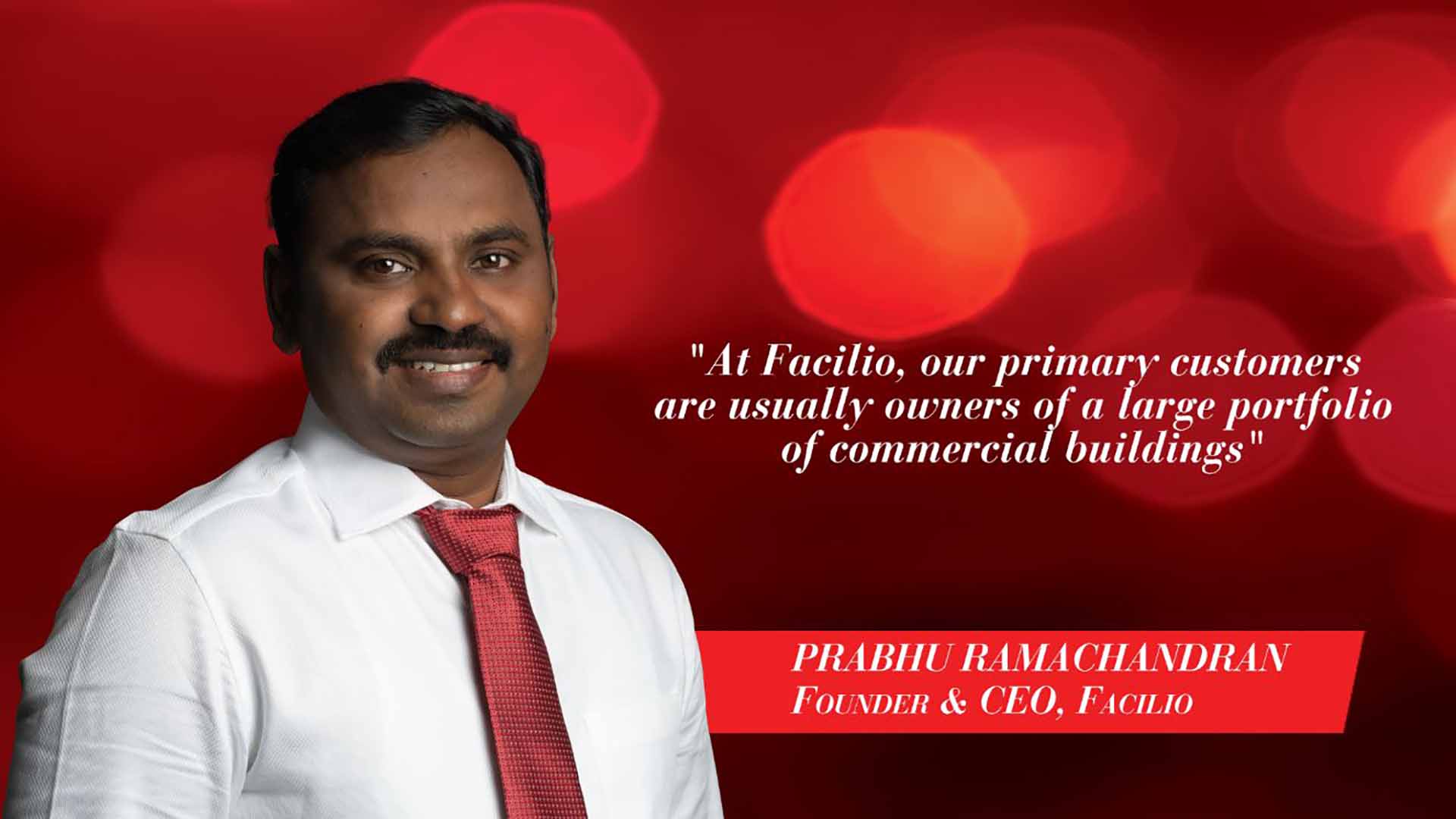 Prabhu Ramachandran, Founder, and CEO of Facilio talks to RealtyNXT about his start-up, latest offering REbuild, the possibilities in a post-pandemic era, and more.
Facilio utilises IoT to connect and integrate teams, systems, and equipment across multiple facilities.
The company, which is the world's maiden unified IoT and AI-driven facility optimization software that provides end-to-end building maintenance, operations, sustainability, and tenant expertise, across portfolios, was founded in May 2017.
To date they have served 40 million sq. ft., 350+ real estate projects, and managed 4,66,000 assets. The PropTech startup was the 1st runner up at India's biggest PropTech challenge by JLL IDEAs last year.
Q1: Tell us about your product REbuild. How is it helping real estate owners respond to the operational challenges posed in the post-pandemic recovery phase?
Prabhu Ramachandran(PR): REbuild consists of a powerful set of tools to help property teams optimize building operations, turn insights into avenues for cost reduction and operational efficiency – in all circumstances.
The new operational toolkit enables real estate owners and operators to generate quick wins by remotely controlling building operations, automating maintenance processes, and restoring tenant confidence.
We created REbuild with a mandate to enable the real estate industry to confidently restart property operations. Real estate owners and operators are faced with multiple, unprecedented challenges, from managing remote workforces and operating with leaner onsite teams to providing a safe working environment for employees and tenants.
The REbuild toolkit was developed from Facilio's experience in working with clients and industry experts. The result is the launch of a flexible set of solutions that helps the owners adapt to a constantly changing reality and operate efficiently.
Hygiene Management

to automate disinfection without the dependency of existing CMMS

Visitor Management

to enable contact-less visitor experience and contact tracing

Touch-less Occupant Controls

to welcome tenants safely with app-based access to controls of HVAC, elevator, and lighting

Portfolio Analytics and Compliance

– adapt operations to support new operating protocols

Portfolio Automation

to remotely deploy bulk changes to HVAC systems based on dynamic guidelines and tenants requests

Operational Command Center

to monitor reopening readiness and benchmark against Covid-19 guidelines in real-time
Q2: What are the key gaps within post-construction building management that need to be addressed post-Covid-19?
PR: In the past few months, tenant expectations have drastically changed due to which hygiene and wellness have taken a front seat in the post-Covid-19 era.
This led to newer areas to address, such as enabling touchless journeys for visitors, increasing the frequency of disinfection activities, improving indoor air quality, and better ventilation.
With the economic downturn after the post-pandemic, many CRE owners and operators are starting to look at cost-effective methods of operations by adapting cloud-based property operations to remotely control spaces, equipment, and overall performance. 
Q3: What would your advice be to CRE owners and facility managers who are looking to take their digitisation efforts a step further?
PR: CRE owners and operators are now making greater investments in extracting data from their systems to improve the efficiency of their operations. Along with a data-driven approach, they need to increasingly consider how to operate their entire portfolio as one operation — rather than operating each of their buildings in silos. There is also a huge push for technology to help owners operate their buildings remotely instead of being present at sites.
Q4: How important is the role of IoT in automation?
PR: IoT connectivity allows the systems to work together in tandem to deliver responsive, predictive, and efficient operations and maintenance (O&M) of CRE. The technology connects previously isolated subsystems in a building and collates real-time operational data.
This collated data is then subjected to AI-based analysis, leading to the generation of actionable insights. This empowers data-led decision making, allowing both CRE owners and FM teams to not only gain a comprehensive understanding of what's happening in the building but also develop better control of their building performance.
The benefits are manifold. Data-driven O&M management empowers property operations teams with granular, real-time visibility into the building performance and helps drive a predictive model of operations.
This assures efficient asset maintenance and management, improved control over energy management, and enhanced operational sustainability. All of these ties together to yield a modern, well-serviced building that enables a seamless experience for tenants and occupants and boosts the return on investments (ROI) for owners.
Q5: What are the latest trends you observed in the Indian Market? 
PR: Not just in India but the global CRE market is shifting focus to operational technology that yields time and cost efficiencies. Today's occupants and tenants need more control of the spaces they walk into and visibility of the building's health and performance. 
We are also seeing increased foreign investment and a partnership interest in Indian real estate. REITs and companies like Brookfield and Blackstone have entered Indian real estate. There is a rapid activity this year where Blackstone has bought a huge part of Prestige real estate and Brookfield is investing in RMZ assets – both being huge deals and capital flux in Indian markets. 

On a global scale, real estate operations (specifically commercial real estate) are becoming a critical part of economy reopening and owners/operators are looking at technology as key enablers for a safe and healthy environment.
Q6: Where do you see Facilio in the next 5 years?

PR: The Facilio property operations platform will evolve further in response to the industry's needs as more new issues will need to be resolved creatively over the next 24 months – as a fallout of Covid-19.
We started Facilio to bring technology-driven efficiencies to the real estate industry that hadn't adopted cloud, mobility, or predictive analytics in a meaningful way. The global pandemic situation will accelerate digital transformation, allowing owners to automate more of their portfolio operations and make informed data-driven decisions. 
We recently set up our European operations and are seeing rapid interest in data-driven operations there. We will continue to expand in other existing operating regions, including the US, Middle East, Brazil, and APAC regions. We're looking forward to the continued partnership and engagement with leading real estate stakeholders including multi-asset class owners and operators, FM services companies, and government institutions to quickly roll out solutions that help the industry navigate new conditions with agility. 
Q7: Tell us about your journey with the JLL IDEAs programme? How did it benefit you?
PR: We emerged as the runner-up of the JLL IDEAs event. It was a well-rounded experience and helped us reiterate our value proposition to industry leaders. We got an opportunity to learn from practical market experience and expert discussions. 
Q8: Do you think that sustainability and technology will be the pillars of real estate in the future? 
PR: Connected buildings are the future – and that future is now. Globally, there is a huge millennial demographic that is digitally savvy, expects services in real-time, and environmentally conscious. Therefore, it is becoming increasingly essential for CRE owners and operators to create a great experience and a property that thrives for sustainability. Technology will be a key enabler to help owners operate efficiently, moving from traditional reactive models to a data-driven, proactive model. 
With data-driven operations, CRE firms can integrate all building systems into a single cloud environment enabling informed, system-wide decision making, execution, and optimization.
The resulting model allows stakeholders to unlock the power of building data to make real-time changes, which optimize costs, energy use, healthier equipment, and superior experience. 
Visit https://facilio.com/ to know more about the company and its products.
ALSO READ: