JLL India, Decoding Our Indian PropTech Scenario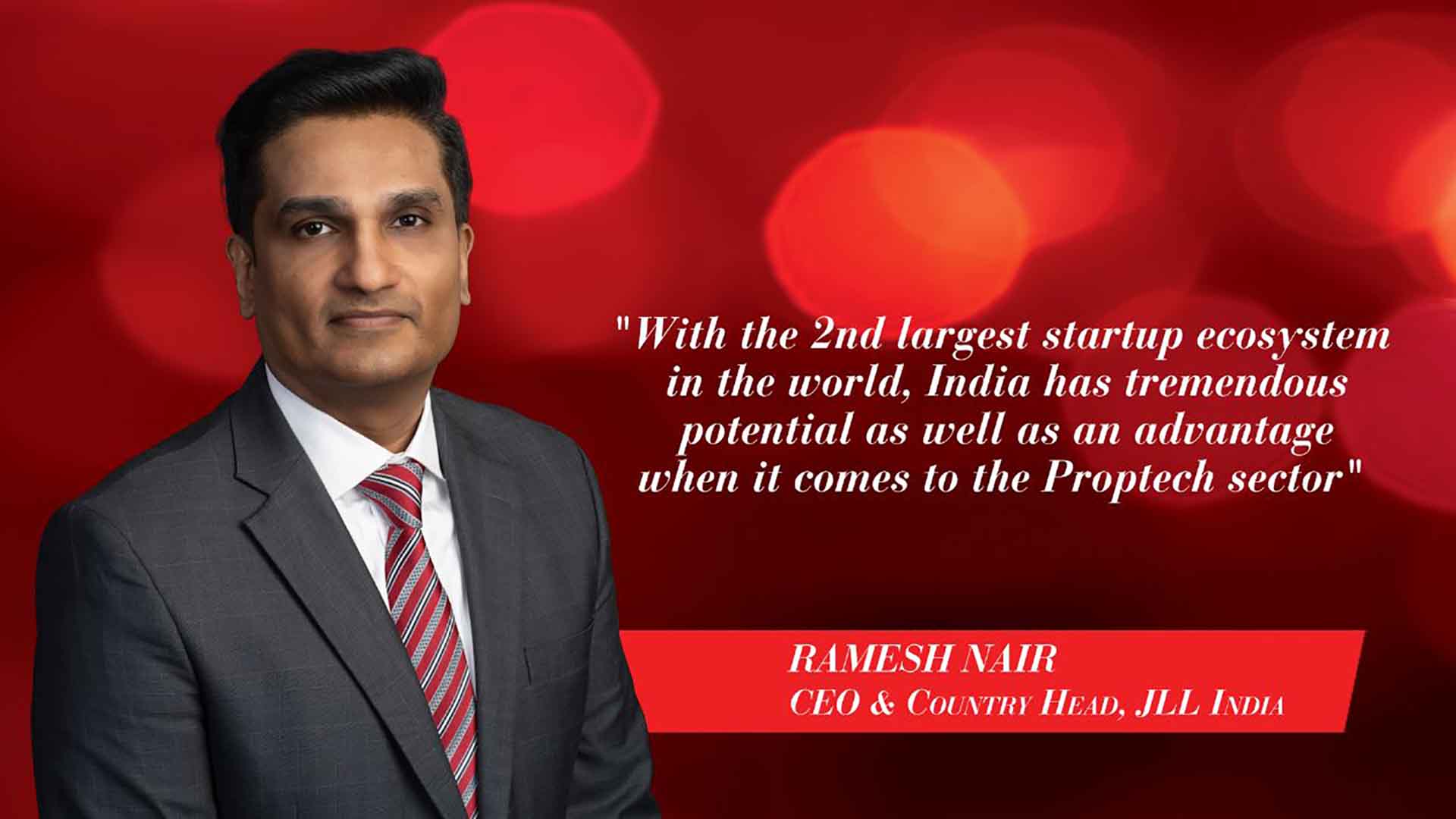 Ramesh Nair, CEO and Country Head of JLL India talks to RealtyNXT about his company, the future of real estate, the need for PropTech, and more.


JLL India is the country's biggest international property consultancy. Currently, it has 10 branches pan India. It caters to investors, developers, local corporates, and multinational companies with a variety of data-driven services.
To date, they have managed 4.6 billion sq. ft. of properties and facilities. They have has 37,500 leasing transactions (1.07 billion sq. ft.). 
The company has spent 97,957 hours volunteering in local communities and conserved 239,749 metrics tons of CO2. 
JLL Spark, founded in 2017, is a strategic global venture fund investing in PropTech start-ups that aim to disrupt commercial real estate. It aims to invest up to USD 100 million globally in budding PropTech start-ups.
Q1: Since COVID-19 has started, what latest trends have you noticed about the Indian real estate sector? Do you think that the Indian real estate market will fully recover in the next 12-18 months?
Ramesh Nair (RN): The pandemic has accelerated some structural shifts in the realty sector which were already in evidence, whereas certain trends may reverse.
Health, sustainability, and wellness is expected to become the leitmotif across asset classes

Increased adoption of technology and AI in processes ranging from marketing and sales, loan modeling, and data management.
People have also realised the importance of having real estate as an asset class in their investment basket since it is much less volatile when compared to the stock market.
Other expected trends are mentioned below:
The residential story
While there are certain uncertainties, the worst is behind for the residential sector

. The importance of owning a home has been ascertained during these difficult times with the realization that home is the safest place; there is a strong desire to own a house.

There is also renewed interest from Non-Resident Indians (NRIs) and joint families.

But homebuyers are adopting a wait and watch policy due to the uncertain times; there is pent up demand in the sector.

Increased affordability, better financial health of banks, greater demand from end-users will break the vicious cycle and support the recovery of the residential market.

Sales mainly in the affordable and mid segments are expected to lead the revival and show green shoots of recovery once the lockdown is over and the virus spread is contained.

One can expect changes in the way activities are carried out:

Digital marketing will become the prime channel to market properties and generate leads

Increased adoption of technology
Online construction progress monitoring

Property videos will become a necessity instead of a luxury

Use of VR in processes such as site visits and closure of deals
Change in the way site visits happen; videos and virtual walkthroughs to shortlist properties followed by site visits in the final stages of decision making

Product metrics are likely to change.

More customization to suit buyer needs

Increased demand for self-contained complexes 

The increased importance of balconies, open spaces, and study rooms

The advent of enclosed home pods for working

Presence of business centres in residential projects

Increased preference for larger homes

Increased traction in ready projects of reputed developers; the reputation of the developer to become a key element in the decision-making matrix of homebuyers.

Consolidation in the market to further speed up; only the fittest will survive and capture a major share of the market.
The office story
Commercial real estate was most impacted as the lockdown measures disrupted the office world.

Corporates had to adopt work-from-home as an alternative, which brought in its wake, a new set of challenges and possibilities.

As we gradually move from disruption to normalcy, the office scenario is expected to return to normal, but certain permanent changes are likely.

Corporates will re-evaluate its commercial real estate strategy to make it more resilient to shocks.

BCP to become a regular and forefront activity

considering the learnings gained from the pandemic

'Densification' and 'consolidation' will give way to 'de-densification' and 'splitting up of offices'

Increased focus on the installation of collaborative technology 

Reduction in capital costs; adoption of flexible working practices

Work from home to be a part of flexible working practices; a supplement to the traditional way of working from the office

Increasing demand for office spaces from emerging sectors such as healthcare, FMCG, e-commerce, and data centres.

Commercial real estate is expected to see a change in terms of design once normalcy is restored.

 Employee wellness, social distancing, collaboration areas, and contactless features to lead design changes

Higher usage of technology to make the offices' space future-ready

Developers/landlords should invest in upgradation; make office buildings more sustainable and enhance wellness features.

The overall impact on the office space is expected to net positive in terms of higher demand for better quality offices spaces and flexibility in office options
Q2: There is a mixed response with regards to the future of co-working post-Covid-19. What's your take on it?
RN: Currently, co-working spaces are working with their landlords and tenants to derive an agreeable solution for rent-wavier challenges.  
– Organizations are expected to have a comprehensive workplace strategy that will require the workforce to be disbursed across multiple locations. In these times, occupiers will consider coworking as a safe bet.
– Businesses that are avoiding huge CAPEX will also look at coworking as an option.
– Though as an after effect of the crisis, the coworking industry will be impacted due to distancing, community, and fear of not knowing people around you.
Q3: The government has introduced schemes and announced benefits to support the real estate sector. Do you think that's enough? If not, what your suggestions would be?
RN: The Central government has announced a USD 270 billion Covid-19 packages. Necessary interventions were made through liquidity infusion, fiscal support, and reform-driven investments. 
Provident fund contribution for low wage workers and funds for USD 3.5 million registered construction workers will directly benefit the realty sector 

Support to MSMEs will help revitalize them, aid in economic recovery through employment generation. This will have a positive impact in enhancing consumer sentiment, thus have an important bearing on real estate 

Easing of liquidity is likely to help the NBFCs and HFCs to support the real estate sector through the restructuring of existing loans and resetting of repayment schedules

Affordable rental accommodation schemes for migrant workers and urban poor will increase the availability of organized housing facilities. This will lead to decongestion of urban spaces by reducing unauthorized occupancy and encroachment and thus, facilitate better town planning

Auction of airports and additional investment by private players likely to open up new business opportunities for real estate in the areas of retail, office space, and logistics

The creation of a GIS-based database of industrial land bank availability will act as an important tool to identify and aid investment in new land parcels

Extension of CLSS in the mid-segment coupled with attractive mortgage rates will improve consumer sentiments and boost demand, mainly in affordable and mid segments

Invocation of 'force majeure' will give the required elbow room to developers to complete construction 
Additionally, the lowering of repo rates and the central bank's announcement with respect to a moratorium on loan installments and relaxation of NPA classification norms are also expected to benefit the sector.

However, this does not address all the concerns of the stakeholders within the real estate sector. Given the criticality of the sector to overall economic growth and its employment generating potential, a sector-specific growth package (particularly hospitality and modern retail within the real estate) would have gone a long way in reviving the economy.
Q4: How have you implemented technology to drive your sales and business during the Covid-19 period? What are the challenges you observed while operating during this period? 
RN: As per a recent Global survey by JLL, 71% of employees would like a fully automated workplace, so working conditions could be adjusted in real-time to individual preferences and 54% of building managers believe that experience is the most critical factor in shaping their firm's real estate strategies.
This is where the workplace services have really stood out with a focus on smooth building operations, cleaning, disinfecting, and sanitization services. Our clients are emphasizing more on a contactless environment for their employees. 

At JLL, we 'walk the talk' when it comes to technology. Our global Centre of Expertise ("CoE") for Technology, Data, and Information Management in Bengaluru is focused on harnessing emerging technologies and developing new solutions for JLL and its clients. 

Our technology teams are continuously experimenting, investing and partnering with the ecosystem in data and technology design, augmented reality, virtual reality, drones and touchless technologies to help our clients and our teams.

However, a few challenges persist. Technology adoption is one of them. While forward-looking organizations have implemented technologies at workplaces, ensuring that every employee uses these to the optimum level continues to be the key.
Q5: With regards to work from home, what are the long term consequences that you see in regards to the planning of residential and commercial spaces?
RN: Currently WFH is a necessity and we all are in trial and error mode. Success/failure will totally depend on employee productivity in the medium term.
The safety, health, and well-being of their employees will be the key focus of every occupier. Today, two main areas of risk in a modern office are the air you breathe and the surfaces you touch. Physical barriers (cubicles and cabin offices) will be making a return leading to additional spacing between employees. Workplaces will focus on emotional, physical, and digital dimensions. 

On the residential front, we are also witnessing a shift in the buyer's preference. With WFH slowly institutionalizing, more and more home buyers are now looking at a slightly bigger house with a study room included.     

There are employee benefits to working from home, not least among them is 'no commute' and flexible hours. However, for many people, their home living arrangements make working from home a below optimal choice, with its limited space, lack of privacy, and/or more distractions.

Additionally, employees miss the social interaction that office life brings. Maintaining productivity away from the office over the long term is also yet to be verified and is likely to be boosted by regular office interaction.

Flexibility will be key to employee satisfaction and the balance of office and remote working anywhere will be based around the individual.
Q6: What is the criterion JLL Spark look into for selecting PropTech companies?
RN: As you are aware, JLL Spark is a strategic global venture fund investing in startups transforming commercial real estate through technology. 
Since 2018, JLL Spark has discovered and invested in several disruptive, forward-thinking technology companies across the globe.

We look for great teams disrupting large markets within real estate tech with a demonstrable product-market fit. We also look at the strategic fit with the JLL core business.
Q7: What's your viewpoint on the current PropTech industry of India? During the Covid-19 pandemic a lot of PropTech companies have come under the limelight and have raised funding, do you think this trend is here to stay, or is it a temporary spike?
RN: The current pandemic has put the spotlight on accelerating technology adoption, especially in the built environment, where it's now critical for building owners to rethink how their properties are used and managed. With the focus on employee safety and well-being at their core, agile, scalable, and dynamic workplaces are needed now more than ever before.
With the 2nd largest start-up ecosystem in the world, India has tremendous potential as well as an advantage when it comes to the PropTech sector. Based on my interaction with young, bright entrepreneurs, the quality of work that is being done by some of these passionate start-ups is just phenomenal. We are at the cusp of a very interesting phase when it comes to real estate technology and I believe this is the future.

PropTech companies that can take advantage of the Covid-19 opportunity, for example, areas like contactless technology, products, and solutions for employee health and safety, remote access to building equipment, remote working technologies, portfolio planning by occupiers; are expected to do very well.

In general, given the difficult economic environment, technology solutions that can help develop portfolio-level insights that help bring efficiencies and help reduce operating costs will work well.
Recently, JLL announced that by 2030, it aims to have zero carbon emissions at all JLL occupied buildings across the globe. For more information on the company and its offerings, visit their website https://www.jll.co.in/.
ALSO WATCH: