Reomnify, Bringing Intelligence To Location Data Analysis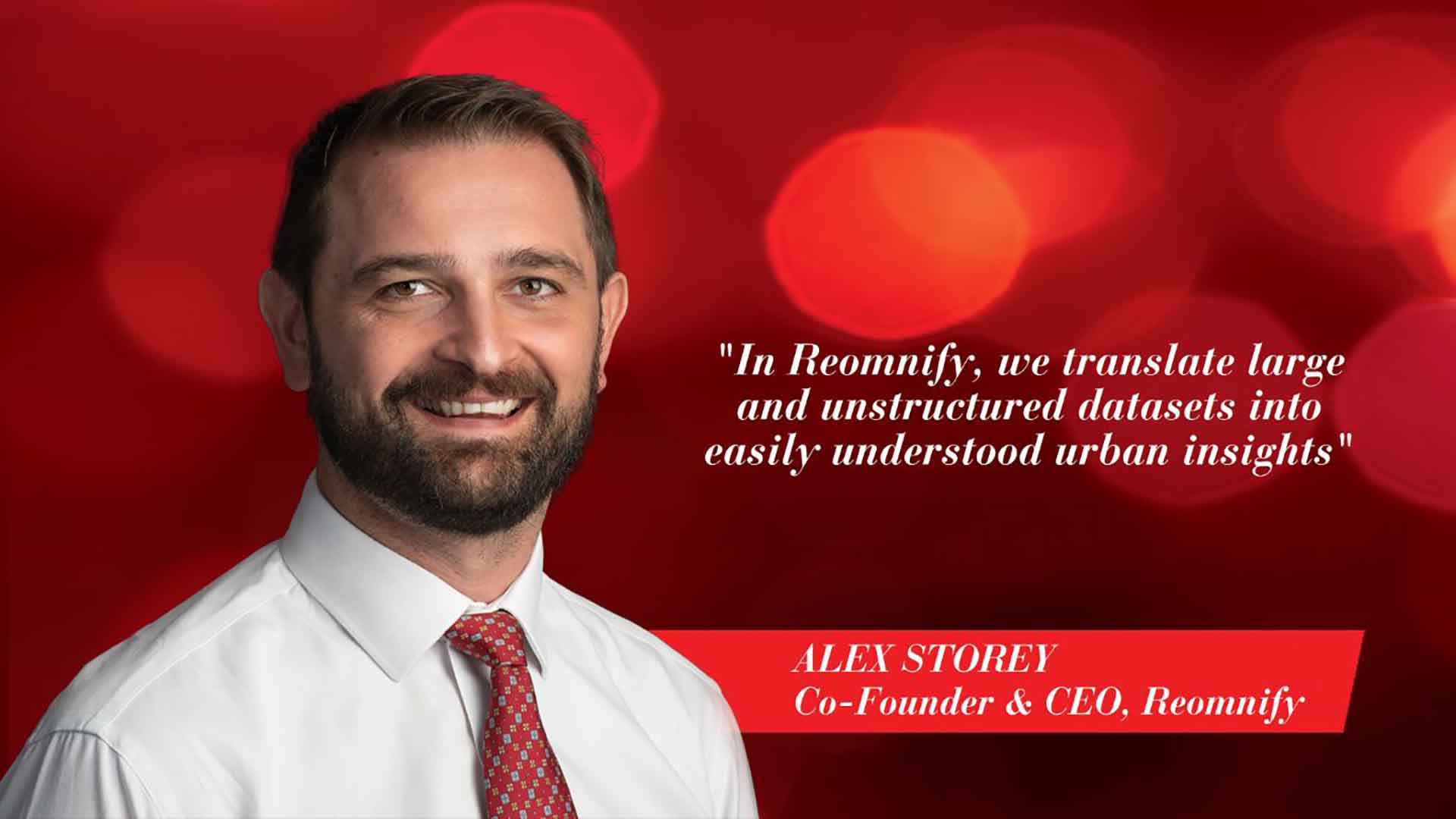 Alex Storey, Co-Founder & CEO, Reomnify talks exclusively with RealtyNXT about his company, the impact of Covid-19 on the brand, and much more.
Reomnify is a location data intelligence-driven platform for real estate and retail. They collect and analyze data from multiple sources by using AI-based analysis. It operates in Pune, Singapore, and Palo Alto.
The PropTech startup was the second runner up in India's biggest PropTech challenge by JLL IDEAs during its founding year last year itself. 
Q1: How can data help in making better real estate decisions?
Alex Storey (AS):  There are many ways, but some of the most interesting at the moment are the ability to understand factors that were previously invisible or very hard to get. These would include footfall, profiling of visitors, crime, pollution, traffic, internet speeds, etc.
Q2: How is Reomnify helpful when it comes to solving property needs?
AS: We translate large and unstructured datasets into easily understood urban insights. We truly believe that a picture is worth 1,000 words and customers are more actively seeking clear, actionable, and visual insights rather than long, wordy, regurgitated reports.
Q3: Has Covid-19 impacted your brand in any way? If yes, please tell us how are you dealing with the same?
AS: It seems to depend on the asset class. For example, some of the retail rollout strategy work we have been working on has definitely slowed down, but we are now working on multiple new assignments assessing sites for warehousing and data centres, which have increased in popularity since Covid-19 hit, as well as assisting landlords who are trying to reassess their assets in the new world.
We have also seen a marked increase in the number of talented candidates in the market, to the degree that we have actually accelerated our hiring to capitalize.
Q4: What are the latest market trends you see in India post the Covid-19 situation? How are these trends different from the trends in the USA or Singapore market?
AS: Indian investment in physical retail has grown very strongly over recent years, whilst its popularity has dwindled significantly in developed markets, like the US, where e-commerce has already gained significant traction.
Covid-19 has clearly significantly accelerated online shopping in India and I would expect developers to be much more selective in their retail projects going forward, whilst starting to focus more on logistics assets for example.
The jury is still out on what the impact to the office sector will be and to what degree tenants will start to look for less traditional workspace solutions as we have started to see in the USA and Europe. 
Q5: Tell us about your journey with the JLL IDEAs? 
AS: We feel very fortunate to have had access to JLL and some of its customers this year.
They have a pretty vantage point of trends, evolving customer needs, and emerging technologies in the market and have been generous in sharing their insights with us.
Q6: What are your expansion plans?
AS: Geographically we are active in India, Singapore, and Australia, though our expansion in the next 6 months will be more focused on creating a broader range of datasets and more advanced analytics to ensure we are adding as much value as possible.
We have an early view of our next markets, which currently may include Japan, Indonesia, and parts of Europe. We are aiming to raise money early next year to assist this further expansion.
Q7: What sets you apart from the other start-ups which are dealing in the same segment?
AS: We believe we have a unique approach in that we are 100% focused on alternative datasets (points of interest, neighborhood factors, demographics, greenery, etc), which are becoming more and more important in influencing real estate values.
We are also bringing advanced analytical methods, more commonly employed in other industries into real estate
Q8: Please share your vision with us. Where do you see Reomnify in the next 5-6 years?
AS: We plan to be the most trusted and comprehensive source of urban alternative data and insights, with global coverage.
Q9: Going forward, do you think that sustainability and technology will be the pillars of real estate in the future?
AS: 2020 has been a huge eye-opener for a lot of people, in regard to the vulnerability of the human race and our planet.
The sustainability movement was already gaining traction in real estate and this will no doubt continue at a greater pace. Technology, in the right hands, is the only way we can realistically fully understand and address these significant challenges.
Check out Reomnify's website https://www.reomnify.com/ to learn more about the company and its offerings.
ALSO WATCH: