Unmasking The Marketing Mechanisms Of India's Real Estate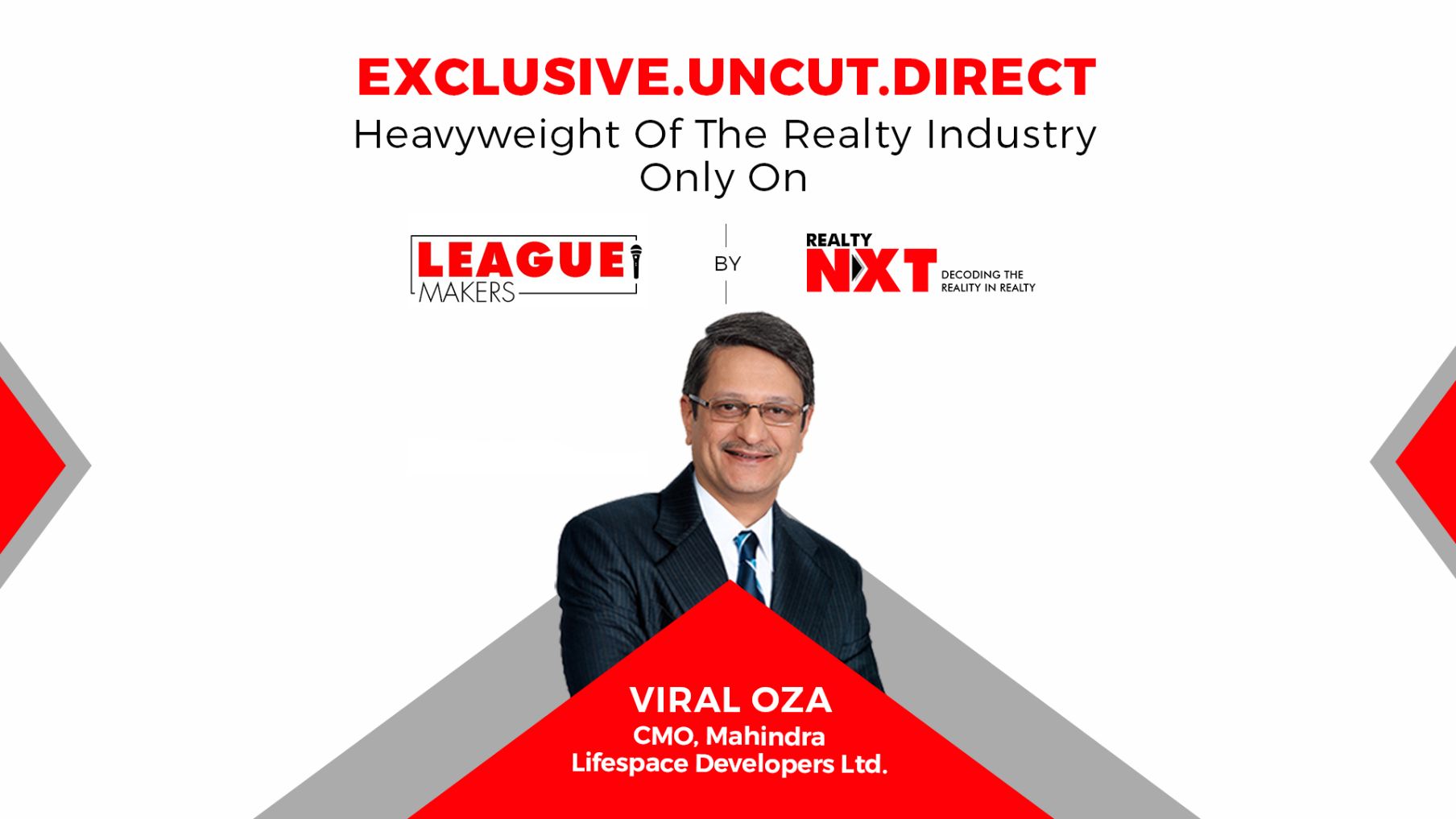 Mahindra Lifespaces has always been a game changer when it comes to real estate in India.
For our 'Let's talk Business Series', RealtyNXT caught up with the brand's Chief Marketing Officer, Viral Oza. He spoke about the latest marketing trends, impact of digital transformation, the significance of AI and much more. 
Read on for excerpts of the conversation.
1. With all the digital transformation happening, what happens to the role of chief marketing officer? Do you think the role of the CMO has to be reinvented with the pace of time?
Reinvented is a bit of a strong word. If we look at what is marketing all about then it is all about building brands, contributing business, creating consumer experiences, etc. So I would like to say that the role is the same but how CMOs have to deliver has changed significantly. In that sense reinvention is needed in a few areas like the impact of technology, CMOs really need to understand what may or may not drive their businesses but that may or may not involve technology and the link of marketing with ROI and business delivery. 
2. Going forward, what are the latest marketing trends you foresee in the post Covid-19 situation?
The re-emergence of real estate as an asset class, the change in the definition of the value of a home (it now has an emotional value attached) and the change in the focus on design. How we use space will be a big thing and also an increase in the use of home appliances. These are the changes to look forward to. 
3. Recently, Mahindra Lifespace Developers announced the digital launch of a second project in Palghar. And within a week you were able to sell 100 houses. What was the strategy behind it? How did the digital media play an important role as a medium?
In a little over three weeks we crossed the 300 mark. We always felt that there is lots to be done in the consumer journey that buying a home involves in their whole path to purchase. There was lots of innovation that needed to be done and this was something that was already being discussed internally and worked on as to how we do it. Covid-19 forced us to act upon some of these things. There is a certain shift to phygital (physical + digital), which is happening across categories and across spaces.
It was only a matter of time when it happened in real estate and that's something that we picked up on. We partnered with cell.do, a leading technology solutions provider and we created a complete end-to-end experience right from the channel partner calling up the customer, giving a lead on our website, to buying a home in a contactless way. This is the first time in India that we owned the online platform. 
4. Artificial intelligence is playing a game changer today. How Mahindra Lifespaces is transforming business with the help of AI?
Real estate was an industry which was very slow in adapting digital. I still feel it hasn't taken it up in the way that we are capable of doing it. Technology is always on the run and data is the key as it is very data driven. In the last few months, our digital journey grew  with our customers and so we are very seriously considering looking at AI and ML across various aspects of the business.
AI for construction sites is something that we have already started and are in the process of fine tuning and improving is a project life cycle management tool. It is powered by AI and has all the data on what happens, what should happen, etc. It actually helps us predict delays, safety concerns, etc. We are also looking at AI in the possession process. The handover of a unit is the most emotionally charged moment for a customer. How do we use AI to help them and solve their concerns regarding the end product. 
5. You have an experience of 28 years in the field of FMCG, Telecom and Media. When it comes to marketing & promotions, how real estate is different?
Every category is different in its own way. There are a few aspects in which real estate is very different and it is on one side compared to other categories. For example, there is no other product in the world for which a consumer takes a lifelong debt to own. That's the kind of commitment a consumer makes to this product category.
Given this reality, there is no other category where the consumer will take as much input from others as possible while making a decision. Consumers have a very similar selection criteria (size, amenities, location, view, etc.) for a home however the weightage they provide to those categories differs from person to person.
This is why there has to be a significant difference in how the story is crafted, how it is delivered through the journey and is done on the basis of initial conversations and indications. It is very challenging in a different way. Real estate brands are product and service brands. In most categories what happens is that consumers start using or consuming them immediately. In real estate, the product delivery happens after a few years. This is why the experience the customer has happens between buying and getting the actual product delivery.
So brand building in real estate is building a great service brand and a great product. The approach shifts quite differently for customers who are buying a ready-to-move-in home and customers who invest in a project which has just begun construction. 
ALSO READ: 15 Things You Should Not Buy Or Avoid For Your New Home!