'Customer Understanding Is At The Heart Of Our Marketing Strategy'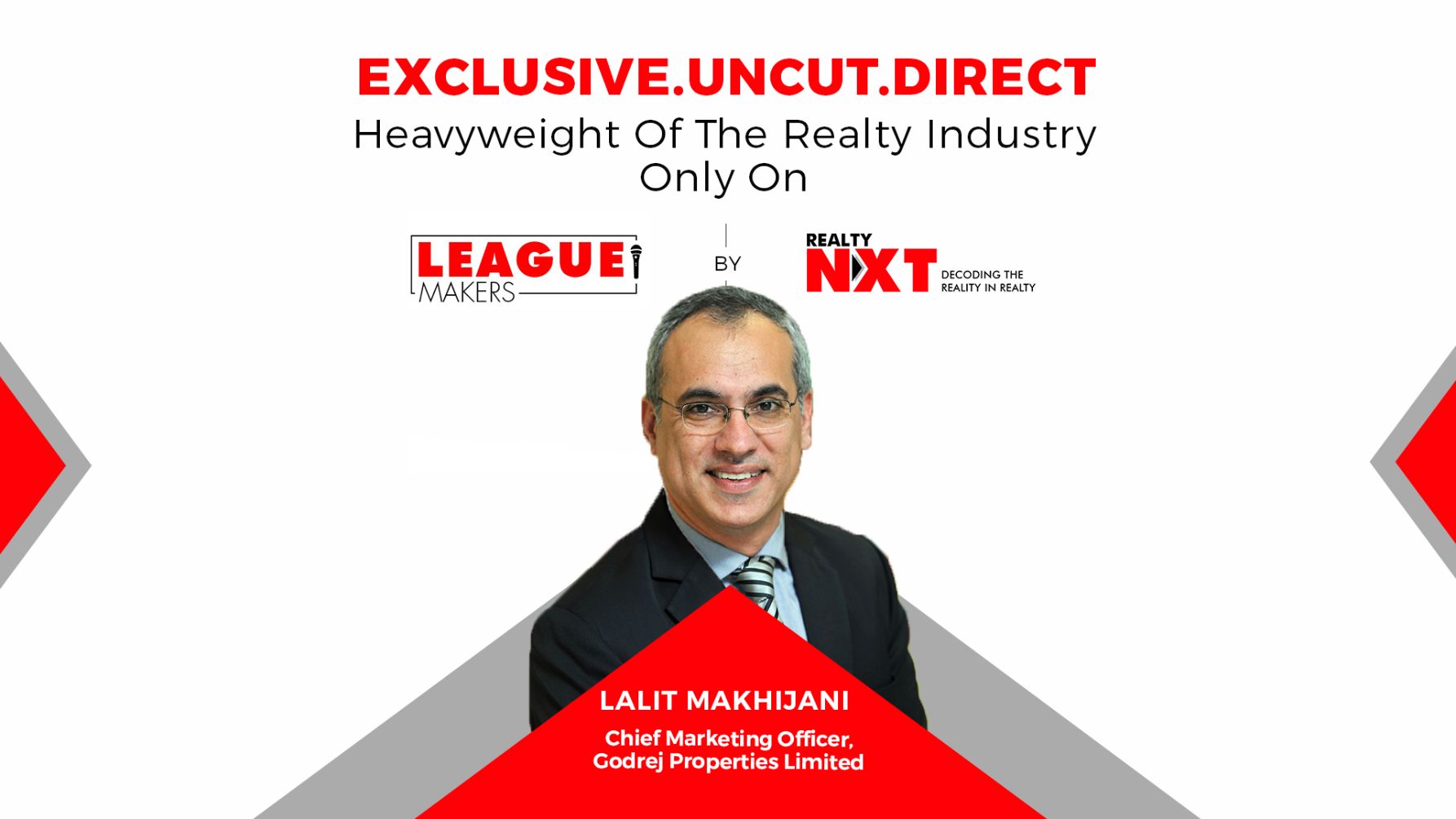 Godrej Properties is a name that needs no introduction.
Coming from the principal brand of Godrej, which has been every Indian consumer's most trusted name since 123 years, this real estate company began its journey in 1990.
Since then, it has won numerous awards for the excellence which it delivers. RealtyNXT spoke to Lalit Makhijani, the Chief Marketing Officer (CMO) of Godrej properties about the impact of Covid-19, their sales strategy, the Godrej RKS project and much more. 
Presenting excerpts from the interview.
1. Please tell us about the challenges faced by your brand during COVID-19 situation and how did you deal with the crisis?
Covid-19 hit the entire globe very unexpectedly. We happen to be in the real estate business and we sell the property. However, I believe that the customers buy the location first. When the pandemic hit us and we were presented with a couple of issues.
The two key issues were customers stopped site visits because of the lockdown and Bec of fear and we were asked to shut the sites. Walk-ins had stopped. The second issue was that since they stopped, we could not give them an experience about the project and amenities. Thankfully, my team came up with some great digital solutions. With the help of my IT team, we gave the customers the same experience which they would have gotten otherwise. We did very well in Q1 and the customers trusted us which was great. We accepted the new normal instantly and did pretty well. 
2. Godrej Properties achieved a sales booking of Rs 5,915 crore during the last fiscal. Please tell us the marketing strategy behind achieving this number. 
We did achieve close to Rs 6,000 crores. First and foremost is that customer understanding is at the heart of our marketing strategy. We try our best to understand their pain points the moment we agree to develop or do a project in the micro-market.
We have a special team dedicated to understanding the customers' needs. There is a complete process of having a deep understanding of the consumers. What will they be looking at when they plan to buy a home is important. We instantly come up with value propositions. When covid-19 hit, we came up with a very attractive payment plan. We tried solving the customers' dilema by easing the process for them.
3. What sets you apart from other developers in India that you believe is the core USP of Godrej?
We try to truly chase the customer. We don't enter the market till we do complete research on the needs of the customers. We have to be very clear about what the customer wants. We also meet the consumer one to one. Our research is not secondary and we don't repeat an idea just because it worked for the first time. Even if the micro-market is the same, we study it every time from a fresh perspective. It is important to understand what a customer wants at that point of time.
4. How Godrej's rich history creates both opportunities and challenges for the brand in the age of new media we are living in?
We have 123 years of legacy. People have grown with the brand in some product or the other. There is most certainly a trust and transparency factor in the minds of the customer. What is most important is to deliver what is promised. The customer wants comfort and assurance that my money is parked safe and I will get my home on the promised date. Consumers, millennials and everyone today are heavily dependent on digital content consumption.
For a brand to stand out in this digital bombardment of information is very tough. Our innovative solution and the concept we have makes us try and test all the time. Content is king. We first place it in the digital route and on the basis of the response, its creates we take it forward. So being a known brand has its advantages and challenges as well because of the influx of data in the new age media. It is done instantly. We as an organisation understand what's working or not working and then we take it ahead with our partners and team. Having a consumer-centric approach is key. 
5. Please talk about the role of content for you. How are you using that to get the engagement? Do you create content and marketing campaigns in-house or you involve outside partners as well?
Content is the core part of our strategy. We have a very strong internal team and we have strong partners with whom we have been collaborating for more than a decade. So it is a combination of both. For customers, it's the biggest buying decision they make in their life so we have to be very careful on what kind of content we are putting out there.
So it is always the most unique approach applicable to the customers at that particular point. So our team is always on the job. They will place a content and they will understand whether it works or not and they will come back with that learning and relook at the content and go back to the market. This ensures that we don't lose the focus and objective of our campaigns. 
6. With all the digital transformation happening, what happens to the role of chief marketing officer? Do you think the role of the CMO has to be reinvented with the pace of time?
Yes, the role is changing and more so in these times. In today's times, real estate is a high engagement product and it has become increasingly digital. So we have to understand the buying pattern and behaviour. How my customers are engaging with my brand so what kind of experience and content I should place.
The CMO's role requires being on top of knowing the buying pattern for various types of real estate projects. This date has to be on the forefront while dividing strategies. One has to constantly guide the team and in turn they go ahead with the partners. Millennials today consume a lot of content through their handheld devices so we need to understand that. So yes the role is constantly changing and we have to reinvent.
7. We have seen that off late NRI audiences have shown keen interest in Indian Real Estate Market because of the dollar rates and rupee being weak. What has been your strategy for pulling-in NRI audiences? Also, if you can tell our viewers how much percentage of sales is contributed by this segment?
Yes, we have seen a significant increase in the number of NRIs buying properties. It started in Q4. They want to have the best value of currency and their money is parked safely. But what made us do good business was that we came with the solutions that they wanted.
NRIs are constantly calculating their dollar income into Indian rupees and how much return in addition they will make. We solved their cash flow problem and created a special financial scheme for them and I think that worked very well. Our brand emerged as a promise to them and our scheme combined made it work very well. Regarding the NRI sales figures, it was over 20% of our year on the year number.
8. Please tell us more about your project Godrej RKS. 
We all are very excited about this project. Thanks to our BD team and to the Kapoor family who trusted us.. It is a one-of-a-kind project. It is a union between RK Studios and our 123 year-old legacy. This will comprise of limited edition 2, 3 and 4 BHK residences. We have come up with an architectural concept called Bombay Art Deco, which essentially will bring in some Bombay charm. This project has been curated with some of the best lifestyle amenities.
We are telling the buyers please come and live your story as RK Studio gave birth to so many unique stories. This project is very close to our heart. We have seen good success and people have really believed in our product.
ALSO READ: Unmasking The Marketing Mechanisms Of India's Real Estate