How Digital Intervention In Real Estate Has Gained Prominence In The COVID Era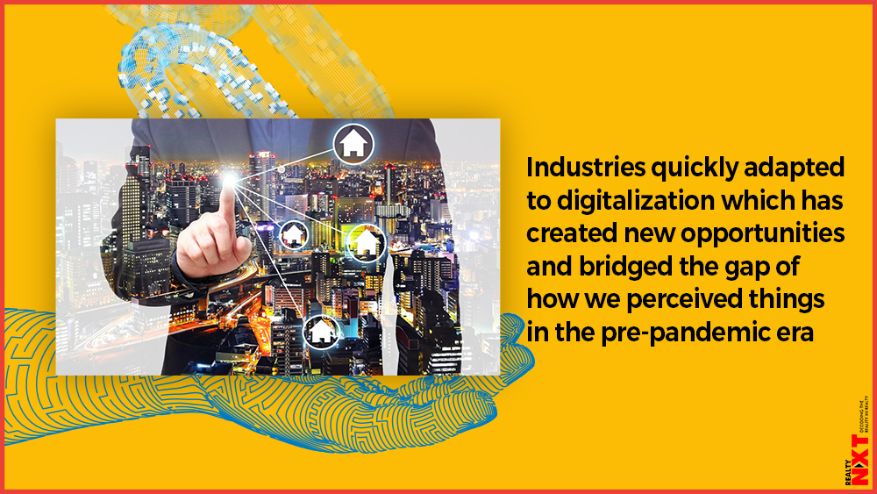 The on-going pandemic and nationwide lockdowns have hit industries across the nation in a hard way, and real estate is no different.
These unprecedented times have unknowingly instilled a few important lessons which will stay with us forever. Amongst these, the industry has indomitably thrive to rethink, re-strategize, and meet newer demand centric approaches. COVID has not only changed the pattern of how we live but also how we work and has gradually made us adapt to a lifestyle, where technology plays a more pivotal role than ever.
The initial lockdown had made most governments and industries react swiftly by looking at alternative means for ensuring minimal damage to the economy and markets including the real estate industry. Industries quickly adapted to digitalization which has created new opportunities and bridged the gap of how we perceived things in the pre-pandemic era. It has broken barriers in engaging with consumers and helped industries re-imagine the world by making life resilient, convenient, and flexible in varied ways. 
Initially, when the lockdown had just started and panic of the virus was highest, potential buyers were stuck at home and were cautious of moving outside. This had severely affected the buyer-seller relationship across sectors. However, with gradual adaption, there has been a paradigm shift, which has pushed both the supply and demand to acclimate to newer trends. Digital intervention has played a pivotal role in this and encouraged stakeholders to increase the usage of new-age technology platforms to stay relevant in the new normal.
As the nationwide lockdown had hampered buyer-seller communication and physical visits to the site, developers are now investing in online platforms for virtual visits and drone shoots of the property for an immersive view. Webinars have evolved as a great tool to connect with potential homebuyers and have established a more efficient way to update consumers and stakeholders. 
Digital transformation has even paved the way for online bookings as well; where design decisions through augmented reality have become imperative. COVID has laid importance to a few features of which home and workplace automation being key ones. Any property, be it residential or commercial, have too many common touchpoints. In the new normal we can expect a wave of change to an integrated system where we can avoid multiple touches.
Beyond assimilating digitization into architectural designs and consumer engagement, the sector has been thinking about expanding its digital capabilities through AI & IoT for a more customized approach. We can expect a wider application of technologies, and integrating more innovations across the value chain. According to the survey by CBRE, 90% of the occupants and developers are aiming to bring a technological shift in their business operations through digitization within the next five years. 
According to recent market reports, players across the real estate sector are proactively aiming to operate with maximum efficiency and reduce operational costs and execution gaps. Keeping in view the shift in consumer perspectives, developers are looking forward to thoughtfully upgrade infrastructure designs with mostly touchless surfaces and digitally enabled entrance and exits. Furthermore, resident and guest management systems, smart homes and smart clubs will focus on safety as an integral part of living. Digital innovation has not only aided developers to enhance efficiency with time, cost, and quality across the value chains, but also enabled to re-strategize designing, planning, budgeting, and executing on-site projects. 
The New Normal
In the post-pandemic era, digital transformation will not just be limited to operational efficiency but also to make a bigger impact on the consumer side of the industry. The key to this will be building immersive technologies and offering powerful experiences with attractive potential for customers.
Hence, developers are also coming up with innovative schemes to make the purchase options more viable. These include waivers on registration charges and stamp duty, innovative digital payment schemes, cashback schemes, freebies, refundable bookings, and price protection plans. The use of technology in construction, as well as marketing and sales, is at an early stage in India, yet, the on-going pandemic has impelled various stakeholders to upgrade and explore more in this field.
COVID crisis has expedited a path for realtors to think about long-term strategic implications in devising experience-based digital customer journey. It is important for realtors to intelligently design a digital journey that can take customer engagement to the next level and positively boost the overall top-line, profitability, and brand visibility of the organization. Also, this digital journey can boost marketing, shorten sales cycles, and streamline operational flow, thereby boosting numbers without any increase in the overheads. However, to make it happen, realtors need to make captivating digital strategies and integrate them seamlessly throughout the customer life cycle management.
By Karishmah Siingh, VP– Sales, Marketing & CRM, Salarpuria Sattva
DISCLAIMER: The views expressed are solely of the author and RealtyNXT.com does not necessarily subscribe to it. RealtyNXT.com shall not be responsible for any damage caused to any person/organisation directly or indirectly.
ALSO READ: Nitin Gadkari Launches Fire Blasting On Asia's Longest Bi-directional Tunnel