PropEquity, Revolutionising Real Estate Data Analytics In India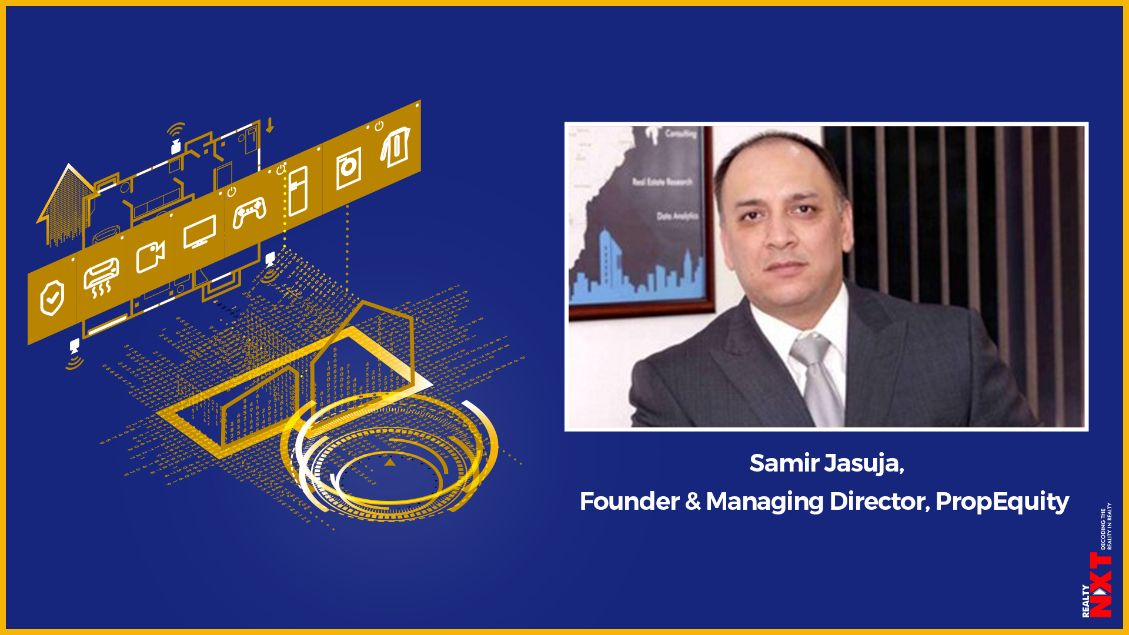 In a day and age where data is king, PropEquity emerges as a knight in shining armour.
The company has the distinction of being India's first-of-its-kind real estate research, data and analytics company.
It is also Indian realty's go to advanced online search platform for real-time data and analytics. With such a vast wealth of experience under its belt, PropEquity is growing by leaps and bounds. RealtyNXT spoke to Samir Jasuja, Founder & Managing Director, PropEquity about several things including PropTech, the Covid-19 situation and much more.
PropEquity was the first platform to focus on data and analytics of real estate in India. We begin by asking Samir Jasuja about the firm's journey. "We started in 2008 with just 3,000 projects and today we collect over 1 lakh projects on a month-on-month basis.
We not only collect information but also track it monthly. We started off with just catering to real estate private equity funds but today, we cater to many more different types of clients including developers, equities, research firms, construction industry, banks and NBFCs. So, the journey has been pretty rewarding," Jasuja says.
Jasuja had initially started a B2C venture called Property Zones from 2000-2005 where data on market homes was collected to sell to brokers. He then worked as the head of marketing for a developer and around the same time, foreign direct investment opened up in India's real estate sector. "Because there was a huge need for data, in the institutional space, there were a few agencies who were providing customised data. However, they were very expensive, slow and the data was not that accurate. That is when I thought that there was a need for real-time data for 200 private equity funds that had just come to India. I thought that they would be more than happy to pay a good subscription fee if they get the data to analyse at the click of a button. This is what led to the birth of PropEquity," Jasuja says.
PropEquity is known for its excellent catchment area analysis service. We are curious as to how the company nails the collection and accuracy of real-time data. "We have 200 people on the ground and map every project.
They get the latitude and longitude of the projects and put them on Google Maps. On top of that, we layer all that data with a lot of analytics. Then we allow the flexibility to draw a line or radius and can see all the projects across India in all directions and roads and we evaluate that as well," Jasuja says.
At PropEquity, all possible information regarding any project with 60+ data points are covered including resale value, sale value, rental value and the stage of construction. "Now, we've also started providing registration data on the residential side. The last five transactions can be procured and we can know at what price properties are trading at today," Jasuja adds.
Ever since the lockdown was announced in March this year, the real estate market took a big beating both on the commercial side and the residential side. According to Jasuja it will take another 6 months before the industry hits 70% business numbers of pre-Covid-19 times. "In the last three months, we have reached from zero to roughly about 35-40% of absorption in residential real estate. On the other hand, the commercial real estate market will come down this year only 10-15% because there was also a 10-15% growth that was expected. Developers will face the biggest challenges on the retail front. Models are going to change from a high minimum rental value to a much lower one with high revenue shared till the Covid-19 vaccine is not out," Jasuja says. 
Jasuja feels homebuyers should buy ready-to-move-in properties. "There are 4,50,000 units that are stalled and that number is going to go higher due to lack of funding," Jasuja says. He adds that while  there are many properties available at special deals and flexi payment plans, one should only go down the route if it is with a very well established real estate developer. 
Currently, there are not many commercial properties available in India which offer good yields and are safe. The bigger properties get lapped up by players like Blackstone and Brookfield. The quality of supply is very limited at the moment, which is the biggest challenge of fractional buying in India. Jasuja has an interesting take on fraction buying in commercial real estate. "A few new start-ups have gotten into that space and they are trying to lap up properties with assured returns, which means the tenants are already there in place. It is a vertical that is here to stay just like co-working and co-living. Only time will tell how much it will grow because there is a limited market for this with only the HNIs and NRIs currently dabbling into this," Jasuja says. 
Jasuja swears by technology but feels that the PropTech industry in India has seen a significant amount of investment only in one side, the demand side classified listings like Housing, PropTiger, etc. They have really not succeeded unlike other spaces like travel or jobs as there is no mutual exclusivity in real estate properties.
Jasuja agrees, "They have ended up becoming websites for brokers to list their properties and customers to source brokers and not real properties. On the data analytics side, there is a huge investment that is needed and people have lost a lot of money as they did not spend any time or money on research or analytics, which is the need of the hour. There has been a loss of close to $100 billion of stalled projects today in the market. The lack of understanding of the market created an oversupply situation. Investments need to be made into AI and ML based research and analytics."
We then ask him if his company is open to collaborating with other PropTech companies. While he feels that his company is open to the idea, it is not actively sourcing such opportunities. "Our plan involves us building our own technologies so the partnerships in this area don't work out very well. Valuation is also a big challenge in this space. We are focusing on risk management in a big way," Jasuja says.
Jasuja reveals that technology has played a massive role in his company's growth story. He talks in detail about the way PropEquity utilises and works in sync with the latest technology. Jasuja says, "We are working on some very useful solutions for the market. We are innovating all the time and have a very large tech team. We keep on adding a value to our customers by innovating more analytics to our products. So this technology stays with us because the data stays with us and that helps us to build our own technology platform and make it stronger." 
With so much data at its core one doesn't help but wonder what is the company's take on data compiling in land parcels. "Land is divided into unlicensed land / agricultural land and licensed land which could be plotted development. We already capture the latter's information. We also go on ground to see if construction has started on those plots or not for certain banks," Jasuja says. However, he quickly adds that despite being very actively present in the licensed land sector, PropEquity will never go down the road of agricultural land. "That is a totally different subject altogether  and our customers don't need that and they step in only if the land is licensed," Jasuja says.
With many new data analytics providing players recently entering the market, we ask him about the USP of PropEquity. According to Jasuja, the biggest advantage his company has over other players is that it was the first one to enter the market and hence has a huge licensed collection of the historical data of price and absorption movement. "We have a pan India presence and we cover 45 cities whereas our competitors don't even cover 7 cities. Our team is 200+ as compared to our competitors who have 10-25 people working for them. The more feet on the street, the more audits , the higher is the possibility to capture data accurately. Then on the technology front, we have got domain experts working with us for a decade and they have got tremendous expertise. The kind of analytics engine that we have built is way ahead of our competition. We also have a very good client engagement team and that services the clients with turnarounds in 24-48 hours. The combination of all these factors makes us ahead in the market," Jasuja says. 
ALSO READ: Khloe Kardashian Sells Calabasas Mansion For $15.5 Million