Outlook For Real estate In 2021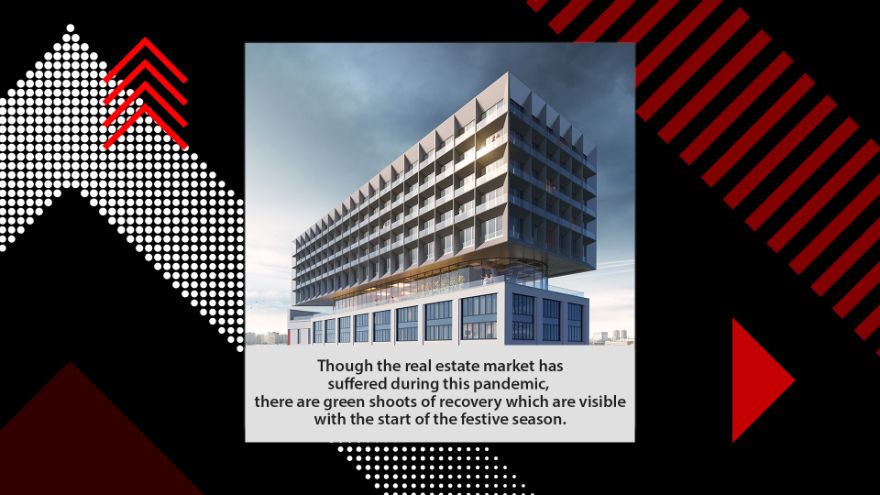 The year 2020 has been a difficult year for economies across the globe.
The Coronavirus pandemic has hit the global markets hard and most countries are still grappling from its on-going effects. It is tough to say when things will get back to normal, but people have been adapting to the new norms and are learning to live with the virus.
India opted for an extensive lockdown period that put daily life on hold for months. Businesses and transport continue to remain closed in several parts of the country and people are forced to stay at home. All sectors faced a major setback and real estate was no different. Labourers working at construction sites and other building projects were unwillingly forced to return to their homes in villages and a large part of this reverse migration was the result of poor communication and mass hysteria which instilled an exaggerated sense of fear among these migrants. New launches in the sector declined while unsold inventories and stalled construction worsened the situation for developers across all markets in India.
As we near the end of 2020 and the case count in India witnesses a steady decline, many are trying to resume daily activities with a sense of caution but more importantly a sense of compulsion. Further, it's obvious that many have now realized the importance and value of owning a home and therefore there is an increased interest in home ownership. Work-from-home compulsions, online education, video-based medical consultations, an increase in e-commerce and business-related video conferencing and webinars, are all reasons why the demand for residential homes in major cities in India is increasing. With India currently being under limited lockdown restrictions, there is an increase in buying patterns with major realty hotspots witnessing aggressive sales during the festive season. Keeping this momentum up, there are certain trends that are going to dominate the realty sector for many months to come. 
1. Digitization: The realty sector was quick to adapt to a digitized pattern of working with increase in online sales and virtual tours as consumers couldn't step out of their houses. The crisis has unwittingly shown us that there are varied and cost-effective ways to conduct human activity. The world has now stepped into a zone of digital-irreversibility. The real estate market will adjust accordingly and will feel the impact of digitisation; whether it is transactions, capital deployment, property management, virtual tours, or even the consumption patterns, digitisation will dominate most of these processes.  There are also innovations with respect to Artificial Intelligence (AI) & Virtual Reality (VR) in this sector that are pushing the boundaries and enhancing customer experience.
2. Affordable Homes: Over the past few years, the affordable housing sector has been given a push by several government initiatives. A considerable portion of India's workforce in the organised sectors is from Tier II and Tier III towns. Most of these people have been forced to leave their temporary rented settlements in Tier I cities and go back to their hometowns. This will lead to an increase in demand for affordable housing in these Tier II and Tier III areas. Also, schemes such as the Pradhan Mantri Awas Yojana implemented to push affordable housing, will prove beneficial for home buyers and builders. The incentives for developers such as subsidies, tax benefits, and institutional funding along with the standardisation of the very definition of affordable housing, and reduction in GST rates have paved the way for healthy investment in this sector.
 3. WFH residences & revamped commercial realty offerings: With work from home becoming such a major part of everyone's lives, developers will now look to capitalise on this trend. New home decors will incorporate specially designed WFH spaces. One the other hand, commercial real estate is set to undergo an ever bigger transformation; growing beyond just 'location' and 'value proposition', the industry is now focussing on finer details such as 'transparency' and 'customer experience'. Social distancing has led to a push for developing more and more contactless technology, hence, business models will now be backed by technological offerings which are tailor made for customers.
 4. Lucrative Investment Prospects: This is the right time for investment in the realty sector as developers are offering cheaper rates for best properties to clear unsold inventories. Further, interest rates on home loans are extremely attractive at the moment making a good time for residents as well as NRI's to take the plunge. 
 Though the real estate market has suffered during this pandemic, there are green shoots of recovery which are visible with the start of the festive season.
It is important that COVID-19 cases in India continue to show a decline which in turn would help more activities to open up and ultimately push the economy towards recovery. Recent news of successful vaccine trials will only continue to improve sentiment. There are high hopes from the upcoming budget of 2021-2022 which shall focus on reviving the stalled economic sector.
By Farshid Cooper, MD, Spenta Corporation
DISCLAIMER: The views expressed are solely of the author and RealtyNXT.com does not necessarily subscribe to it. RealtyNXT.com shall not be responsible for any damage caused to any person/organisation directly or indirectly.
ALSO READ: Post Pandemic More Young Americans Are More Interested In Smart Home Technology: Realtor.com