"We Are In Conversation With Proptech Brands That Are Best In Their Categories", Pradeep Lala
Sustainable development and a green environment is the need of the hour and should be paramount to all businesses.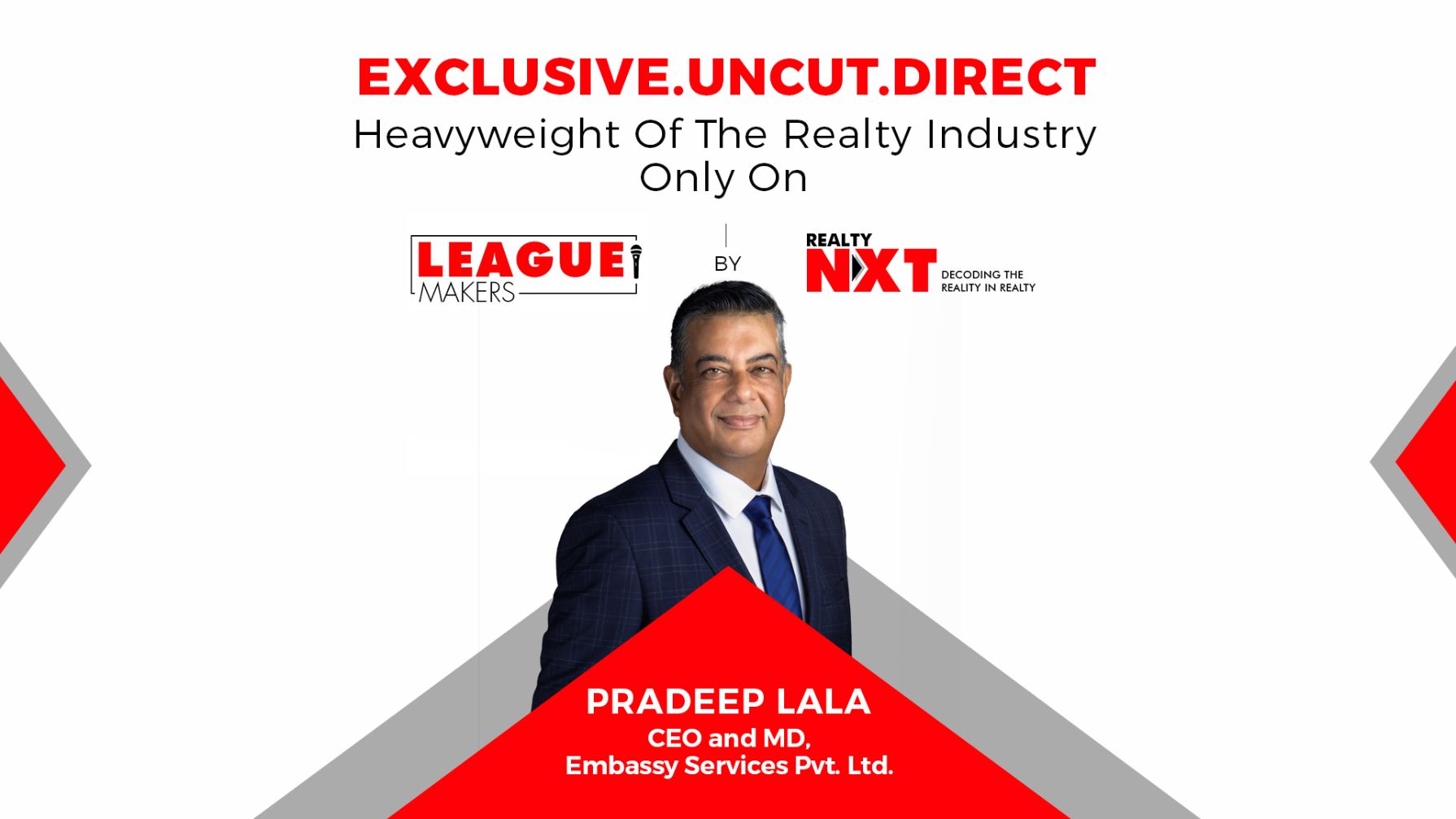 While there are few challenges, it's interesting to note a few trends that will reshape the future of the facility management sector.
1. What are the major challenges in the IFM segment and what trends you can foresee in 2021 for the IFM segment?
The pandemic has transformed the Infrastructure and Facility Management sector and has made it more relevant and crucial than ever. However, there are a few challenges that we believe the sector may experience.
Firstly, maintaining social distance at work will be a challenge. The arrangements will have to be made keeping various dynamics of work culture, people management, and social behaviors in mind.
Secondly, health protection of personnel. Corporates have the health of their people on priority, and to continue such aspirational values, a stringent measure to ensure the prevention of any infirmities will be the key.
Thirdly, safe transportation to and from the workplace. Safe commuting options will be another area of concern since most people have to travel in shared vehicles. Regular sanitization and temperature checks will be vital.
Lastly, adoption of new technology and compliance norms at the workplace. Technology has emerged as the solution to many, and it will continue to lead the transformation. With workplaces adopting the new normal and welcoming a 'Hybrid' work culture, safety, compliance, and data security will also need some serious interventions.
While there are few challenges, it's interesting to note a few trends that will reshape the future of the facility management sector.
Redesigning of workspaces will be the most visible and prevalent trend. It will be exciting to experience new versions of boardrooms, front offices, cubicles, and common areas such as pantries and recreational areas.
Flexible workspace is another trend that is picking up globally. Firms are not only introducing policies such as 'work from anywhere' but are also integrating 'Hybrid systems,' enabling flexibility for both employees and employers. Creating a flexible workspace in the fast-changing business environment will be an opportunity for innovation.
2. Is Embassy planning to collaborate with Indian Proptech companies that are providing technology solutions in Facility Management?
Yes! We are in conversation with a few brands that are best in their categories. We collaborate with those and whose synergies match with ours.
3. Name 3 PropTech startups from India or globally that you are keeping a tab upon.
We see a lot of companies making their mark in the PropTech category. To be specific, we are closely mapping the journey of these three brands- Hmlet, Nestaway, and NoBroker.com.
4. How Embassy services contribute to spanning operations across Indian and international markets?
Using our deep technical expertise in managing owned assets coupled with our robust custom technology tools, we will pursue our goal to provide operational excellence to our clients across all the verticals of real estate in Commercial, Residential, Co-Working, Hospitality, Retail, Education, and Industrial & Warehousing Sectors.
5. How do you identify measures to be considered to manage waste?
Proper waste management is important to avoid contamination, especially when waste is hazardous. But more importantly, businesses should exercise waste minimization or waste avoidance, which involves recycling, repairing, deteriorating items that are no longer in use, avoiding the use of disposable items to reduce the amount of waste.
Sustainable development and a green environment is the need of the hour and should be paramount to all businesses.
6. Please tell us about your new projects in 2021.
Our focus for 2021 is the further inclusion of technology, contactless machinery, and cloud-integrated processes. We have identified these areas to be the next big thing in facility management space.
As part of the plan, one of our upcoming projects, which were postponed due to the pandemic, was the establishment of our own Facility Management Training Institute. One of our major fortes in the CSR segment is to support Govt. Schools and the youth of our nation through education. We see that the country needs more employment opportunities, and the FM sector will be able to contribute to this requirement with its forecasted rise in demand. By training our youth with specialized skill sets and providing opportunities in our organization, we will be able to thrive as an individual organization, a sector, contributing to the Indian economy.
7. How do you ensure minimum risk to your operations while ensuring the safety of laborers?
We, at ESPL, ensure that our people are working in a safe environment and encourage personnel to adopt safe practices and to use safety equipment at work. We also promote safety policies and safety programs. ESPL management is compliant with IMS policies to have a systemic approach to workers' safety.
Moreover, to minimize risks at work, we follow a 4-step guide:
Information: We educate all our people on the best practices.

Clear Instructions: Our experts give clear instructions with a detailed outline that would make it simpler for our people.

Adequate safety and health training: The best trainers provide special safety and health training.

An appropriate level of supervision: The streamlined processes allow appropriate vigilance and take real-time actions under expert supervision.
8. The idea about 'Workplace 2021' and the role of Infrastructure management here
Infrastructure management plays a vital role in enabling access to 'Workplace 2021.' Over the last 25 years, we have seen the industry undergo a rapid transformation and it is set to further evolve with the global evolution. A few areas that make infrastructure management a frontline business are:
Connectivity & Litheness: The facility management will also be about managing remote facilities amidst the new normal.

Innovation & Technology: The technological support will have to be more advanced and aligned with the customized options corporates would be looking for.

Predominance of improved health & safety standards: This will remain the primary focus and will need experts like facility managers to ensure implementations on the ground.

Research & medical Science: Research in medical science will pave the way for new dimensions in the coming years. This will also define the changes the facility management sector may experience
9. Is there any special training being given to facility managers to cope with the new normal?
We are dealing with the unexpected and have been trying new ways to keep going.
In the future, facilities managers will find themselves managing people, workspaces and resources, technology, and additional services. This needs a holistic approach and is a task that experts would be much relevant. The workspaces will be smarter, more connected, and more service-oriented.
This will further push facility management players to ensure each personnel adopts new general specialized training in time and is prepared to deliver value.
10. Remote working might continue for most of the sectors. In this scenario, how does the future of facility management as a service look like?
We believe that digitization is and will be the most critical element of facility management. The trend of facility management has changed with how, when, and where people work, redefining the workplace and the way of living. As digital systems are going to be more powerful and more deeply embedded in the processes and functioning of organizations, the way companies manage and use offices, resources or the workplace will continue to evolve. Digital processes allow companies to make data-driven decisions and manage assets efficiently.
11. Can you share 5 sets of numbers in terms of statistics that define your growth?
We are committed to growth and have achieved a few milestones setting a benchmark in the industry.
Clientele – 170+ clients and 3500+ home units

Portfolio of 71 Million Sq.ft.

Over 25 years of experience

Geographical Spread across PAN India 14 cities

Manpower strength of over 8000 professionals PAN India
ALSO READ: Mulund, A Suburb Brimming With Life