Indian Railways Make Progress In USBRL Project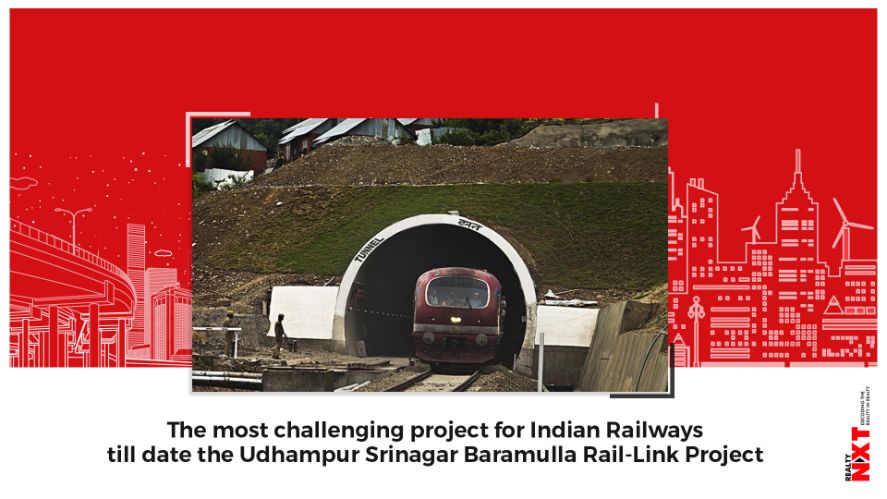 Using the latest international methods and overcoming all the hurdles, work has been complete on 215 kms out of 326 kms of the USBRL project
Indian Railways recently stated that the Udhampur – Srinagar – Baramulla Rail Link (USBRL) Project, which is of national importance, is their most challenging one till date. The completion of the engineering marvel project is crucial for the development as well as rail connectivity of Jammu and Kashmir. 
The part between Katra – Dharam (KM 30 to KM 73.785 and KM 91 to KM 100.868) is being executed by the Konkan Railway Corporation Limited. The project's Tunnel T2 is its main tunnel and has a parallel escape tunnel as well. The over burden of the tunnel measures approximately 7 metres near the portal to 1.20 kms at its centre.
The engineering team and labourers combated several challenges during the course of developing this project. 
The team adapted the latest Austrian tunneling method. This method has a primary flexible support system and final concrete lining with a waterproofing membrane. 
The team also utilised the tunnel seismic prediction method to predict the strata availability of water borne zones and fracture zones. This helped the predictions reach the tunnel face for a length of 100 metres. 
There were massive hindrances of water during the evacuation. The team used ingenious methods like pipe proofing, chemical grouting and multi drift.
On March 21 this year, the escape tunnel breakthrough occurred and on August 3, the main tunnel's breakthrough was successful. 
The USBRL project is a National Project and its aim is to provide rail connectivity to the entire Kashmir valley. 
The total length of the whole railway line is 326 kms. Till now work has finished on 215 kms. A massive part of the project is inside the tunnels. It is estimated that 163 kms (86%) of the route will consist of tunnels, which are divided as 97 kms of main tunnels and 66 kms of escape tunnels while the remaining routes will comprise bridges, cuttings and embankments. 
It will have a total of 37 bridges which includes the world's tallest arch bridge over the river Chenab. The USBRL project also includes the development of Anji Bridge which will be India's maiden cable-stayed Indian Railways bridge. Work on the ambitious project is expected to finish by the end of 2022.
ALSO READ: Atal Tunnel Has Strategic Importance: Rajnath Singh