"Great Design Always Has Two Aspects – Form And Functionality," Says Saba Kapoor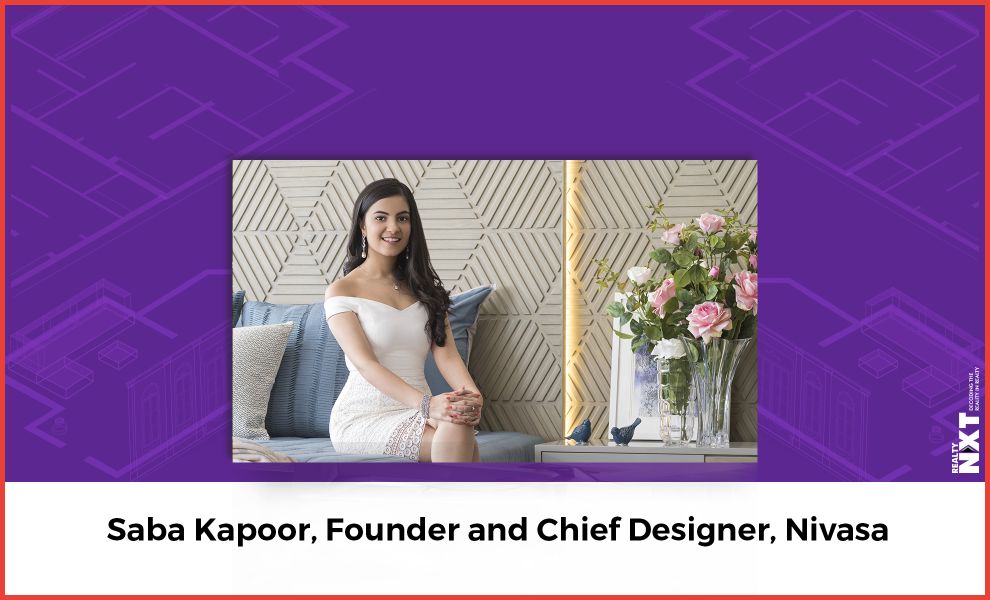 After graduation, Saba followed in her father's footsteps. This lead to the creation of Nivasa Contemporary. The introduction of fresh designs and new technologies has led to a niche for Nivasa Contemporary.
Read on for excerpts from the conversation.
Q1: What was the idea behind starting this beautiful venture called Nivasa?
Nivasa is set up by designers, for connoisseurs of designs. Our design philosophy is to create spaces and products that enhance and transform the lives of people using them. Each and every detail plays an integral role- from the choice of colors and materials to planning the layouts to incorporating technology. Nivasa's two distinct styles, Classic and Contemporary, were born out of this design philosophy.
NIVASA CLASSIC– Nivasa Classic was born to lend a new meaning to traditional furniture and lighting, by preserving the timelessness of classical design while redefining it with the help of innovative techniques and finishes. Our products celebrate India's rich artisanal craft such a hand carving, canning, marble inlay, and various others by reviving them with the help of fresh and innovative designs, colors, and materials.
NIVASA CONTEMPORARY– Nivasa Contemporary brings depth into contemporary furniture and lighting, by incorporating design sensibilities that are modern yet extremely intricate. Born with the ambition to redefine contemporary furniture, Nivasa contemporary uses craft such as hand carving, embroidery in a modern manner.
Q2: If you had to describe Nivasa overall designs in three words, what would it be and why?
Our overall designs encompass our two styles and the varied styles of our clients. Choosing 3 words is hard, but the ones I can think of that stay true to our design philosophy no matter the piece of would be:
Personalized – At Nivasa, we believe that design is not just about four walls, tables, and chairs- it is about the families that live and grow in beautiful homes. With the mission to ensure that every space and furniture is created to enhance and transform the lives of our clients, we have taken customization one step further to personalization- highlighting the human side of design and truly incorporating the needs and desires of our clients into their homes.
Artisanal – We believe in celebrating the rich artisanal craft of India and this reflects in each and everything we design. We have a team of over 200 craftsmen who are masters in their craft- ranging from hand tufting to inlay work to hand carving to canning to embroidery and various others.
Intricate – Attention to detail is an integral part of our design thinking. We believe it's the details that create the big picture, hence we pay attention to everything from piping to stitching styles to grain patterns.
Q3: Nivasa current physical store is in Delhi, will you be planning to expand later to other cities? Or you will prefer an online store for a while?
We at Nivasa have done various projects all over the world- from homes in California to villas in Greece to even a castle in England! In today's day and age having a presence or reach in a city or country has gone beyond having a physical store in the area. We most certainly have a global vision and aesthetic sensibilities but we plan on exploring them in non-traditional ways. And of course, adapting with the times!
Q4: During such COVID time, how Nivasa is managing and what safety measures are followed for the delivery of the products for their online customers?
The world around us is constantly changing- adaptability and agility have never been more integral than they are in this post-COVID world. We have adjusted every aspect of our work to ensure the safety of our customers as well as of our people.
In the factory, there are full security measures in place ranging from in-house cooks, daily medical checkups, to a place for staff to stay to ensure the safety of our workers.
At the store, there is a complete sanitation team and self serve coffee and snacks for our clients. We have even provided private cars for all our staff at the factory and the store. All of this is in addition to the basic temperature checks, gloves, and masks.
Q5: What is your inspiration for designs?
Inspiration is all around us- it's for us to seek it. Great design always has two aspects – form and functionality. For the former, one finds inspiration from all that surrounds us- soaring birds, lush green trees, art, grains of wood. But for the latter one find inspiration from what's within – people! The furniture and interior should revolve around how we live, what we need, and how to enhance our lives. Most of our designs dig deep into each and every detail of one's life.
For instance, I personally love watching tv while eating dinner- but it's of course not the most comfortable of settings to sit on a couch and have meals. This inspired me to create a coffee table with a lift-up elemental allowing it to double up as a dining table.
Q6: Sustainable furniture have become the new trend for young buyers, what's your take on this? 
Sustainability has always been at the heart of Nivasa. We have now taken it one step further by introducing The Nivasa Foundation- an effort to imbibe environment and cultural sustainability deeper into our DNA.
Our environmental efforts will be driven towards creating an ecosystem where natural and man-made environments can co-exist with the help of tree plantation, recycling, upcycling, and use of sustainable materials. Whereas our social sustainability efforts will focus on enhancing the lives of Indian craftspersons, artisans, sculptors, and artists as well as celebration and preservation of cultural practices, crafts, and heritage.
Under the foundation, we have launched 'Nivasa Conscious' a range of sustainable furniture celebrating environmentally friendly materials, indigenous craft as well as sustainable manufacturing practices. The proceeds of this collection will further go towards other sustainable efforts supported by Nivasa.
Q7: If you had to choose, your two favorite projects would be? And why?
My personal favorite has to be our home – because home is where the heart is. And it is created to be personalized for our family. The pure white walls and curtains, the earthy tones of the furniture along the pastel hues that add a pop of color are so in-line with what brings us happiness. Every room is unique to the people who dwell in it and the living room celebrates us as a family in our truest form.
Another project that I'll have to pick is the Elgin hall. During this time, when covid-19 has impacted our lifestyle and restricted our travel – this colorful and cozy hotel on the foothills of Dalhousie is where I dream to be. As you walk through each room, it tells a different story and brings a smile to one's face.
ALSO READ: Exclusive Conversation With Elsie Larson, Founder Of A Beautiful Mess